43rd Ward race mirrors other city elections with heavy focus on crime
"Public safety, public safety and public safety."
43rd Ward candidate Brian Comer said these are his campaign's three points of emphasis in front of an audience of more than 100 at the aldermanic forum on 1/17.
It was a sentiment echoed by each of the other five candidates who joined Comer on stage inside the Lincoln Park Student Center, and a point of emphasis in nearly every race in the city as Chicago's Feb. 28 election day swiftly approaches.
Housed inside Chicago's 43rd Ward is Lincoln Park, which has long been one of Chicago's wealthiest neighborhoods. Although the ward, which stretches from Lincoln Park to the Gold Coast, does not see the amount of violence as North Lawndale or West Garfield Park, Tuesday night's forum proved that safety is the dominant issue on voters', and especially candidates' minds, as the six contenders pitched their plan to make the ward safer.
"Crime in the city is running rampant as we all know, and as a lifelong Chicagoan, I know how it's changed in this neighborhood in particular," said candidate Steve McClellan, a board member on the local school council at LaSalle Language Academy. "The things I want to focus on are prevention, training, recruitment and retention."
Candidate Wendi Taylor Nations, a public affairs consultant, shared a personal story of being molested by a man on the Brown Line in 2021. Taylor Nations, who has received an endorsement from former alderman Michelle Smith, said she would start by reforming the Chicago Police Department (CPD) through supporting a mayor's removal of the department's leader.
"As Alderman I would do there were several things I would do, first of all, accountability matters," Taylor Nations said. "I think Police Superintendent David Brown needs to go. His strategies aren't working."
Every candidate on stage echoed the support for the removal of Superintendent Brown.
In races throughout the city, candidates are pledging to fix the low staffing of CPD officers. The department employed roughly 1,600 fewer officers in 2022 than it did three years prior. While each candidate touched on the importance of recruitment Tuesday night, some spoke to the importance of other strategies as well.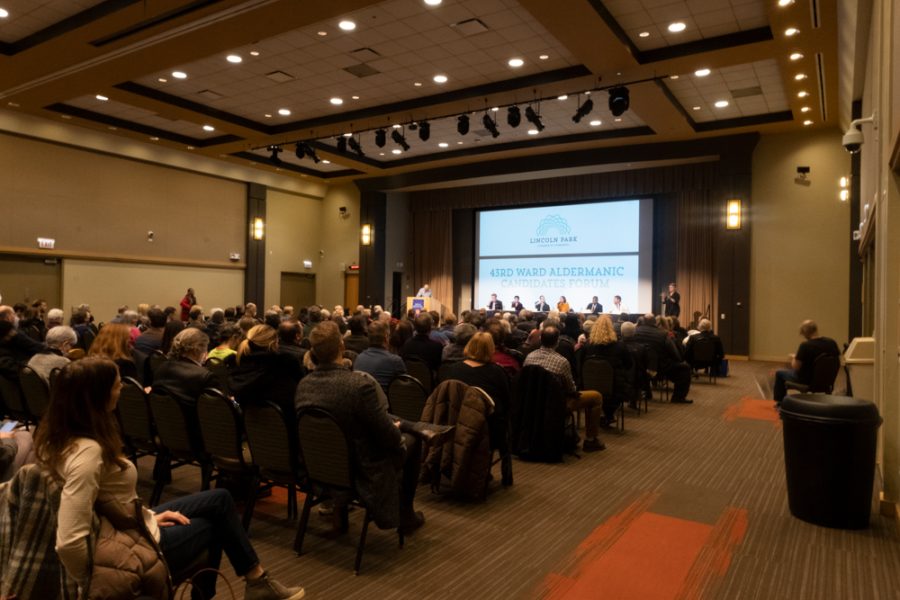 After assuming the role by mayoral appointment in September, Ald. Timmy Knudsen (43rd) employed the use of street cameras in the ward as a strategy to combat crime. The youngest member of the city council, who hopes to retain his seat in February, believes that allocating funds into strategies like these is just as important as adding officers on patrol. 
"One thing I did right away was reallocate our [budgets]… in order to supply more cameras into the ward," Knudsen said. "These cameras are good eyes and ears on the beats when [CPD] doesn't have the staff to fill them."
Through his first 120 days in office, Knudsen said he's built a strong relationship with the area's CPD commanders, something he believes is crucial to make the 43rd safer and sets him apart from the other candidates.
"The second thing I got right to work doing was making sure I had as strong a relationship of trust as possible with our police commanders," Knudsen said. "That was important to me because without that knowledge base and stream of information coming from the commander's office, we're on an island of our own."
Every candidate spoke to the importance of police throughout the ward Tuesday night, but a few also pitched alternative strategies to curb crime.
Knudsen spoke about the role in which increased mental health resources would help curb crime city-wide and within the ward. Fellow candidate Steve Botsford, a former Notre Dame football player who has worked in the finance industry, also thinks mental health resources go hand-in-hand with crime reduction and said, "not every 911 call needs to be answered with a gun."
Rebecca Janowitz, a retired attorney, and ward resident who ran for the seat in 2019, said she sees commerce as an important role in a community's safety and – if elected – would push to make the ward safer with full restaurants, bars and storefronts.
"I would work very hard to keep the street lined with people and a flow of activity throughout the community," Janowitz said. "The best safety in the neighborhood is when the neighbors are providing the safety. Your real security guards in any community are your neighbors."
Notably, Janowitz said she's used roughly $750,000 of her own money on her campaign, vastly outspending any other candidate on the ticket.
The six hopefuls also touched on issues like public school funding, the controversial Lincoln Yards development, property taxes and more. Still, safety dominated the talking points.
Though crime is on the minds of ward residents who will cast their ballot for the next 43rd Ward alderman on Feb. 28, the community has seen a reduction in several violent crimes in recent years. According to the Chicago Data Portal, Ward 43 had less than half the shootings in 2022 than it did the year prior, and exactly half the shootings than it did in 2020.
Nevertheless, Lincoln Park residents care most about crime, considering it received the most attention Tuesday night. Demographically, the neighborhood is 80% White with a median household income of $117,000, according to 2022 Chicago Metropolitan Agency and Planning data. With the topic of crime being the emphasis at the forum, whichever candidate convinces voters they can make the ward safer is likely to have a decent shot at a majority come election day.