Happy Birthday Dibs: Beloved mascot celebrated throughout Blue Demon Week
DePaul's shining star recently celebrated his birthday with students and, of course, school spirit.
The "Demon in a Blue Suit," or DIBS to most students, partied and shared his birthday cake with many students on Jan. 26.
Billy the Blue Demon, a smiling demon with a goatee, was originally DePaul's mascot. However, in 1999, DIBS' became one of DePaul's iconic trademarks. 
This year was DIBS's 23rd birthday, however, according to DePaul Athletics "a demon never tells," how old he is. 
DIBS' birthday fell during DePaul's annual Blue Demon Week, which ran from Jan. 21 to Jan. 28. The week included celebrations like DePaul's 125th anniversary and, notably, DIBS' birthday.
Blue Demon Week was established to unite students, faculty, staff, and alumni in celebration of what it means to be a DePaul Blue Demon.
In the early 1900s, DePaul's sports teams wore uniforms with large Ds on the front, and the athletes were known as the D-men. This earned them the nickname "Blue D-men," also known as today, "DePaul Blue Demons"
The Office of Student Involvement (OSI) organized DIBS' birthday which included snacks, a photo area and some DIBS-inspired swag.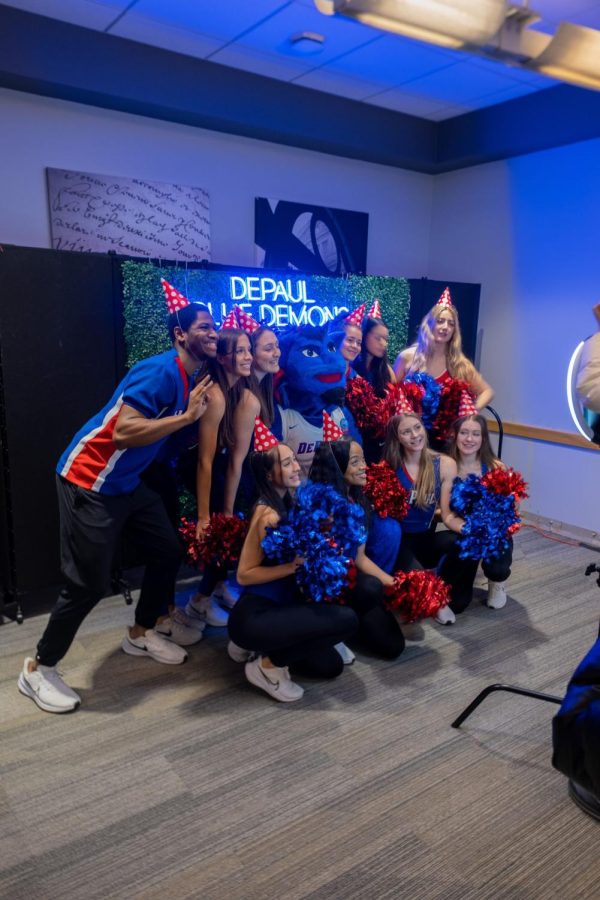 Sophomore Lily Jordan attended the birthday celebration but also enjoyed other Blue Demon Week events with her peers.
"It's fun to see people having a good time and especially have school spirit, which you don't always see with DePaul students, so it's been fun to be around," Jordan said.
Many students mingled and danced throughout the celebration, and for some, it was the most anticipated event of the week.
Sophomore Lindsay Koster was a second-year attendee at DIBS' birthday party.
"Last year, the energy was great," Koster said. "I loved the energy and knew I had to come back to dance and vibe." 
Carmen Curtis, OSI campus activities coordinator, believes it is important for students to take time after class to attend events to socialize and embrace their blue demon pride. 
"DIBS' is our mascot, and it's important to show our enthusiasm and love for him," Curtis said. "It's nice to see so many students turn out today, and, of course, to enjoy the yummy cake."
DIBS' birthday was celebrated with not one, but two cakes, which were fan favorites.
"I came for the cake and stayed for the vibes," Jordan said.