DePaul's budget gap: What is known and what remains unclear
While rumors of impending cuts circulated throughout the university for the past few months, news broke last Monday that DePaul's budget gap totals more than $56 million. Since then, the community has learned more of a developing situation and new budget decisions have been made.
Term faculty cuts
On Monday, six term faculty members were notified that their contracts would not be renewed. The DePaulia has confirmed the identity of three of these faculty members, the most prominent being Latin American and Latino Studies professor Erika L. Sánchez in DePaul's college of Liberal Arts and Social Sciences (LAS). Sánchez, a New York Times Best-Selling author for "I Am Not Your Perfect Mexican Daughter," has garnered much attention for her separation after taking to social media last week.
 Sánchez is not the only LAS professor to not receive a contract renewal. American Sign Language program director and term instructor Dana Demeter confirmed to The DePaulia that she too did not have her contract renewed. Demeter has taught at DePaul since 2012. 
Carolyn Martineau, a professor of Biological Sciences in DePaul's College of Science and Health is another term faculty member who did not have her contract renewed in wake of DePaul's budget crisis. In a comment to an article on The DePaulia's website, Martineau said that because of the timing of the decision in the academic job cycle, it is "unlikely I can attempt to find another teaching position before fall 2024."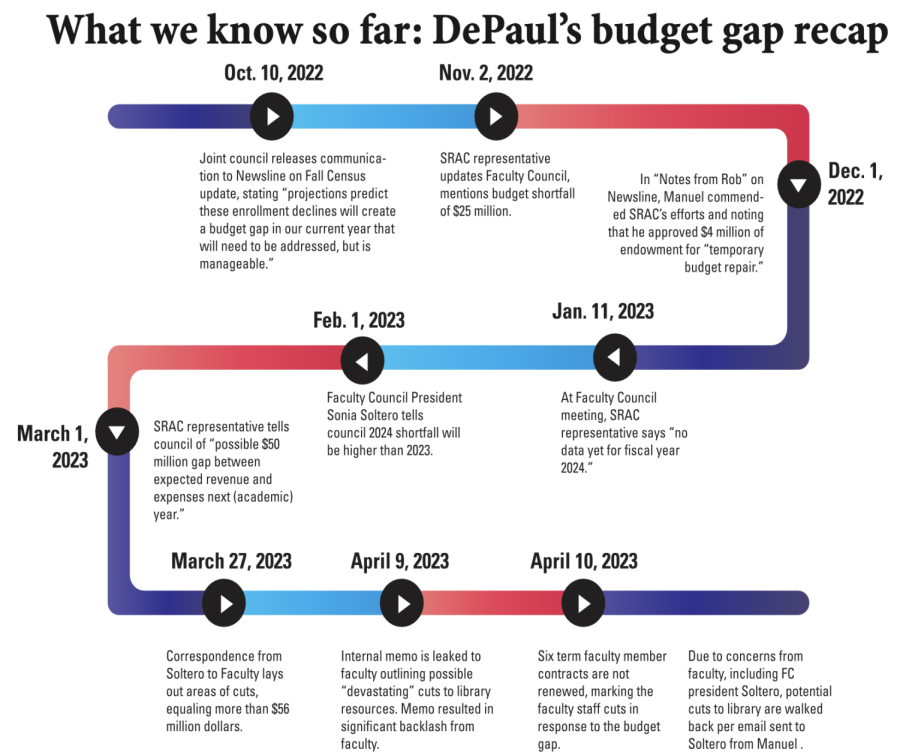 Timeline remains foggy
A major criticism from groups of faculty continues to be a lack of full transparency from the Strategic Resource Allocation Committee (SRAC) and university officials throughout the fact-findings regarding the budget gap.
"A lot of faculty have… serious questions about why this was happening so quickly, and why it was so unexpected," said LAS English professor Marcy Dinius to The DePaulia last week.
 Much of faculty frustration lies in the timing in which they gained a full understanding of the dire $56 million figure and the quick turnaround that respective college deans and other leaders were forced to make decisions regarding term faculty. Over the past two weeks, multiple faculty members told the DePaulia that neither SRAC, DePaul's provost office nor has President Robert Manuel informed faculty of when the extent of the budget gap was known to them.
 In an interview last Monday with student media and in follow-up query, Manuel was asked multiple times when he first had an understanding that the budget gap was near $50 million. With each inquiry, the university president gave no specific dates or timeframe as to when he and others close to the situation first knew of the budget gap's extent. 
Though colleges likely knew by January that faculty personnel cuts were probable, the number floated at Faculty Council meetings at that time neared $25 million. It was not until March 27 that faculty would be made aware of the real figure of $56.5 million, more than double from their previous understanding.
This was three days after the March 24 deadline for term faculty reappointment decisions, according to an email to faculty from Faculty Council president Sonia Soltero. Term faculty contract renewal notifications would later go out on April 10.
'Devastating' library resource cuts walked back
Another major development regarding the budget is the major cuts recommended to DePaul's library and related academic resources. Communication circulated throughout faculty two weeks ago highlighting significant cuts to the library system and was met with much backlash. 
An internal memo obtained by The DePaulia sent between faculty the week of April 6 outlined the cuts proposed to the library that included cuts nearing "50% of all digital resources and a more than 50% cut in [the library's] permanent collection." Sources tell The DePaulia this correspondence was met with almost unanimous adverse reaction.
In the original proposal, countless subscriptions to academic journals, research papers and other related learning tools would become unavailable. The memo said the reduction to these library collections would, "fundamentally alter not just the library, but all the colleges, departments, and programs supported by the library."
According to an email acquired by The DePaulia from Manuel to Soltero on April 10, Soltero and her faculty colleagues took much exception to the proposed cuts. In response, Manuel assured the Faculty Council president the cuts would be reconsidered.
"The $1.5 million was an original target, and it is clear this is not a viable option," Manuel wrote.
What's next
On Friday, faculty resource reduction considerations from various colleges were due to the university, according to a March 27 email from Soltero to faculty. These possible reductions could include teaching-load restructuring, class schedule reorganization and possible course eliminations, revisions to faculty pay practices and possible elimination of vacant full time faculty lines.
Also due on April 14 were budget restructurings related to part time staff including student positions. Departmental reduction considerations like travel and consulting expenses were also to be due on this date.  
Announcements and notifications regarding these deadlines are expected this week.
Last Monday's student protest in Lincoln Park showed a worry that certain departments and academic units could be cut due to the budget gap. Manuel, Provost Salma Ghanem and Soltero have all told The DePaulia that they are unaware of any likely department cuts or restructuring at this time.
It's highly unlikely that it's going to come [to] programs that are of concern… [being] eliminated or merged," Manuel said. "That might be a longer conversation about the merging and how they can support each other."
Manuel was quick to inform that any program restructuring or elimination is a long process that would take several years to complete.