'It belongs in Chicago': Sueños embraces Latine musical success across the charts
Sueños Music Festival returned to Grant Park for the second time after leaving a footprint on Chicago's Latine community last year, inspiring attendees to move their bodies to a mix of reggaeton, regional mexican, and banda beats. 
Over the Memorial Day weekend, festival goers danced to the music of Ivy Queen, El Alfa, Feid, and Wisin and Yandel at the one-stage venue. Among them, El Alfa and Wisin y Yandel who were both back to Sueños from its initial performance in 2022, but that did not discourage fans from returning. 
Sueños is Chicago's first Latin-based music festival, and with 95% of tickets sold out this year, the festival attracted a diverse spectrum of festival goers eager to embrace and be surrounded by Latine culture according to their Instagram.
Ana Pastra, 32, said she returned because of the representation of Latino music and culture.
"Big artists are getting into our music, and it is incredible to see the acceptance and appreciation for Latinos now," Pastra said. 
Last year was a watershed moment not only for Sueños but also for Latino music in the United States. 
According to the Recording Industry Association of America (RIAA), the Latino music revenue surpassed $1 billion for the first time.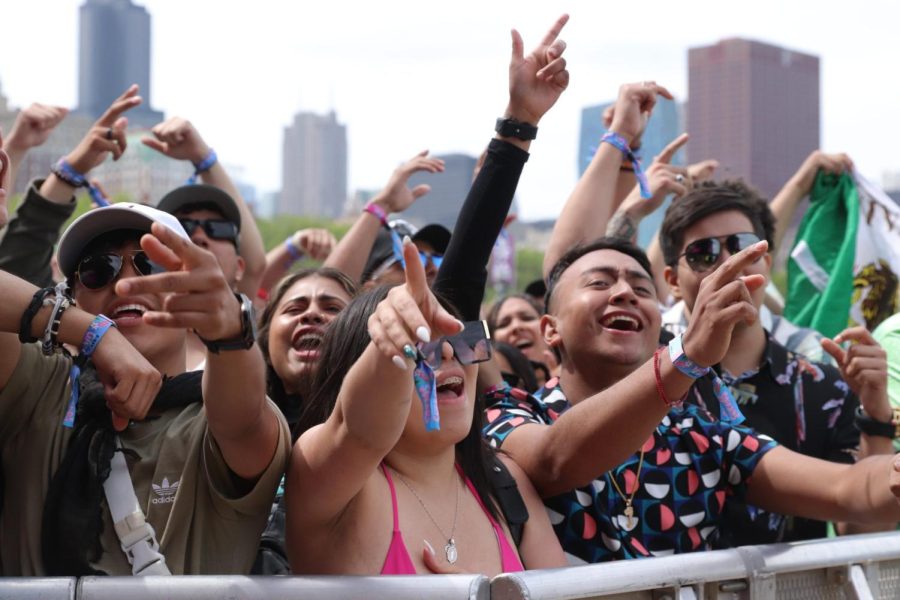 The revenue increased from $881 million in 2021 to $1.1 billion in 2022, making Latino music more mainstream and demonstrating the genre's growing popularity.
Among the top artists who took the  stage this year were Chencho Corleone, Becky G, Myke Towers, Grupo Firme and Feid, who were also among last year's top Latino artists according to Billboard. 
The festival not only features a mix of rising stars, but it also aims to embrace Latine culture in Chicago, where Latinos account for 28.7% of the population.
"Chicago is home to so many Latinos and so many different cultures," Pastra said. "We needed Sueños in Chicago. It belongs in Chicago, and I will keep coming back because it is so amazing."
For other fans, the festival provided a sense of comfort, making the lengthy drive from Austin, Minnesota to Chicago worth it for 21-year-old Christian Jaurez. 
"This is my first festival and I feel comfortable," Juarez said while wearing a Mexican flag tied around his neck. "I feel like me."
Juarez was a first year attendee with a group of friends, hoping to see artists he'd only seen in his sueños, meaning his dream, he said.
"The thing about the artists here is that they embrace all cultures, like Puerto Ricans, Mexicans, and Colombians," Juarez added. "They make us feel included when we usually aren't."
Meanwhile, Gustavo Rodriguez, 33, wanted to show off their Sueños pride in a unique way.
"Sueños" was imprinted on the back of his faded haircut, highlighting a word that carried a special significance in his life. 
Rodriguez is a DACA recipient and Dreamer who came to the United States from Peru and was still able to embrace his culture at the festival.
"I'm a Dreamer, so this festival gives me something that I can relate to," Rodriguez said. 
As someone who grew up listening to the performers as a kid, it was an unbelievable moment to see them all on stage, Rodriguez said. "All the artists that are here today, I feel like I grew up with them."
Jez Marie, a West Side native, came to the festival to have fun, but she said she had no idea how connected she would feel to others until she arrived and saw the crowds of people proudly wearing their country's flag. 
"I've seen so many people today, all from different cultures, even outside of the Latino community, and it's cool to see everyone dancing to our music," Marie said holding her Puerto Rican flag, "I'm wearing mine because I'm Puertorriqueña, and I'm about it."
As Chicago continues to host more Latino-centered events such as Miche Fest and Ruido Fest, this Midwest festival in particular will continue to bring people together and celebrate Latino culture, organizers say. 
"I love the culture," Pastra said. "I love Latinos and everything that has to do with Latinos."
Stephania Rodriguez contributed to this story's reporting.