AP: Ohio routs DePaul to fifth straight loss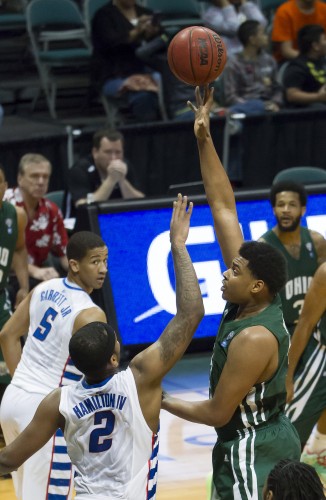 HONOLULU (AP) — Javarez Willis scored a career-high 31 points, Maurice Daly Ndour and Antonio Campbell had double-doubles and Ohio raced past DePaul 99-78 on Tuesday in the Diamond Head Classic.
The Bobcats (4-5) shot 59 percent (38 of 64), making 10 3-pointers — seven by Willis — and going 13 of 18 from the line. Ndour had 15 points and Campbell 10, with both grabbing 10 rebounds. Ryan Taylor and Treg Setty both contributed 17 points.
Darrick Wood led DePaul (6-6) with 15 points with Tommy Hamilton IV and Bill Garrett Jr., getting 12 apiece.
The Blue Demons were within 29-27 after a 3 from Garrett but Setty had six points in a closing 15-3 run to make it 44-30 at the half.
Setty and Willis made two free throws each and later hit back-to-back 3's in a 12-3 run that made it 63-41 with 13:12 to play.