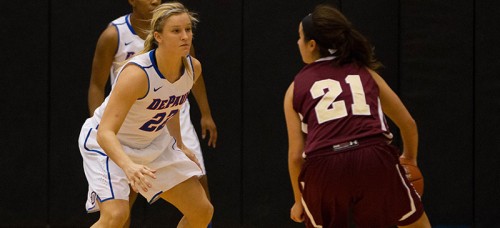 In her freshman year in 2012, things were looking up for DePaul guard Brooke Schulte. That was until she made a defensive move at practice and heard a loud pop in her knee. Schulte knew right then.
"I was guarding Britt (Hrynko)," Schulte said. "She went one way, I went the other and I heard a pop then all of a sudden I just went down."
Schulte tore her ACL ended her season, and began the long road of rehab for one of the most crushing sports injuries there is.
"The rehab was six months," Schulte said. "At the six-month point, I was about 80 percent better."
When asked about the drudge for an elite athlete to go through rehab, Schulte cited her best friend and teammate, Chanise "Trixie" Jenkins, who suffered a torn ACL in high school, as the main part of her support.
"Trixie helped me through it," Schulte said. "Other than that, I didn't really think about it. I just knew I wanted to get back as soon as possible."
Flash forward two years later and Schulte, the redshirt sophomore guard, just logged three straight 20-plus minute games, including a 27-minute showing in a win against Xavier Jan. 11.
DePaul head coach Doug Bruno said it was hard to see Schulte go down, as it is to see any player go down with an injury.
"You have ultimate empathy for these players," Bruno said. "One of the worst things as a coach is to see a talent like Brooke get injured. It's hard for the whole team to see one of them go down."
Bruno said Schulte is now performing at the top of her game in an already burgeoning 13-6 Blue Demon season.
"Brooke Schulte, what can I say, it's great to see her healthy after a year of not playing," Bruno said.
"Great to see her get her basketball rhythm back."
Bruno said he has transitioned Schulte back to game speed exactly as doctors have said to.
"I listened to doctor's orders but when (players) are healthy, they're healthy," Bruno said. "So much of it is the player's individual confidence built day by day."
Schulte has played exactly 347 minutes this season, which averages to 18.6 minutes per game. She's added depth off the bench, being the sixth, seventh or eighth option, depending on game circumstances. At 5-foot-9, Schulte also adds some size in the frontcourt for the Blue Demons.
"Brooke is very productive," Bruno said. "She doesn't show any weakness. She's a great and important part of our team."
Schulte has played in all 20 games this season and is averaging six points per game. She said the new workload doesn't bother her.
"I feel better than ever," Schulte said. "I don't really think about it when I'm playing anymore."
Jenkins, the junior starting point guard, said she was able to help Schulte with her rehab because she experienced the same injury. 
"It's just being a good teammate," Jenkins said. "It's like you're sisters. You give each other the best support and comfort you can."