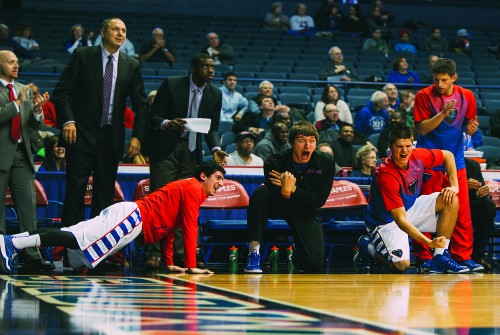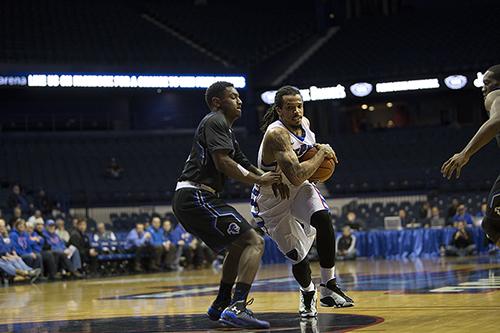 This season, DePaul's been a team that's lived and died by the 3-pointer. They're No. 1 in the Big East in shooting behind the arc, and it's what's gotten the Blue Demons most of their wins this season.
On Wednesday, in the team's second meeting this season against Seton Hall (15-7, 5-5 Big East), the threes weren't falling in the first half, a time when DePaul (12-12, 6-5 Big East) has been dominating in past games. By halftime, the Blue Demons were 1-for-11 from behind the arc.
It all made sense though — going into tonight's game, Seton Hall led the nation in defending the three by holding opponents to just 26 percent.
"It hurts because we shoot the ball pretty well," sophomore guard Billy Garrett, Jr. Said. "We weren't making threes, so we had to find some other ways to get things done."
But maybe that was a good thing — it forced DePaul to play inside the paint and because of it,the Blue Demons earned a conference sweep for the first time since 2006-07 with a 75-62 win over Seton Hall. DePaul found 40 of its 75 points in the paint and dominated Pirates in the last five minutes of the second half.
Perhaps it was the weather — road conditions were rough with more snow falling on the 19 inches from Sunday's blizzard — or the usual expectations for bad basketball, but DePaul took on Seton Hall to an embarrassing empty Allstate Arena.
In the end the emptiness didn't affect the game, and the players enjoyed sweeping a conference opponent, something most of them hadn't experienced.
"(It) feels great, it's my first time doing it so, it's a good feeling," Garrett said. "It really feels better to come back from three loses in a row."
Forward Jamee Crockett led the team in scoring at 21 points, with Garrett falling close behind with 20.
But this time it wasn't the offense that brought DePaul the win, it was the defense. The team topped Seton Hall in both blocks and steals, including three big blocks from Rashaun Stimage in the first five minutes of the game. The Pirates were also held to just 36 percent, including hitting only five field goals in the second half.
"Wire to wire it was one of our better games of the year," head coach Oliver Purnell said. "We came out pretty sticky on the defensive end of the floor, led by Rashaun Stimage. Our perimeter defense grew as the game got better."
DePaul's offense wasn't always solid, however. They appeared sluggish in spots as they turned the ball over 12 times, seven in the second half. They also had mental lapses defensively, continuing a trend of fouling the shooter on a 3-point attempt.
In the final six minutes though, that's when it all clicked. Coming out of a timeout tied at 59, it was time for one team to dominate and take the game. DePaul was that team.
DePaul went on a 14-1 run over the final four minutes, and Garrett came through with a game-changing 3-pointer to take a 66-61 lead with three minutes left. On the very next DePaul possession, guard Durrell McDoanld hit a deep three that turned out to be the dagger.
"In the last six minutes of the game, we were flawless," Purnell said. "We did the three things we always talk about doing. That's not turn the ball over. Solid on defense and make your free throws. We finished the game off really, really well. I was pretty pleased overall. Seton Hall's a good basketball team."
For Seton Hall, Sterling Gibbs led the team in scoring with 21, but Crockett's defense against the guard proved just as valuable as his offense.
"He was terrific tonight," Purnell said of Crockett. "I'm trying to remember if I've seen him play a better game. … He was good on both ends. … He was really, really good."
Crockett was pleased with his team's performance against Seton Hall, and he won't take no for an answer the rest of the season.
"We're resilient. We don't take no for an answer," Crockett said. "They picked us last in the Big East preseason. We're not standing for that. We just come out, play every game like it's our last."
DePaul plays next 2 p.m. Saturday at Butler (17-6, 7-3 Big East).