National signing day: Do high school athletes deserve national coverage?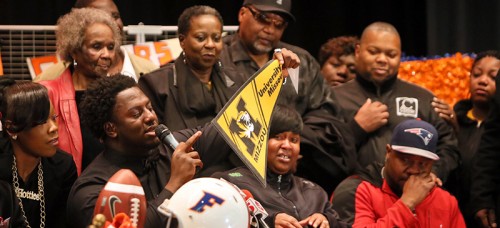 As I sit in my little cubicle at my internship on Wednesday, Feb. 4, the TV behind me features ESPNU and today's topic of conversation: National signing day.
ESPNU has a rundown of the top recruits in the nation, listed 1 to 300. The analysts discussed the top recruiting classes, which included the Alabama Crimson Tide, the Florida State Seminoles, the USC Trojans, the Clemson Tigers and the Tennessee Volunteers.
Showing highlight footage of these future collegiate student-athletes and discussing what we can "expect" from them come football season, they speculated whether or not we would see them in the line-up right away or if they will sit out a year to learn and understand the system.
Bouncing back and forth between the analysts and different students' announcements at their respective high schools, ESPNU's all-day coverage of National signing day gave us the rundown on where these top football recruits will be committing.
The number one defensive tackle DT and number two overall player in the ESPN top 300 was Terry Beckner Jr., a 6'4", 298-pound player from East St. Louis, Illinois. Deciding between Auburn, Florida State, Ohio State and Missouri, Beckner decided to stay close to home and ultimately     chose Missouri.
Before he made his announcement live on ESPNU, Beckner got emotional, thanking God for his opportunity. With tears in his eyes and surrounded by his family and friends, Beckner said he would be going to Missouri. The gym where Beckner made his announcement exploded in cheers from his school, friends and family.
While this is a huge accomplishment for young athletes like Beckner who have worked endless hours, sacrificed a lot and through all their blood sweat and tears are being noticed, it is questionable as to whether or not these young athletes have earned a spotlight on ESPNU. Their spotlight is only due to their projections and expectations of how they will compete the next four years of their lives. Does this warrant all the hype and attention?
Yes, these athletes are the best on a high school sporting level, but that does not mean that they will continue to succeed in college. It's a completely different game that they are about to enter. Longer hours, more sacrifice and having to remember that you're still a student who needs to complete study hours, go to classes and maintain a high enough GPA where you are eligible to play are key components of the new environment of a student athlete.
From a business aspect, after the National Championship in January and until spring football, there is an absence of college football coverage. This gives media outlets like ESPN, online web shows and talk radio something different to discuss.
National signing day is giving these young athletes a skewed view of what is to come in college athletics. It's not glamorous –it's hard work. If athletes don't perform well, they must figure out how to improve. If and when they can't fix their game, that's when the cameras and the spotlight disappear.
National signing day is when a lot of promises are made, but come football season a majority             are broken. 
For some people who are die-hard college football fans, National signing day is like draft day in the NFL. It's a chance to see the potential of your future team. Could this recruiting class be the class that leads you to a national championship? Could you be looking at the next Tom Brady? The next Marshawn Lynch? The next J.J. Watt?
The spotlight might be too much, too soon for these young athletes. If they want to keep the spotlight around, it's all about what they do next.