Megan Podkowa of DePaul women's basketball fitting into new role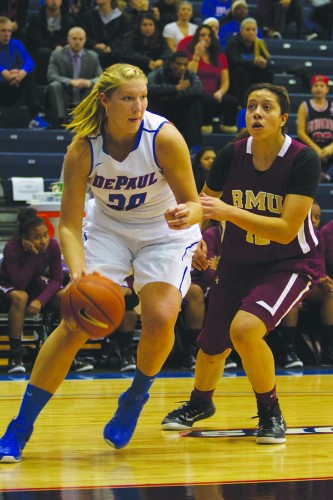 With a flick of her right wrist, eyes focused on the basket and feet well behind the three-point line, DePaul's Megan Podkowa let go of the ball in the first half of Sunday's game against Villanova. The ball gracefully slid into the net as Podkowa watched behind the arc confidently.
These three-point shots are what the junior has been known for during her past two seasons at DePaul. However, with the graduation of Jasmine Penny, Podkowa's role on the team has expanded. The former guard has frequently been found in the middle of the key as a center and, despite injuries, Podkowa has found new ways to be successful on the court.
When asked how he thought Podkowa was taking to the new role of center, DePaul women's basketball head coach, Doug Bruno insisted that his player hadn't shifted positions, but rather instead she was a true all-around player.
"Megan has been a player since she has been a freshman in high school,"
Bruno said. "Megan's strengths are her ability to play every position."
The one word that Bruno used repeatedly to describe Podkowa was "versatile" and when watching the team's new go-to post-player, it's easy to see. Podkowa is able to distribute the ball and post-up from the inside while also being able to back out and shoot a reliable three-point shot. This versatility creates what Bruno termed a "match-up nightmare."
Bruno began working with Podkowa even before Penny had graduated and continues to have  her work on all the different aspects of her game, including practicing her back-to-the basket shots while still continuing work on her signature three-point shot. Podkowa is now starting to see how she can use her depth to help her team.
"Now that the post has to come out and guard me, the guards have more space in the middle to drive because they don't have a 6-foot-5 center in there," Podkowa said. "I think it has helped our team a lot and I think it has definitely been useful for me."
Despite her versatility, Podkowa, like all athletes, does face challenges as the team's post player. At 6-foot-2, Podkowa must fight to find ways to score inside against the true centers in the conference who usually stand around two inches taller than her. This is one aspect that she will have to work on if she wants her team to be successful come March. 
Podkowa and the Blue Demons have been fighting to fill Penny's shoes. However,  the injury that has been a major factor this season is the one suffered to senior Megan Rogowski, one of the team's leading scorers, who tore her ACL. In addition to that, it is not just Rogowski who has been plagued with injury. Earlier in the season, Podkowa endured numerous injuries, including a broken nose and a concussion. Despite this, the junior only missed one and a half games and continued to contribute to the Blue Demons' 19-6 record overall.
Bruno insists that Podkowa's ability to persevere comes from her inner will to compete.
"This is what Megan (and) competitive people do," Bruno said. "They want to play, they want to be on the floor."
This competitive nature was fostered in Podkowa's youth during pick-up games with her siblings. Podkowa developed her basketball game and fight playing against two older brothers and two older sisters.
"(My siblings) would always kind of pick on me and push me around. So I think that's what forced me to always fight even harder," Podkowa said.
The Blue Demons will continue to look to Podkowa for her competitive drive and versatility as they try to improve upon their 11-2 conference record in the last seven games of the regular season. DePaul basketball fans can see Podkowa and the women's team in their next home game Feb. 13 at McGrath-Phillips Arena against Seton Hall.