AP: Gov. Rauner lays out controversial plan to turn state around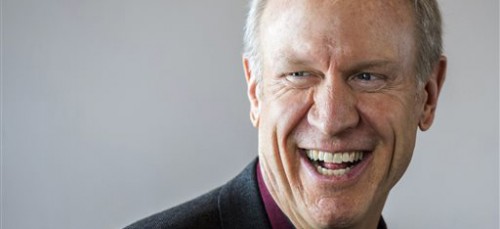 SPRINGFIELD, Ill. — Gov. Bruce Rauner presented an ambitious first-year agenda Wednesday in a 12-page speech that proposed measures he said would help Illinois better compete with its neighbors and repair a multibillion-dollar budget hole. Here's a look at his plans at a glance:
Taxes
Rauner has proposed freezing property taxes for two years and expanding the sales tax base as part of a "taxpayer empowerment" plan.
Rauner suggests that real estate taxes not increase above 2015 levels except for new construction or property under other narrow restrictions. He wants to "modernize" the sales tax to include services such as haircuts or automotive repairs.
Schools
The Winnetka Republican wants to make the increases to school funding a top priority despite a general warning for weeks of painful budget cuts. He said Wednesday during his State of the State address that Illinois must "avoid slipping further behind other states in the quality of our children's education."
But Rauner hasn't said how he'd pay for the increase or how it might affect other areas of the budget.
The state faces a $5.7 billion budget gap next year after the expiration of Illinois' temporary income tax increase.
Rauner also says he wants to lift the cap on the number of charter schools to offer more choices.
Prisons
Gov. Bruce Rauner wants to hire more prison guards, reform the parole system and invest in a state program that keeps non-violent offenders out of prison.
He also said he wants to continue to invest in a program known as Adult Redeploy. It helps fund programs that divert non-violent offenders to community-based programs, rather than sending them to prison.
He hasn't said how his administration would pay for the additional employees, or how much the new hires would add to the state payroll.
Government consolidation
Rauner says Illinois must consolidate or eliminate some of its more than 7,000 units of government, noting during Wednesday's speech that Illinois has more government units than any other state. That includes school districts, townships and fire protection districts.
Rauner said "taxpayers can no longer afford all of them."
Rauner pointed to steps taken by DuPage County to consolidate its government agencies. DuPage County Chairman Dan Cronin's office says those efforts helped save about $30 million per year and eliminate 50 fulltime positions. He said a task force led by Lt. Gov. Evelyn Sanguinetti will identify ways to consolidate government.
Right to work zones
Rauner is advocating for so-called "right to work zones" where local officials could decide whether union fees would be voluntary for local workers."
Rauner says local communities "deserve this option so that they can compete with other states and other nations for new businesses and new investments."
View Comments (1)