Chicago showdown: Rahm Emanuel's runoff against Jesus "Chuy" Garcia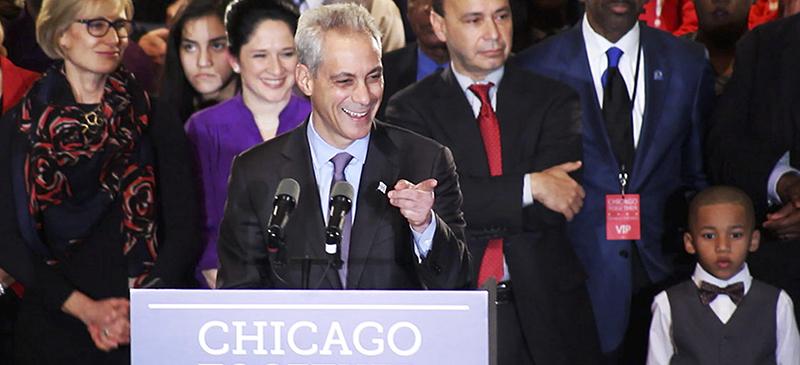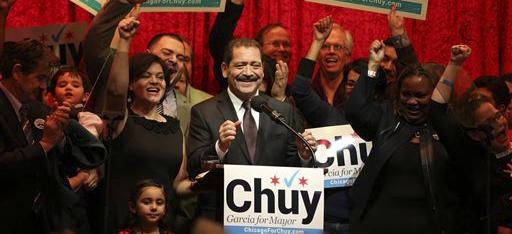 The 2015 Chicago mayoral election ended with incumbent Rahm Emanuel not receiving more than 50% of the vote, resulting in a runoff against Jesus "Chuy" Garcia
Mayor Rahm Emanuel will face Cook County Commissioner Jesus "Chuy" Garcia in the first mayoral runoff in Chicago history on April 7 after failing to get the 50 percent plus one needed to win on election night, Feb. 24.
With most precincts reporting Emanuel had about 45 percent of the vote — well ahead of Garcia who took 34 percent — other challengers Bob Fioretti, Willie Wilson and William 'Dock' Walls split the rest. Now, Emanuel and Garcia will spend the next six weeks trying to win over voters who pledged allegiance to the defeated candidates.
"I congratulate Chuy Garcia on a good race," Emanuel said in remarks to his supporters. "He's a good man and I look forward to a debate of the issues in the weeks ahead where we can be clear about the choice for Chicago's future."
The mayor's election night event, held at the Plumbers Union Hall in the West Loop, was festive throughout the night as supporters from many different groups, including a strong union presence, came expecting victory.
"Hopefully people will pick the right person, a mayor who's going to be effective and stand for our city, because the governor is going to come for Chicago first," Kenneth Williams, an Emanuel supporter who is in the local hospitality workers union, said.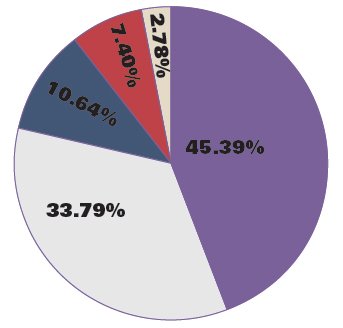 At the Alhambra restaurant in the West Loop, a chanting crowd and heavy samba music welcomed Garcia on stage.
"Nobody thought we'd be here tonight," Garcia, the admitted underdog, said. Many of Garcia's supporters hoped for a direct win, but expected a runoff given Emanuel's vast campaign funds, which outnumbered Garcia's 12 to one.
"The money doesn't matter," Travis Kluska, who worked on Garcia's campaign, said. "If (Emanuel) had so much money he would have won (the election) on this first shot. Chuy has people-power and that's what's important."
This will be the first runoff since Chicago switched to a non-partisan system of voting. Former Mayor Richard M. Daley never won less that 68 percent of the vote, and Emanuel won outright with 55 percent against three opponents in 2011.
The city experienced a record-low turnout, which affected the mayor and many of his supporters in the city council, who will now have to fight for their jobs in a runoff as well. According to the Chicago Board of Elections, only 32.5 percent of registered voters went out to the polls.
That means for the next six weeks the two candidates will throw every available person from their campaign staff onto the streets collecting the other 67.5 percent. The candidates have scheduled three televised debates on March 16, March 31, and the final debate is to be determined.
Illinois Gov. Bruce Rauner has not made any statements about the runoff and is "staying out of it." The other candidates, and their supporters, however, are up for grabs.
Willie Wilson said before the election that that he would back Garcia in the case of a runoff, but backtracked after the election. Wilson has met with both Emanuel and Garcia in recent days as they court his support. Wilson said the historic tensions between blacks and Hispanics in Chicago was a subject that had been downplayed during the campaign.
"African-Americans feel Hispanics are replacing them, even though they've been there the longest. They're getting more contracts and more jobs," Wilson said. Wilson said he would consult with his supporters before deciding whom to support in the runoff.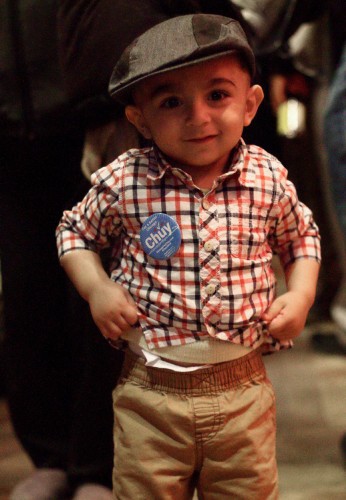 Despite the mayor outspending all of his opponents combined and a slew of endorsements from Democratic heavyweights, including his former boss President Barack Obama, it wasn't enough for Emanuel to avoid a runoff.
A common theme in Garcia's runoff speech was defending his campaign and Chicagoans from "big money interests" behind Emanuel's administration. He credited grassroots movements with getting out the vote responsible for the runoff and rallied unions like the Service Employees International Union (SEIU) Health Care Illinois Indiana (HCII) and the Chicago Teacher's Union (CTU).
Garcia received significant support from the CTU, particularly from their leader, Karen Lewis, who abandoned her mayoral bid after being diagnosed with a brain tumor last year. Lewis was not present at Garcia's election night event, but "she sends her love, and she sends her personality," Garcia said.
SEIU Health Care Illinois Indiana (HCII), a branch of the powerful Illinois union, SEIU, made significant donations to Garcia's campaign in the week before the election even though the SEIU Illinois State Council and SEIU Local 1 pledged neutrality in the first mayoral race. After the runoff announcement, SEIU Local 1 officer Jerry Morrison said the powerful Illinois union was now considering backing Garcia. "This is now a different election," Morrison said.
The mayor's campaign came up short after a divisive first term that featured the closing of nearly 50 Chicago public schools in largely minority South and West side neighborhoods, spikes in crime in those neighborhoods and repeated clashes with the Chicago Teacher's Union, which in 2012 led to the union's first strike in more than 25 years.
U.S. Rep. Luis Gutierrez, who fired up the crowd by listing the mayor's accomplishments over the past four years, introduced the mayor. Standing with the mayor were a slew of prominent supporters including City Clerk Susana Mendoza, Illinois Secretary of State Jesse White and U.S. Rep. Bobby Rush.
Mendoza said in the event of a runoff Emanuel would still win.
"People at the end of the day understand the city needs a tough mayor and it's tough times, so he's the right guy for the job," Mendoza said.  "He's willing to make the tough and politically unpopular decisions if that means putting children on the path for success and they're in the best interests of our city."
View Comments (1)