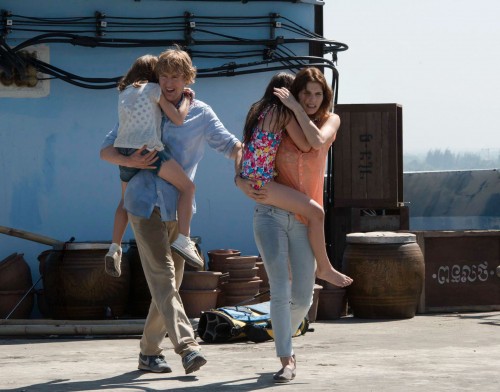 An intense international thriller, "No Escape" centers on an American businessman (Owen Wilson) as he and his family settle into their new home in Southeast Asia. Suddenly finding themselves in the middle of a violent political uprising, they must frantically look for a safe escape as rebels mercilessly attack the city. Directed by John Erick Dowdle and written together with his brother Drew (who also produced), "No Escape" stars Owen Wilson, Pierce Brosnan and Lake Bell.
The Depaulia sat down with the brotherly duo John and Drew on behalf of their new film releasing this weekend.
The idea of this script was completed in 2007, now that's its 2015 and it's complete, I'm curious as to the plus and minuses to this almost 8 year journey.
Drew Dowdle: We went on a location scout to Cambodia and Thailand in 2008. In our minds we were close enough to pay out of our pockets to go on a location scout. We didn't get paid back.
John Dowdle: It was a real challenge and we were luckily able to go make a couple other movies in the interim.  We had a three-year gap almost once because we kept building this and it kept falling apart.
Drew: Between 'Devil' and 'As Above, So Below' was this big gap that was all because of this movie. The problem was that people loved the script and people would read it and say 'OMG it's such a page turner, lets make it' so people would get really fired up about it. Then we would get down the path and people would start recognizing the elements of risk that were inherent in the story.
John: But on the plus side, we kept preparing. I do feel like that had we made this in '07 or '08, it wouldn't be as good. In 07, I don't know we would be able to lock in Owen or Pierce or Lake.
Speaking of this long journey that you had and the craft that you guys work together with, how is it collaborating with each other being brothers writing on projects? Is it easier? More accessible?
Drew: It's so fun. And we are just together all the time even when we're not working. It drives his wife crazy.
John: There's just so many highs and lows in this business. You have someone there that is right there with you. It's helpful showing up to meetings with a gang. It's intimidating. Even talking to an actor, it's nice to have a buddy with you.
Drew: Creativity is so subjective. Sometimes there's a creative decision one of us has made, there's like double the confidence. We will make sure to shoot each other's bad ideas down before they are out there in the world.
The idea of family is an underlying theme in this film. What has that meant to you with this project?
John: In my own life there has been a number of…years ago our dad was in a plane crash. This is 15 years ago. We all ended up together and he was fine. I remember sitting in ICU and I realized that this is the fabric of life. At the end of my life, no one is going to care what my credit score is. There's so much noise in life that seem important until something really important happens. Drew and I started working together soon after that officially and both of us have changed our life dramatically.
Drew: This big accident, this jarring experience, we started making plans for our first film. I wonder sometimes if that didn't happen and we would just continue drifting.
Was Owen Wilson a risk worth taking?
Drew: We didn't take the risk. We thought it was brilliant. There are two levels to it. Will he play a good role in the movie and will the audience buy into it. We felt very strongly that his performance would be amazing. He's a great actor.
John: He just showed up and he brought it. We were like 'whoa' and just got out of the way.
Drew: He just make everyone around him better. He was a great number one on the call sheet. Once it comes out, we thought that it would be our greatest selling point. From our distributor standpoint maybe risky, they like to do things that they know have worked before. We like to gamble. Well not really.
John: It's the risk that filmmakers take. The movies I show up to are the ones that I'm like, oh how's that going to work. Many people asked if we were going to give Owen a crew cut. No! We want the 'Marley and Me' Owen. Like he never yells at anyone. Each character that he plays is wildly different. He's full of great ideas. But since he sounds like he's not acting, he really is. It makes you feel like it's real.