London Calling: the world is your oyster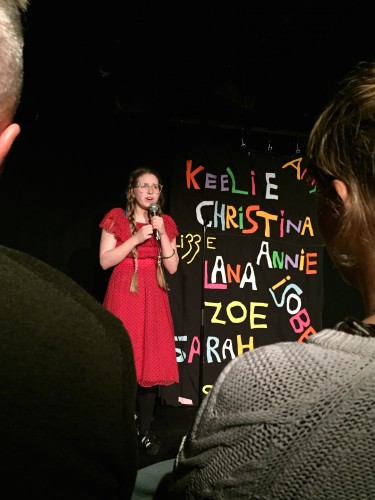 In my family, my dad is known for his expertise in planning trips. For each of our vacations, he researched and planned every detail in advance, from the bingo cards he created to keep my brother and me occupied during long road trips, to beach days built into the schedule so I wouldn't get bored visiting one historical monument after the next. Our family vacations were well organized and we had a lot of fun every time.
Apparently I did not inherit the trip planning gene, because the trip to Ireland I planned was a bit of a mess at first. My friend Caitlin and I had booked plane tickets to Dublin just a week before we left, so our rushed planning may have caused us to overlook some details.
Our flight left early Saturday morning, so Caitlin and I planned on meeting to catch a shuttle to the airport. It was late Friday evening when I realized that the tube wouldn't open early enough for me to get there on time. I wasn't going to make the shuttle and would miss the flight. I tried to contact Caitlin to tell her, but the Wi-Fi in her building was broken that day, so I had no way to contact her. In a frenzy I enlisted the help of my suitemate, who helped me contact everyone we knew who might help us.
I had been on hold with the security guard at the front desk of Caitlin's dorm for several minutes, losing hope, when my suitemate came through, and I finally got Caitlin on the phone. We devised a plan and both made it to the shuttle in the morning. The stress of that night probably took 10 years off my life.
When we got to Dublin we checked into our Airbnb. I had never stayed in an Airbnb before, and I doubt I ever will again. Airbnb's are just really strange. We met our host, a complete stranger, outside his apartment. He led us upstairs, showed us to his extra bedroom and gave us a set of keys. My whole life I've been taught not to follow strange men who I meet on the street back to their homes, so the whole situation made me very uncomfortable.
In Dublin we took a trip to the Guinness Storehouse where we sampled beer from a rooftop bar, visited St. Patrick's Cathedral, Trinity College and Temple Bar, and ate potatoes on top of potatoes.
One thing I really like about Dublin is the city's appreciation for live music. Musicians play traditional Irish music in every pub at night and line the streets of the shopping area during the day.
My favorite part of the trip was our tour through the Irish countryside to the Cliffs of Moher. At any point during the bus ride, I could look out the window and see a herd of sheep or a border collie walking alongside an old man wearing a twill hat. That bucolic scenery is exactly what I imagined Ireland would be like.
The Cliffs of Moher were absolutely breathtaking. A ferry boat took us right below the cliffs where we could see them towering over us. Then we were taken to the top. Knowing my clumsiness, I was sure that one little stumble would have sent me right over the edge of the cliff, plummeting to my death. Luckily, my balance prevailed and I lived to tell this tale.
My trip to Wales the following weekend was just as stunning. My study abroad program had organized it this time, so it went a lot more smoothly. Every stop on the trip was more picturesque than the last. Our destinations included some Roman ruins, the medieval Caerphilly Castle, which was surrounded by a moat and a hiking trip through an green and orange forest to the Pontneddfechan waterfalls.
We spent the night in the small town of Aberdare, where locals were very confused about why 40 Americans decided to come there to visit. It's not your typical tourist destination.
A few friends and I decided to get a taste of Aberdare's nightlife and found a night club to go to. We were surprised to have the place almost entirely to ourselves that Saturday night, but it was a lot of fun.
On our way back to London the next day, we stopped to tour a coal mine and also visited Tintern Abbey, the ruins of a monastery perched atop the Wye River valley close to the English-Welsh border.
Despite all my travelling, I still had time to do some cool things in London these past two weeks.
My favorite thing I did was going to a standup comedy show at the Soho Theater in Central London starring Jessie Cave, who is most famous for her role as Lavender Brown in Harry Potter. I'm a huge fan of her more recent work as an illustrator, so seeing her standup show in such an intimate setting was incredible. The show was full of self depreciating humor and relatable stories about dating.
As much as I enjoyed sight-seeing outside of London, I am really excited to spend my upcoming weekend in the city. In London there are endless markets, neighborhoods, parks and restaurants to explore and I actually missed it while I was away.