Yeezy season approachin': New fashion line available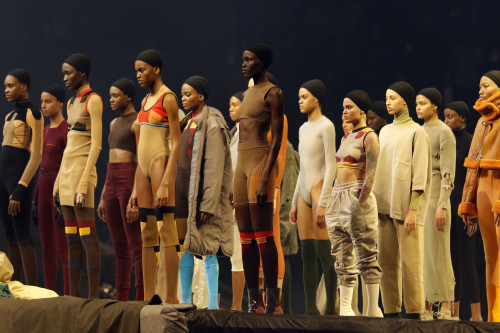 Kanye West premiered his new clothing line and album Thursday at a sold-out Madison Square Garden.
The launch was also live-streamed online to an audience of over 20 million, according to a tweet from West's label Def Jam Records. In addition, the spectacle was shown in select movie theaters across the world. Tickets to the Madison Square Garden show, with a capacity of over 18,000 people, were sold out in just 10 minutes.
This fashion premiere for West's latest collection, Yeezy Season 3, fell on the first day of New York Fashion Week, although it was not included in the official schedule.
It wasn't your traditional fashion show; the models never walked down a runway but instead were stationary for the entire event, instructed to sit down if they got tired.
A list of nearly 40 rules given to the performance models emerged online during the show.  Some of these mandates included "No fast movements" "No slow movements," "Do not be casual" and "Do not act cool."
Before the drop, DePaul junior Reed Smith weighed in on the new line. "I think Season 3 is going to be amazing," he said. "The way that it coincides with his album release gives a sense of anticipation unlike the first two seasons."
Thursday's event also served as a listening party for West's seventh studio album, which underwent multiple name changes before finally settling on "The Life of Pablo" or T.L.O.P. for short.
West began the show with the first track off T.L.O.P., "Ultra Light Beam," which features fellow Chicago-native Chance The Rapper. As the song neared its end, two sheets covering dual tent-like structures on stage were torn off to expose several dozen models looking straight ahead. During the live-stream the camera occasionally panned to West dancing on stage with fellow industry friends.
Junior Emily Divino is a fan of the new album. "The Life of Pablo really proves that Kanye can still make music that's new and different but also true to who he has always been as an artist," she said. "I think it's his best work yet and I loved all the features."
The clothes themselves featured bursts of bright color amidst shades of neutral.
There were a great deal of nude pieces reminiscent of Yeezy Season Two items and greens of Season One. Models of both sexes wore tight-fitting skullcaps. West has stated publicly that this line would be more affordable.
Smith, an aspiring designer himself with his own clothing line called New Static, owns the Yeezy 950 Pirate Black duck boots and a pair of Moonrock 350 boots.
"I'm indifferent about the clothing at this point. I love the silhouettes and the entire concept, but since he is working with Adidas I assumed the price points were to be much more reasonable. $2,000 or more for a tattered sweater is practically robbing the consumer," Smith said. "This feels like a make or break moment for Kanye. If this line isn't more affordable, I think his fan base in fashion could begin to stray away from future purchases."
The Yeezy 350 sneakers, released periodically in different colors, are nearly impossible to get ahold of and cost hundreds of dollars. The apparel items from Season 1 may be easier to find in stores, but the prices are even higher. Season 2 has yet to be released for sale to the public.
RSVP Gallery in Wicker Park is one of the few stores in Chicago that carries the Yeezy brand. Sales associate Sarah Merabet said the opportunity to buy a pair of Yeezys at the store involves a raffle process. "The shoes sell out right away," she said. "You come in, you purchase a RSVP t-shirt and you get put in a raffle."
"The brand has been so successful for a couple reasons," Smith said. "One, it is extremely hard to get your hands on the most hyped up pieces; especially the shoes."
"Second, Yeezy has brought high fashion to the mainstream in the U.S., which is new to a lot of people."
To no one's surprise, social media blew up after the show with comments on the new clothes, new music and new infamous Kanye West quotes. West kept the party going after the album wrapped up and several of his rapper friends dropped their own new music.