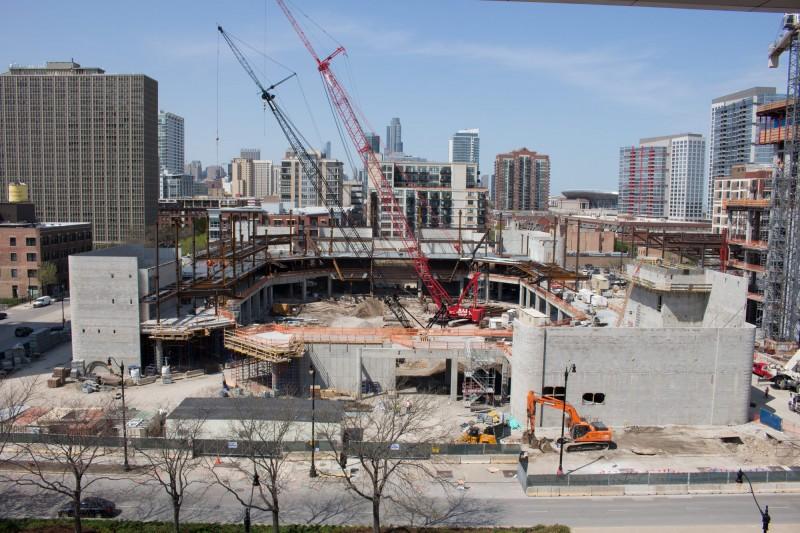 As the future home of the DePaul Blue Demons begins to take shape, a new chapter in this program's storied history is about to written. But that chapter — or in this case, arena — doesn't have a title.
DePaul broke ground on the new basketball arena more than six months ago, but fans are still waiting to find out who will write a check to put their name on the building. Projections have that check being worth $24 million.
In the contract signed by DePaul, the city of Chicago and the Metropolitan Pier and Exposition Authority, or McPier, it was agreed upon that DePaul would collect all of the revenue from the sale of the naming rights for the arena.
Some three years later, the price has been set but the name of the arena and the company willing to write a big check for naming rights remain a mystery.
Ryan Smith, the general manager of global sales at Legends Marketing who is handling the sponsorship and naming rights deal for the arena, said the firm has not yet reached a deal with a naming rights partner, but there is a timeline.
"I would say we'd publicly announce it when a partnership is official. Our goal is within the next 12 months to have a naming rights partner secure," Smith said.
Smith could not disclose what companies or organizations are currently bidding for the naming rights because Legends has not yet made a public announcement.
He did confirm that Legends is taking DePaul's status as an academic institution into account when vetting potential naming rights partners. Smith also indicated that the naming rights roots in Chicago. But DePaul athletic director Jean Lenti Ponsetto did not rule out the possibility of a national company with a significant Chicago presence. 
Smith said fans can expect to see a prominent brand I.D. for the company that purchases the naming rights both inside and on the exterior of the arena. However, Legends has made it a priority to maintain the aesthetic of the building.
The principal sign will appear on the southeast face of the new arena.
"The goal is not to place logos and signs on every square inch of the building."
The price tag on those logos and signs is $24 million, according to a projection  provided in the Legends agreement with DePaul, a consulting company hired by McPier.
Although Smith was unable to confirm the asking price, he said the goal is to secure a long-term naming rights partner who would pay DePaul an annual rate over 20 years.
"Legends in particular did not do the projections on those numbers. I couldn't comment on the financials are far as what we're asking on an annual basis," Smith said.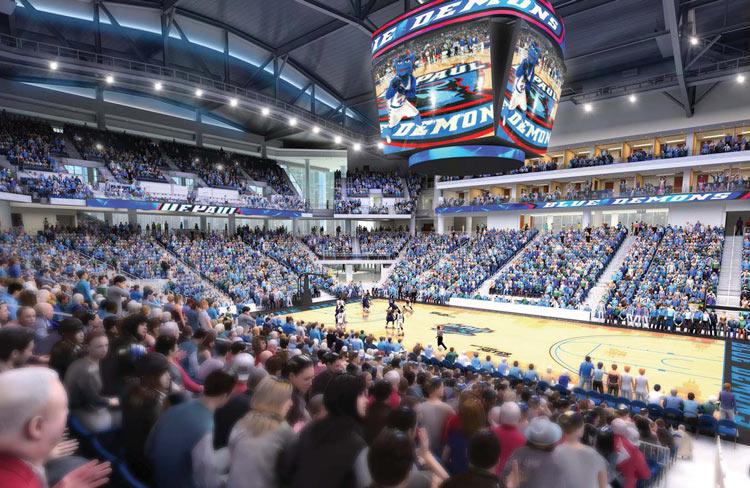 Concerns have been raised over the accuracy of the $24 million projection and what it will mean for the financial health of the school if the deal comes up short. 
Tony Krautmann, a professor at DePaul and a sports economist, did not know the specifics of the deal but was not surprised by the concern over DePaul's financial investment.
"Every time something happens, any new building they want to make, it's always controversial. There are always many people that are concerned, is this going to cause financial hardships, and they don't want DePaul to get buried under a lot of debts," Krautmann said.
However, Krautmann does not believe DePaul would make such a large investment without careful consideration.
"I would hope that our finance guys are that smart … but I'm sure they have done their homework on it, I would think, I would hope so."
Smith said there are a variety of factors that go into valuing naming rights for an arena including the market, the teams playing, and the number of events expected to be held at arena.
"The goal is to put something that is a fair market value price based on other collegiate arenas, other arenas in similar size cities," Smith says.
However, finding comparable arenas to use when assessing the value of the naming rights has been a challenge for Legends.  Most college athletic teams do not play in markets as large as Chicago and of the last 30 Division I basketball arenas constructed, only three of them are off campus.
"The goal with this particular venue is for it to be, you know, a much more active, busy venue than you may typically see where colleges or universities play," Smith said.
[Read more on the new DePaul arena]
One of the closest comparisons to DePaul's new arena is the KFC Yum! Center, home to the Louisville Cardinals. The $238 million arena opened in 2010. Yum! Brands signed a 10-year, $13.5 million deal to acquire the naming rights.
Outside of the major naming rights partners, Legends is also working to secure other corporate sponsors for the arena. Smith said Legends plans to announce those corporate sponsorships within the next 60 to 90 days.
In addition to naming and sponsorship deals, Legends is responsible for selling 22 private suites designed to accommodate either 12 or 16 people. They are also tasked with selling 479 club seats that will be court side in the new arena. Smith said headway is being made on selling these seats to a mixture of corporations and private individuals, although the price of these premium seats has not been made public.
Despite concerns, DePaul has insisted the plan will ultimately prove lucrative for the school. In addition to naming rights revenue, DePaul will profit from all ticket sales, which they hope will be boosted due to higher attendance rates.
"You typically get what you call the honeymoon effect, you get … probably three to five years where regardless of how your team is, you're going to have a boost in attendance," Krautmann said.
He believes the new arena will have a positive effect on DePaul's basketball program, but also on the city as a whole.
"DePaul has a presence in Chicago that matters. When you look at the top 10 universities in Chicago, and DePaul is in that, Chicago sees itself as a center for higher education, so there is an externality that goes from helping DePaul to helping Chicago."
The biggest mystery remains the name of the company willing to shell out tens of millions of dollars to see its name prominently displayed on DePaul's new arena.