Playing with soul: Ryan Martire's journey from the field to the seminary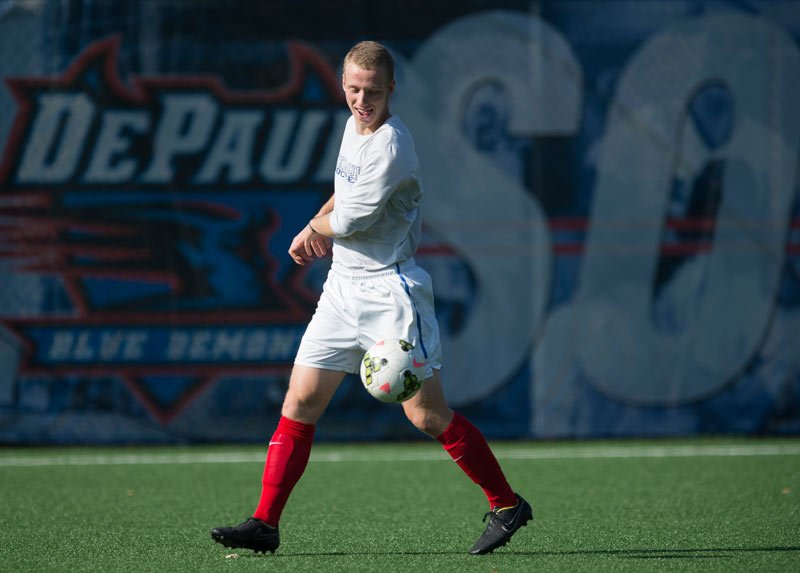 Ryan Martire is a student-athlete, which means his schedule is already tight. With practice, games, class and studying, his day is packed.
It all starts, however, with daily Mass in the morning. And soon enough, he'll be the one presiding.
"That balance, a lot of people might say it's hard," Martire said. "But honestly it makes everything so much easier. It gives you energy throughout the day. I organize everything around the first priority, so I will never omit (Mass or prayer)."
It's not uncommon for a young Catholic to discern religious life — whether that be as a priest, sister or brother. So when Martire felt the call to the priesthood in high school, he wasn't ready to say yes, and thought he was going to get married.
"The thought (of becoming a priest) came up a couple times in high school, but I resisted it," Martire said. "But then in college this pull started happening. It was a struggle, but halfway through my first year of college, the fear from the priesthood turned into a desire."
Martire came to DePaul in fall 2014 to play soccer for the Blue Demons as a midfielder, and is now a sophomore. He didn't play at all his freshman season, then featured in three matches in 2015 for his sophomore season. It was between his freshman and sophomore year that he decided to say yes to his call, and enter into seminary with the Diocese of Bismarck, North Dakota.
At DePaul he's a Catholic Studies major, and will graduate with his degree following fall quarter of 2016. Following that, he will either be located in Washington D.C. or St. Louis for two years, then another four years in either of the aforementioned locations or in Rome.
His impact on others, however, has already started.
"(Martire) leads by example," head coach Craig Blazer said. "What he did on his own in the day of game routine, leading the guys in chapel — not so much as a religious activity but as a team development and a personal, like a spiritual development — I think has made everyone on the team a little bit better, a little more mature."
The game day routine involved Martire, as a freshman and a sophomore, leading the team in either a prayer or a piece of wisdom that he and one of the other team leaders had found in the chapel in the Student Center before a game. It became as much a routine as warming up.
"Before (Martire) got here, we would meet in the chapel somewhat regularly, but it wasn't quite traditionally," former men's soccer team manager Sam Paulison said. "(Blazer) had his pregame and assigned the guys their spots, then called (Martire) up, we huddled around him and prayed the 'Our Father.' This is when I knew that this was something he had established and maintained."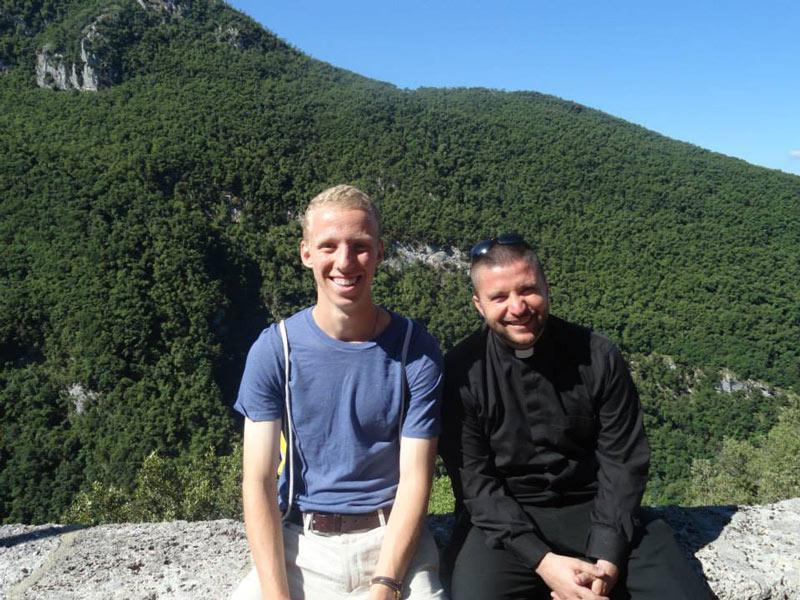 Paulison, a senior, was the men's soccer manager for the 2013-14 and 2014-15 seasons, before moving to softball this year. He said that he was impacted by Martire's faith in a way that helped him develop his own. He is now active in University Ministry and Catholic Campus Ministry, and lives in the Vincent and Louise House on campus.
"Ryan was helping lead a small group, totally aside from soccer, and said 'you should really come out to this,' Paulison said. "That's where I met some other people where I was able to express my faith with. So (Martire) had a huge part in giving me a place to express my faith with like-minded people."
"The guys would pay attention," he said. "Whatever they were taking in or learning — I couldn't tell you that — but I can tell you the attention and the intention were there. They cared because he cared."
Martire's consistency and perseverance allows him to go on a fast track to graduation, as well as competing as a student athlete.
"He's completely driven to become a priest," Blazer said. "His schedule is like nobody's schedule we've ever seen. He had every minute planned out. We've asked him to kind of sit back and enjoy it, but he's so driven to do this and I think his leaders look at him as someone they have a real need for."
The drive to incorporate his faith into his everyday life was not always prominent. It became part of a transition in high school.
"I was lukewarm in the faith; I didn't think it was important" Martire said. "But when I went to high school and I had this religion teacher who was authentic and he was a true man. I saw this joy and light in him that I hadn't seen in anyone else."
He also was impacted by the chaplain at St. Mary's in Bismarck, the Rev. Joshua Waltz, who is now the vocations director for the Diocese of Bismarck.
"(Waltz) really encouraged us to go to daily Mass in high school," Martire said. "Now I can't go a day without it."
Martire also said that the impact Waltz had on him was especially prudent when it comes to Mary, who Roman Catholics believe to be the mother of God. Waltz introduced Martire to the Consecration to Mary, which places an emphasis and devotion to praying to Mary for her intention to Jesus.
"(Mary), like a mother knows her son, knows the most about Jesus," Martire said. "So she tells us and gives everything that we have to give to Jesus much better than we do."
Soon, Martire will join a new team with the seminarians in Bismarck. He already has some connections with some of the men he will be studying with.
"There's a couple of men that I don't know yet but one of my best friends from high school entered (into the seminary) last year," he said. "We have a very good brotherhood in our diocese. We're very close."
And soon enough, the brotherhood will become a community as Martire moves into priesthood and proclaims the Gospel for years to come.