Comptroller's race heats up as Munger cashes in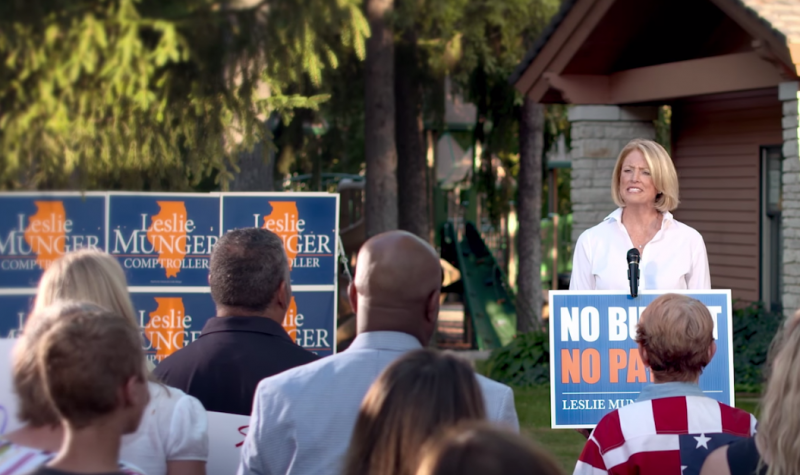 The special election for Illinois comptroller is finally heating up as incumbent Leslie Munger (R), recently awash in cash from allies of Gov. Bruce Rauner, floods the airwaves with ads introducing herself to Illinois voters.
The 30-second ad highlights Munger's "No Budget, No Pay" proposal, which calls for the withholding of state lawmaker's paychecks in absence of a balanced budget. It also played up Munger's status as an "outsider" and "businesswoman" who will "put the politicians in line with the rest of us."

Munger will be able to run that ad and others ad nauseum for the next month thanks to two large contributions made Friday, the last day of the third fundraising quarter.
Hedge fund manager Ken Griffin, the wealthiest man in Illinois, gave $3 million. Businessman Richard Uihlein added $2 million. Both are allies of Rauner, the Republican governor at war with powerful Democratic House Speaker Michael Madigan over the former's pro-business, anti-union "Turnaround Agenda".
The generous contributions were made possible when, earlier that week, Munger's husband John loaned the campaign $260,000. With that, under Illinois campaign finance law, Munger became a "self-funding" candidate. When this happens, contribution limits are removed from all candidates in the race.
Just a week later, Munger transferred $3 million from her account to the state Republican Party. The Sun-Times is reporting that this is simply an easy way to move large sums of money around and will allow for resources to flow to candidates down ballot. Still, Munger is left with more than $2 million in the bank and can now accept unlimited amounts of cash.
While this will also allow for Democratic comptroller candidate Susana Mendoza to raise unlimited funds, it clearly favors Munger, who now has access to Rauner's large war chest, and, as has already been displayed, his wealthy supporters.
The showdown between the two was set up when the General Assembly passed and former Gov. Quinn signed a law in early 2015 calling for a special election to fill the final two years of comptroller Judy Baar Topinka's term. Topinka passed away in late 2014, just a month after winning a second term.
Weeks after the law was signed, the newly-sworn in Rauner appointed Munger to fill the vacancy, giving her the advantage of the incumbency ahead of the special election.
Many have characterized this race as a proxy war between Madigan and Rauner. With Munger being the governor's hand-picked comptroller and Mendoza calling Madigan one of her mentors, it's easy to see why.
In response to the large donations received by her opponent, Mendoza wrote Friday on her Facebook page, "(Griffin and Uihlein) are the worst of the Bruce Rauner billionaire class that already bought the governor's seat and now they bought off Lesile (sic) Munger ensuring voters won't have an independent watchdog in the comptroller's office keeping an eye on Rauner. They must be really scared of me, and they should be, as I'm not for sale!"
Mendoza reported more than $1.3 million cash on hand last quarter, but according to Illinois Sunshine, has raised just under $400,000 since. The incumbent Chicago city clerk has relied mostly on union money to fund her campaign.
An energetic personality who loves retail politics, Mendoza has campaigned vigorously this whole cycle. She is active on social media and is always sure to get in on a photo-op with the other women on the top of the ticket, Democratic presidential nominee Hillary Clinton and Democratic senate nominee Tammy Duckworth.
"What I think Susana Mendoza has the ability to benefit from is a united Democratic Party in Illinois, at least on a statewide level … You don't have that kind of unity on the Republican side," said DePaul professor Nick Kachiroubas. "You've got Trump, you've got Mark Kirk, you've got Leslie Munger, and you never see them together."
But the substantial cash disadvantage may present a problem. While finally able to get on television this week, Mendoza will have to raise more in order to stay on air in the expensive Chicago market.
While Munger no longer has to worry about money, her campaign is very much in catch-up mode. Up until last week, she barely had any money in her campaign account, and she just set up her campaign social media accounts — August and September are far too late in the game to be doing those types of things.
It was always a given that the fundraising caps would be blown on the race, but many were left wondering why it took so long. Despite being the incumbent, Munger is still a relative unknown across the state. While Kachiroubas believes she still has a path to victory, her low name recognition with voters will be a challenge.
"I think Munger has a huge disadvantage because this is her first time running statewide," Kachiroubas said. "So she's got to position herself as a moderate and I'm not sure how she does that in this race at a statewide level when she's so unknown."
But, a new Simon/SIU poll shows there's room to grow. Mendoza leads Munger 40 percent to 32 percent, but more than one in five voters remain undecided.
With money in the bank, Munger should have no problem introducing herself to voters over the next few weeks. The question will be, is it too little, too late? And, does her association with the unpopular Rauner weigh on people's minds as they vote?
Remember, Illinois is a blue state and this is a presidential election year, which means more Democrats are likely to turnout.
"Realistically, if you're going to the ballot box, you're going probably because of what's going on at the national level and if you support Trump, you're probably going to like Leslie Munger," Kachiroubas said. "If you support Hillary Clinton, I think most likely, you're going to like Susana Mendoza."
Like the Senate race between Duckworth and Sen. Mark Kirk (R), Munger is presented with the challenge of establishing herself as a candidate independent of the national ticket. It remains to be seen if she can do that, but it starts with, "No budget, no pay."