Anti-Trump protesters take to downtown streets, say 'not my president'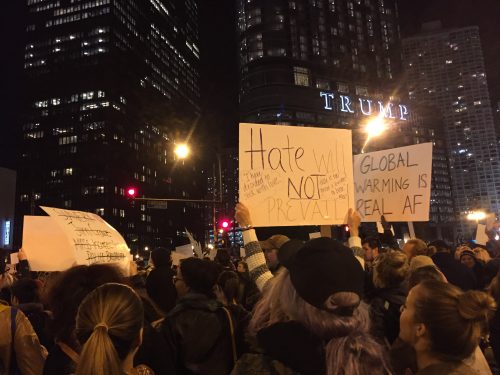 In November 2008, thousands of millennials with hope on their minds filled Grant Park to listen to their President-elect, Barack Obama, declare that "change has come to America." Eight years later, the scene could not be any more different as thousands of angry and disillusioned young people took to the streets in protest of the man who will succeed Obama in the White House, businessman Donald Trump.
The protesters met up at Wacker Dr. and Wabash Ave., within perfect view of Trump's eponymous Chicago tower, but soon marched from the streets of the Loop to Lake Shore Drive, where they headed north sifting through halted cars where passengers honked, cheered and pumped fists in solidarity.
Solidarity was the buzzword of the night among the young, diverse group of demonstrators as they loudly recited chants from "Not my president!" to "I want a president, not a racist!" Many said they were there in support of marginalized communities, such as people of color, immigrants, and Muslims, all targets of attacks from Trump and his supporters throughout his improbable presidential campaign.
"Yes, the Electoral College vote got Donald Trump elected. However, we are not a people of acquiescence," said activist and DePaul alumni Edward Ward. "If you express sentiments against us and if you've expressed that you don't really stand for all people, we don't accept you as a leader."
The protest happened alongside similar demonstrations in large cities and on college campuses around the country following Trump's shocking win on Tuesday. Many protesters were struggling to fathom a Trump presidency. And, many were already ready to fight back.
"We have four years of President Trump, but that doesn't mean that it has to be four years of regression. It doesn't mean we have to lose all of our progress," said protester Joe Arcus, a DePaul senior. "As long as we organize, as long as we still put pressure our politicians and as long as in two years, we turnout for a midterm election and retake the Senate or the House, then we to defend our country and keep our institutions alive."
Many in attendance blamed the establishment of both political parties for ignoring the needs of the working class, a void Trump subsequently filled.
"I do not think Hillary Clinton was the right candidate for this time even though I think she would have made a good president," Arcus said. "I don't think that she was inspiring to enough people."
Ward, the protester who disrupted alt-right blogger Milo Yiannopoulos' event at DePaul in May, said Trump's election only underscored the importance of organizing and lifting up marginalized communities from within as "we obviously don't fit into (Trump's) America."
"This is an indictment of America and the truth that many people of color and marginalized communities have been speaking for so long," Ward said. "Now America has to look in the mirror."
There were no visible signs of a counter protest as the demonstrators marched around downtown and River North. Most bystanders were actually cheering them on. But, of course, Chicago is friendly territory for Democrats, with Clinton carrying 84 percent in the city to Trump's 13 percent.
Seeing the thousands of people in solidarity was exactly what DePaul senior Nick Albano needed.
"It would have been detrimental to not be here with our fellow millennials," Albano said. "A lot of things changed yesterday and a lot of people are nervous and being here calmed a lot of that anxiety. I needed this."
The protest shut down several downtown streets, including Lake Shore Drive and Michigan Avenue down the Magnificent Mile. As the night went on, the crowd gradually thinned before dispersing.