DePaul, Chicago take part in a series of protests against President Trump
With about 30 students, the DePaul Students Together Against Trump (STAT) coalition a marched and chanted through the Lincoln Park campus Jan. 20 in protest of President Donald Trump's inauguration.
STAT's "Day of Defiance" began with a speak out in the Schmitt Academic Center where students shared their fears and what they believe must be done to combat the Trump administration moving forward.
One of STAT's leaders, DePaul senior Sam Peiffer, emphasized the importance of student movements.
"We've seen that students in universities and high school campuses can be a major point, which was radicalized and brought numbers of people," Peiffer said. "So right now we are on the campus where a lot of people protest Trump, but they don't know what they can do to fight back or what it's going to take to resist. (. . .) Politics isn't just something that happens at the level of the ballot box. Politics is something that happens in the streets, with tens of thousands of other people, and you can fight and win through politics like that."
After the speak out, protesters marched through the Arts and Letters building, the Student Center and down Fullerton Avenue to Halsted Street before taking the Red Line downtown to meet other protesters at Daley Plaza. As the group marched through Lincoln Park, a group of Trump supporters clad in red "Make America Great Again" followed about 20 feet behind them.
Among those participating in the Day of Defiance was DePaul freshman Julia Cary.
"I feel like, as a white person, I'm obligated (to join the protest)," Cary said.  "Because people of color and queer people are oppressed. They shouldn't be the ones that have to stick up for themselves. The oppressed don't have to fix their problem. It's people of privilege who have to go back and fix it. So I feel obligated to be here. And I want to be here, because it's like I'm getting my voice heard."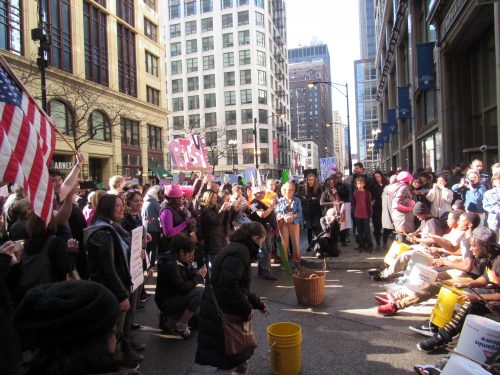 Another student, Shawn Rios, joined the resistance partly due to Trump's stance on immigration. Rios, who is Mexican-American, has a few friends who are undocumented.
"I fear for them and their families," Rios said. "I fear for women's rights, for the rights of all minorities in the country," Rios said.
Rios also fears Trump's impact on citizens.
"Morally, I'm against a lot of things (Trump has) done. Politically, I just do not like his policies. And I think that the people he's put in the power, and he's trying to put in the power, are detrimental to America as a whole," Rios said.
The hundreds of demonstrators STAT joined outside Daley Plaza that afternoon shared Rios's outrage. Protesters remained at Daley Plaza until about 5 p.m., when they shut down State Street in their march to Trump Tower.
Gregory Lucero, a member of the Utah Against Police Brutality organization, helped organize the protest. As those waiting outside the Trump Tower awaited the arrival of the Daley Plaza protesters, he calmed the anxious crowd.
"We will go, it's just going to take a minute, " Lucero said. "There's a massive feeder march coming from Daley Plaza that has been delayed, which is why we haven't started (marching) yet."
The main entrance to the building was guarded by a heavy police presence, because protesters gathered throughout the intersection of Wacker Drive and Wabash Street were down all lanes of traffic. Once the Daley Plaza protesters arrived, speakers including Frank Chapman of the Chicago Alliance Against Racism and Political Repression spoke to protesters about the importance of organizing and protecting those vulnerable under the Trump Administration including minorities, immigrants and the LGBTQ community.
Sam and Lauren, two Logan Square residents who did not feel comfortable sharing their last names, were part of the crowd outside Trump Tower.
"A lot of people right now are either scared, confused or upset about Trump becoming the most powerful man in the world," Sean said. "He's put forward blatantly racist policy proposals and has said some of the most disgusting things about women, Muslims and people of color."
He also said he considers Trump an "actor" and "con man" whose sole interests are benefiting himself and his company.
"It's critical to be in the streets right now," Lauren said. "For there to be any change, people have to be in the streets."
After gathering outside Trump Tower, protesters marched through downtown together, shutting down traffic on parts of State Street and Michigan Avenue in the process. Police barriers failed to keep demonstrators from filling the busy streets, but they remained an undeniable presence throughout the night.
Police said before the march began there was no official stopping point for the event, and they were given no preceding information from higher authorities as to when the protest should be dispersed.
Chicago's protest was a peaceful affair overall, but there were reports from police confirming at least 16 arrests and broken storefront windows at the PNC Bank on Michigan Avenue. 
While Chicagoans voiced their opinions and exercised their rights, other protesters were doing the same across the United States. According to CNN reports, nine people were arrested for disorderly conduct in New York and five in Dallas.
The most prominent clash with police, however, happened in the nation's capital. According to Washington, D.C.'s Metropolitan Police Department, six officers were injured and more than 200 protesters were arrested after conflicts with police.
Members of STAT ended the Day of Defiance on a more peaceful note, supporting LGBTQ students at DePaul's seventh annual drag show.