Annual rally turns attention to international sexual violence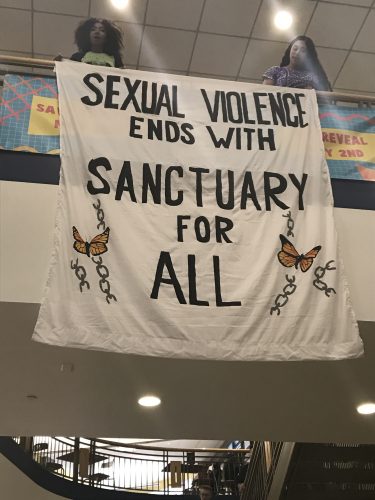 For the past decade or so, Feminist Front has hosted "Take Back The Night," a rally aimed at shedding light on sexual assault. This year, students decided to challenge the history of "Take Back The Night," by expanding it to be inclusive of those who have experienced gendered and racial violence.
Sarah Risheq, one of the speakers at Thursday's event, spoke to the sexual violence that immigrant and refugee women in detention centers face, noting that the women's struggle is a global one. Risheq said that 1 in every 5 Palestinians that comes to the United States is detained.
This year, organizers of the event — who came from various corners and student organizations throughout the university — listed a series of general demands for DePaul. One of the demands was for DePaul to declare itself as a sanctuary campus through action.
"DePaul won't give us sanctuary," organizer and member of Feminist Front Sarah Ahmad said. "We need to take it."
A second demand from the group asked for the university to acknowledge the many forms of violence besides its physical manifestation. Ahmad mentioned how violence can take place by way of misgendering someone or ignoring their emotional trauma.The final demand was for DePaul to better serve its students.
"The demands we had tonight (were) more of a general sentiment that we need to recognize different types of violence and be accountable to the students who come to this campus, especially if it's not violence that was experienced here," said another one of the organizers, Victoria Agunod.
Agunod said that this year's "Take Back The Night was organized in less than two weeks.
"So many people wanted it to happen, which is why it happened. People were really burnt out on organizing, but this is really important and we wanted to do it because of tradition," Agunod said. "Take Back The Night doesn't have a great history and we talked about that when we were organizing. We wanted to value that history and also bring in the experiences that people of color and people who aren't cisgender face. We wanted to bring that history in and also challenge it."
After hosting a speak out at the Father Egan statue on the east side of the Student Center, students brought their demonstration indoors and dropped a banner from the second floor cafeteria.
Many of the students who attended and spoke at this year's rally shared their own experiences of not feeling welcome or accommodated by DePaul and how they are challenging that.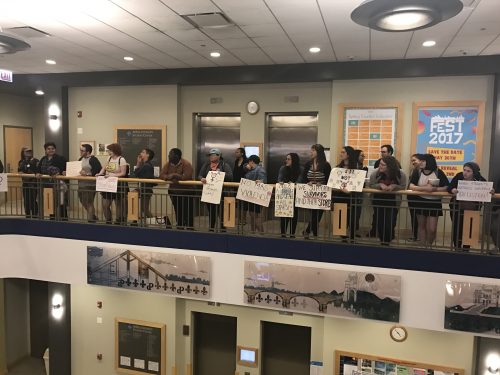 "It's like we're never going to get everything that we need from the administration. A lot of what we need is to support each other, especially right now in this moment," said Elon Sloan, a student worker in the Center for Identity, Inclusion and Social Change and leader of student organization Gender?.
"It was really important for me to just find people who would hear me say that I'm a nonbinary trans person and not immediately need an explanation or justification," Sloan continued. "I've tried to become a resource myself I've always tried to put myself out there as somebody that people can always contact."
Sloan also said that there is a disconnect between students in need of support and services and DePaul administration.
"I think the defensiveness comes from the idea that DePaul is already good enough or that we're really social justice focused, or that the fact that we have the first LGBTQA student services of a Catholic university," Sloan said. "Those things are not enough for people that are here and who are really, really struggling."
Last spring, Milo Yiannopoulos visited DePaul's Lincoln Park campus, courtesy of DePaul College Republicans. Yiannopoulos, a self-proclaimed "alt-right" or conservative speaker and writer, was met with demonstrations from dozens of students who sought to challenge many of the racist and sexist remarks that he has made in the past.
"There's been demonstrations since last year and throughout these last two quarters, but yet every single time they try to silence the students who are trying to demonstrate and trying to let their voices be heard," Ahtziri Barba said. "DePaul is all about diversity and being yourself, being open and vocal, but we are silenced instead."
Following the events of last spring's demonstrations, DePaul administration hosted a town hall that was open to a maximum of 200 students to voice their concerns about the various ways that students continue to feel marginalised, unseen and unheard by the administration.
Barba mentioned that a good way to continue conversations about things that are important to students would be for the administration to regularly host town halls with the university president.
"It would be interesting to continue doing that, but also having frequent meetings rather than just one big meeting that was was full quickly because of course everybody's going to go. (DePaul) needs to do a better job at being a sanctuary university because saying that you stand for the people that are, for example, undocumented immigrants is not enough."
Agunod, who met incoming president Amado Gabriel Esteban and shared a personal connection with him, said that frequent town halls with the student body would help to begin to create open lines of communication with administration.
"This is a really great time to capitalize on that and to tell him what we actually want," Agunod said.
Take Back The Night concluded with a series of peace circles that were hosted by the organizers.