Chris Kennedy visits DePaul, discusses hope for Illinois
Democratic businessman Chris Kennedy, a candidate in the Illinois governor race, stopped by DePaul's campus earlier this week to engage with DePaul students and inform them about his hope for Illinois. 
The event was hosted by the DePaul College Democrats on Thursday, June 8, drawing a crowd of nearly 60 students and staff who were eager ask Kennedy about his stance on topics ranging from MAP funding to economic oppression in communities of color.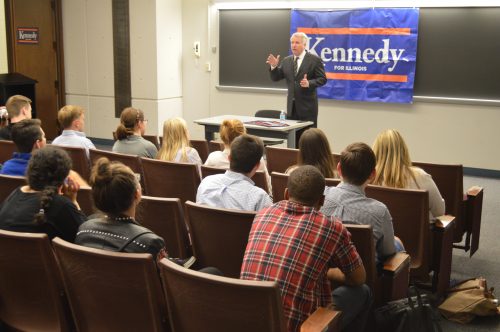 Kennedy's visit was divided into two sections. The first was used to discuss his background and experience as the former chairman of the Greater Chicago Food Depository's board and his belief in funding programs that help people in need who feel their economic needs aren't being addressed.
"The truth is, in the United States, if you're born poor, you will stay poor, and if you're born rich, you'll probably remain rich," Kennedy said.  "In Illinois, the American dream is under a relentless attack."  One reform Kennedy supports is a progressive income tax, believing Illinois' current property tax system is broken and affects the lives of those without power, especially when it comes to education. 
"Every other state has recognized this problem and solved it," Kennedy said.  "They pay for their schools with a progressive income tax at the state level and not through local property taxes, and until we do that we're going to have terrible outcomes for our kids."
According to Kennedy, the problem with the property tax system is that "people make money off of it."
"The very people who control our legislature, (…) as long as they're making money off the property tax system, they're never going to get rid of it.  We need to take that money out of the system so we can have a level playing field."
The second section of the event was a Q&A session, and it was clear from the amount of hands that shot in the air that many students would not let this opportunity go to waste. 
One student asked Kennedy his stance on MAP funding. 
"Why is the governor cutting off funding for MAP grants?  Where is the future?"
"We're the biggest college town in America.  There's no reason that we shouldn't build on that.  In fact, it should be our economic future, and yet Governor Rauner is attacking the very thing that would make us great, and that's our system of higher ed,"  Kennedy said, noting that the decision to cut MAP funding "is horrible."
Another student asked about the economic inequality plaguing many communities of color, acknowledging that organizations such as Top Box Foods and the Greater Chicago Food Depository are helping communities in need. The student asked what more the governor will do to "unravel the economic structure of oppression that you're seeing in communities of color throughout Illinois." 
Kennedy noted that the programs that once helped those communities were cut, saying, "All we have to do is restore all of the programs that we used to fund."  "With a slightly higher income tax, we were able to pay for those programs, and yet we've attacked them."
The atmosphere in the room was light, as one student even asked Kennedy his favorite book.
"I think there's a great one by George Orwell, 'Down and Out in Paris and London,' and I think it's a great one to read when you're young because it gives you a great foundational view of poverty and it'll create empathy," Kennedy said, earning approving nods from members of the audience.
Junior Stevie Guzman-Alipio liked much of what Kennedy said about education reform.
"I also like that he focused on doing away with those flat taxes and instituting progressive taxes so we can fund our schools because as an education major, that's really important," Guzman said.
Junior Alex Boutros, liked that Kennedy took his time to answer everyone's questions and never looked or "talked down" to anyone. 
"I personally think there are other candidates that I'm still looking at and it's really early on in the race, but I'm glad that there (was) a good amount of people that came to see him because the governor's race is usually something no one pays attention to," Boutros said.
While Kennedy is still not a definite choice for some members of the audience, as they're still considering and researching other candidates in the gubernatorial race, students were glad that he took time out of his schedule to come meet with them and answer their questions. 
Illinois' gubernatorial primary election takes place March 20, 2018.