Tackling low enrollment: How DePaul is handling declining numbers
Across the United States, enrollment at private universities has been declining because of skyrocketing costs. At DePaul, the issue is no different.

According to the Institutional Research & Market Analytics (IRMA) report for DePaul, there are currently 14,816 students enrolled for the fall quarter of 2017 compared to the 16,420 students enrolled in the same trimester in 2013. That comes to a 10 percent decrease in only 4 years.
The three colleges with the highest percentage of declining enrollment are the School for New Learning (44 percent), College of Education (28 percent) and the College of Liberal Arts and Social Sciences (25 percent).
There are many reasons for why enrollment at DePaul is declining.
"One of the things is students just don't take classes in their majors," said Jon Boeckenstedt, associate vice president for undergraduate admission. "Many students change majors."
The increasing financial burden that students must take on to attend the private university adds to the lack of students applying.
"Affordability for working adults and for traditional age students is one of the major pressures creating enrollment declines," said Corinne Benedetto, interim dean for School for New Learning (SNL).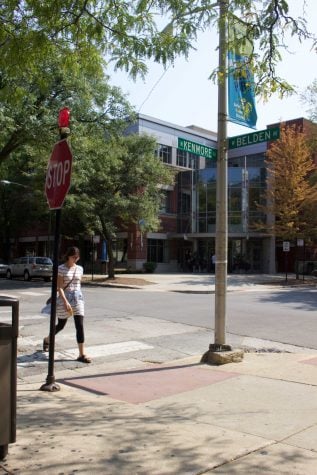 Administrators have been carefully monitoring enrollment data. When asked about awareness of declining enrollment Beckenstedt said, "(the enrollment management at DePaul) looks at the numbers every day here."
"We are not declining very much," said Paul Zionts, the dean of the College of Education.
He said the college is among the top in the university as far as retention, despite being one of the hardest hit colleges in terms of enrollment decline.
DePaul's enrollment problem isn't going away, and university leadership is looking at new ways to attract more students.
As co-chair of the task force that is developing a six-year plan for the university, Benedetto mentioned that a sustainability and action plan is being worked on to curb the declining enrollment.
Another factor causing slow enrollment is the word of mouth. Zionts thinks that if the College of Education was not doing a good job, students wouldn't be coming at all.
With all these different approaches and events taking place, changes to enrollment are slowly being made. 
"This year we are the only college in the university that has experienced at the same time positive numbers on freshmen, transfer and graduate new students," said Guillermo Vasquez de Velasco, the dean of the College of Liberal Arts and Social Sciences.
While freshmen and transfer student numbers are up for the College of Liberal Arts and Social Sciences, although marginally, the school's overall population has decreased by 25 percent in recent years and graduate new students have declined this year.
The colleges that are least hit by declining enrollment are the College of Computing and Digital Media – the only colleges that have seen an increase – the School of Music and the Theatre School.