Roster rollover: Blue Demons' leading scorer enters NBA draft without agent
DePaul redshirt junior forward Max Strus has taken an important step on his journey toward realizing his NBA dream.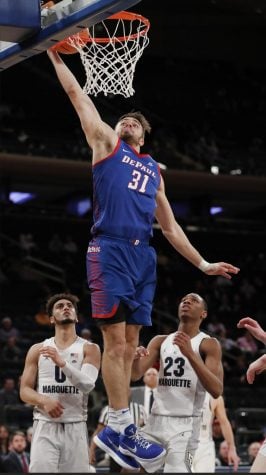 The university announced via a press release Wednesday afternoon Strus' intention to declare for the 2018 NBA draft. He has not hired an agent, meaning he has until June 11 to decide if he wants to keep his name in the draft or return to school.
"After talking with my family and coaching staff, I'm entering my name into the 2018 NBA draft to test the waters and get feedback," Strus said. "In order to get a true sense as to where I stand in the eyes of the NBA, this is the best route to get direct communication with NBA teams."
Strus has garnered praise for his motor, competitive edge and athleticism. He finished 11th in the Big East Conference in scoring average (16.8 points per game) despite commanding the attention of the opposition's best defender and frequently facing double teams. He's also a good rebounder for his size averaging 5.6 boards per game.
Strus exploded for a season-high 33 points on two occasions, against Northwestern on Dec. 21. and also Xavier on Dec. 30. He scored in double figures in 26-of-31 games, including 10 games of 20 or more points. The 81 3-point field goals he poured in this season was the second highest single season total in school history.
If Strus is opts to keep his name in the draft he would join a group of departures that already includes Marin Maric,  Tre'Darius McCallum, Joe Hanel, Peter Ryckbosch and sophomore guard Brandon Cyrus who recently announced his intention to transfer from DePaul.
But nobody is worrying about next season for now.
"This will be a great experience for Max,"DePaul head coach Dave Leitao said.  "We're excited for the opportunity in front of him to not only get feedback from NBA teams, but also compete against some of the best players in the sport of basketball,"