DePaul suffers first loss of the season against Notre Dame
DePaul's perfect start to the season came to an end Saturday afternoon as Notre Dame poured in 56 points in the second half to pull away from the Blue Demons for a 95-70 victory at Purcell Pavilion.
The 106th meeting between the two schools began with back-and-forth first half with both sides leading by as many as six points in the opening 20 minutes. The Blue Demons jumped out to an early 19-13 lead after sophomore Paul Reed converted a layup off a Notre Dame to cap a 5-0 run for DePaul.
DePaul's final lead of the afternoon, however, came off a 3-pointer from Devin Gage give DePaul a 24-19 lead. From there the Fighting Irish responded with a 9-0 run to grab a 28-24 lead that they would carry into halftime with a 39-36 lead.
Although DePaul was only down three at half time, DePaul head coach Dave Leitao sensed at some point the Fighting Irish would begin making shots, something they hadn't done to open the season, and urged his players to be quicker on rotations.
"We knew it was only a matter of time because that's who they are year in and year out and it's just getting guys comfortable," Leitao said. "So, I thought in the first half I was urging our players to guard a little better because we were late to a lot of our coverages it's just that we had made shots and so it kind of covered that up."
Notre Dame came out of the break and quickly opened up the biggest lead of the game for either side to that point with a 5-0 run to grab a 44-36 lead.
"In the second half they became more aggressive and shots opened up, drives opened up and we were still a step slow," Leitao said. "I thought mentally and physically being a step slow was not a good recipe and it kind of went from there. When we got from an execution or rebounding or whatever the case may be when we got challenged we didn't challenge back."
Leitao added moving forward his team will have to adjust and deal with adverse situations both defensively moving forward.
The Fighting Irish continued to build on that burst to open the second half opening up a 25-point lead midway through the second half after going on a 10-0 run to take a 71-46 lead with just over 10 minutes to play. The Irish shot 62 percent in the second half and this was set up largely by the Irish' penetration that led to open shots in the second half.
"I think our movement we ended up being able to drive it after some movement," Notre Dame head coach Brey said. "I think we're a driving team no matter who we play not just DePaul but we were able to drive it and I thought T.J drives kind of set the tone for us, T.J's drives set the tone for us in the second half. When he starts getting in there and making plays it gets everybody else going."
Plueger, who had 17 of his 20 points in the second 20 minutes, also tipped his hat to Gibbs and the rest of the younger players as he began to find his rhythm in the second half.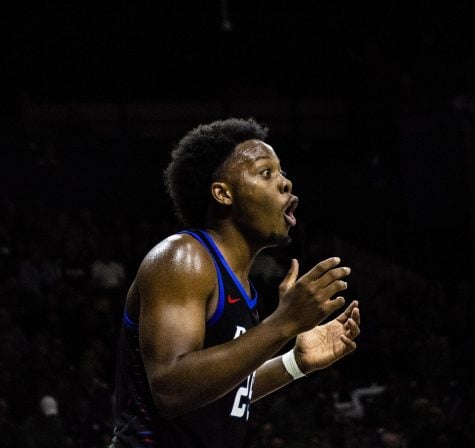 "I think my teammates just really found me in my spots and I took my shots," Plueger said. "I felt confident in them they've been behind me the whole way through the season, we've had some tough struggles shooting the ball and I felt a little rhythm today and when I started getting a little groove on they all started pushing me and getting me going."
Senior guard Max Strus led the way for DePaul with 15 points and five rebounds, although he finished just five-of-14 from the field.
Saturday also marked the first road game for the Blue Demons on the season and a good learning moment for DePaul to take into future games.
"What we talked about coming in was the word focus," Leitao said. "I think you have to be that much more focused when you get on a plane or get on a bus and go away from the friendly confines of your own gym or your home arena. So we've got to understand what that means and a lot of the times it's small things. I look and try to define how well we're running the floor or how well we're communicating or how well we're moving or what our game plan is and how many times consecutively are we executing things."
Leitao added it can also be a myriad of other things when a game does go astray but focus is just one part of it.
DePaul had a brief injury scare early in the second half when sophomore guard Devin Gage limped off the court holding his right knee, however, he returned just a few minutes later after returning to the locker room.  Gage  finished with nine points and two assists.
DePaul returns to action on Wednesday night against Cleveland State at Wintrust Arena.