Grays emphasizes focusing and finishing en route to career-night against Villanova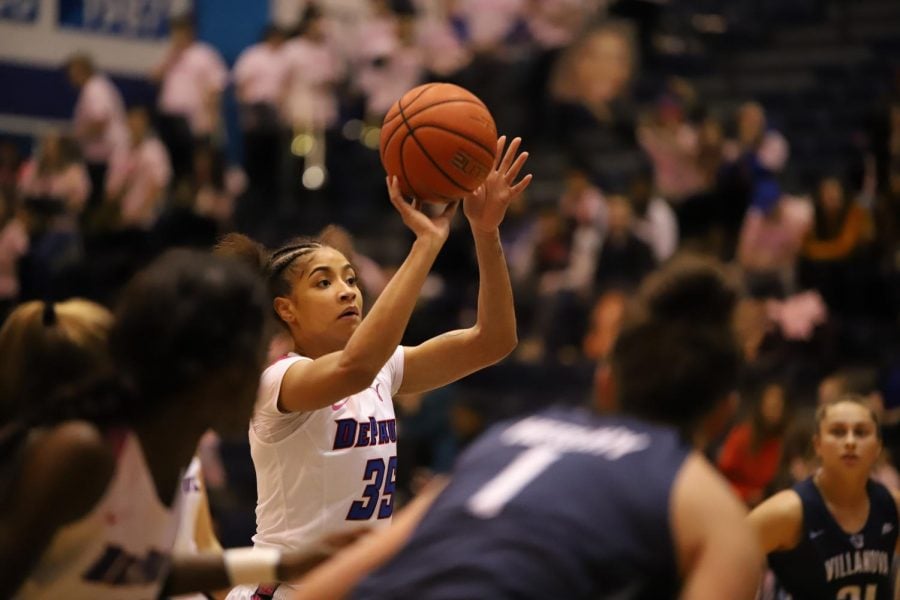 In search of a dominating and a consistent performance throughout the entire 40 minutes, DePaul senior forward Mart'e Grays delivered it against Villanova on Friday night in a 93-70 DePaul win. Grays had her best game to date in a DePaul jersey, setting her new career high in points, with 31 points, going 12-13 from the field, which is a new career high for her in makes, 4-5 from the 3-point line and 3-3 from the charity stripe.
"Coach [Doug] Bruno emphasizes finish, get to the basket and finish, whatever I do just focus and finish, so that's basically what I did today," Grays said about her 31-point outing on Friday night. "I emphasize focusing and finish, just knocking down shots, was nothing special."
From the tip off, Grays was feeling it on offense, she didn't waste time getting her points on the board, scoring seven of the team's first nine points in the first quarter. She ended up finishing the quarter with a game-high 13 points on 5-5 shooting and 2-2 from the 3-point line. However, even with Grays having such a strong and impressive first 10 minutes, the Blue Demons were still trailing 23-21 heading into the second quarter.
Whatever Bruno said in between quarters worked exceptionally in the second quarter because DePaul outscored Villanova 29-10 in the quarter and took a 50-33 lead into halftime. While other teammates stepped up, like freshman Sonya Morris who had eight points in the quarter, Grays still continued her hot streak from the field, scoring eight points in the quarter as well on 3-3 shooting and 2-2 from the 3-point line.
"Basically, I didn't force any shots," Grays said after the game. "I was just letting them come to me and just basically focusing and knocking down [shots]. I was feelin' it, I was feelin' it all night. The way our offense work we can have a chance to score any position, any moment, that's why it's a freelance offense. So, just knowing [to] make a cut here, trust my teammates, my teammates trust me, they give me the ball, score and we share. That's what really sparked it."
When a player like Grays goes on such a hot streak teammates start feeding them the ball more often because they know  she will be able to keep scoring. At DePaul, the players and coaching staff have trust in Grays, and any other player, to make the smart decisions on both ends of the floor, so that's why Grays kept getting touches all night long.
"I feel like we did," DePaul junior forward Chante Stonewall said about getting Grays the ball. "But like [Grays] said, it's not like we had to force it because she's going to have opportunities where she's going to get herself the available. We just got to get it to her."
At halftime Grays had nearly half of her team's 50 points, getting a career high points in half with 21. She went into the break perfect from the field, going 8-8 from the field, 4-4 from behind the arc and 3-3 from the free-throw line. However, her coach, Bruno, wants to see her taking fewer shots from the 3-point line and getting more looks closer to the basket, even though she only missed one 3-pointer all game. That's why in the second half, while Grays only took four shots the next 20 minutes, she only attempted one 3-pointer out of those four shots.
"Mart'e had a great first half, but she was also 4-4 from three," Bruno said after the game. "When I looked at halftime she was 8-8 and 4-4, she still took 50 percent of her shots from the three. And we probably would like her to take 25 percent of her shots from three. Her shots from three went in, so that's a big deal to make shots. You want to get good looks, but then when you get good looks you have to make good looks."
Alongside Gray's impressive scoring night, she also did something she hasn't done in a while: not pick up one single foul the entire game. In conference play, in particular, she has had trouble staying out of foul trouble, which has costed her a lot of minutes throughout games this season. Last week against Marquette, Grays fouled out of the game and only ended up playing 17 minutes, scoring 17 points and picking up only one rebound for the entire game.
Against Villanova, she was able to stay out of foul trouble and that allowed her to play 29 minutes in the game, which could have been more if the game wasn't a blowout in the fourth quarter.
"I really just stayed clean," Grays said about not picking up any fouls in the game. "Coach Bruno always emphasizes staying clean, keeping them out of the foul line. I know I'm proud of myself because everyone know I fouled out last game [against Marquette]. Just staying clean, focusing and moving my feet more. That's basically it."
Even with having an impressive offensive performance, Grays still worked hard on defense to limit Villanova's Mary Gedaka from getting into any rhythm on offense. Grays was on Gedaka for most of the game and limited her to only 12 points and just three rebounds, which are both below her season averages of 14.1 points per game and 7.1 rebounds per game.
Gray's previous career high came earlier this season against Oklahoma on Dec. 9 in a 87-76 win in Norman, Oklahoma. She finished that game with 26 points on 12-19 shooting and 2-2 from the 3-point line.