Strus' 43 points lift DePaul over St. John's on senior day
It was a good day to be a DePaul Blue Demon men's basketball senior.
On senior day, the Blue Demons (14-13; 6-10) rode the backs of two of their seniors Max Strus and Femi Olujobi en route to a 92-83 win against the St. John's Red Storm (20-10; 8-9) at Wintrust Arena. The win snapped a four-game losing streak and completed a Blue Demon season sweep of the Red Storm for the first time ever.
With 1:51 left in the second half, Strus curled to the 3-point line, catching the ball and shooting in one smooth motion to extend the Blue Demon's lead to 84-77. Everybody at Wintrust Arena knew it was going in before he even let the ball fly, it was that kind of night for the Blue Demon senior. On the next possession he took a charge as DePaul extended their lead down the stretch through solid free-throw shooting en route to the nine-point victory.
"We won, that's really all that matters," Strus said after the game. "I made a couple of baskets, we won the game. We're back on a winning streak now. It was getting rough here for a little bit, but we're going to turn things around and that's a first step to do it."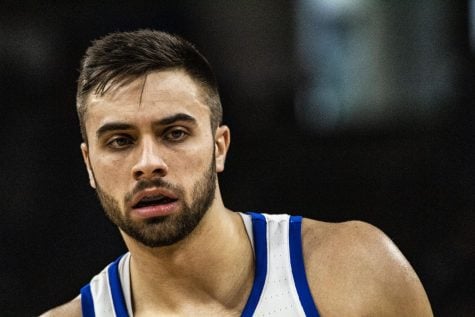 Strus poured in a game and a career-high 43 points, the first time since December 29, 2006 when Sammy Meija accomplished the feat against Northwestern State that a Blue Demon player has scored 40 or more points in a game. The 43 points was the second highest individual scoring output by a Big East player in a conference game this season (Marquette's Markus Howard had 53 points against Creighton on Jan. 9).
Strus' six 3-point field goals today also moved him up the all-time DePaul list in made 3-point field goals. He now has sunk 158 3-point field goals and owns the fifth spot on the Blue Demon's all-time list. He trails his teammate Eli Cain by just five career 3-point field goals. Strus also reached 1,000 career points today.
"The more success he had the better he felt, they weren't switching like some other teams," Blue Demon head coach Dave Leitao said after the game. "He pumped it inside and got some baskets for Femi [Olujobi] or some offensive rebounds. What he felt was the same thing that I saw in his body language that his body was squared, he dribbled without hesitation, he wasn't worried so much about the defense. He determined what he wanted to do as opposed to what the defense wanted him to do. So when I saw that I just tried to keep going to him."
"The shots were just falling today," Strus said. "I take those same shots every game, teammates did a great job of setting screens and finding me. When they knew I was hot they kept coming to me. I think they did a good job of doing that and coach kept calling my number so just trying to make plays for the team. The most important thing that matters today is that we won. If I would have done this and we had lost I wouldn't have even cared."
Strus' historic game overshadowed a rock-solid performance by fellow senior Femi Olujobi. The 6-foot-9-inch grad transfer knocked down 23 points on 8-for-10 from the field, supplementing the scoring with 10 rebounds for his third double-double of the season. The one knock on his performance came at the 2:37 mark in the second half after he sunk a free throw, proceeded to raise his hands in the air to pump up the Wintrust Arena crowd only to miss his second free throw attempt (he was 7-for-15 from the charity stripe for the game).
DePaul student manager Aameer Sahi, who has been battling a malignant peripheral nerve sheath tumor, attended the game today providing an extra source of motivation for a Blue Demon team that needed a win.
"He continues to be an inspiration to himself, to his family, and to our family," Leitao said. "We will continue to help him with his fight and be there every step of the way until he conquers this and he's doing phenomenal [in his battle]. We just have to continue to support him. His presence today if it didn't pull at your heartstrings to the highest degree then there is something wrong with the insides of you."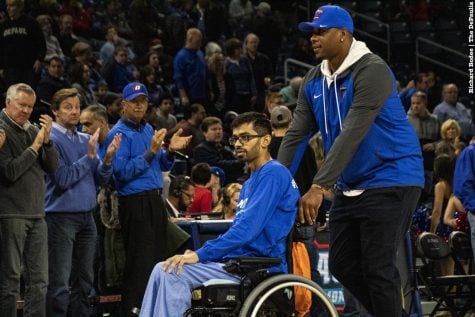 Forcing the issue offensively and getting to the line helped the Blue Demons absorb an 10-0 run from St. John's to start the game. The Blue Demons attempted 42 free throws, sinking 32 of them (76.2 percent) as the referees called 59 fouls and six players fouled out of the game. St. John's attempted 28 free throws.
"I think more often than not, the team that's most aggressive gets most of the calls," Leitao said. "When we don't [get calls] it's because we aren't as aggressive and when we are aggressive [we get the calls]. I mean aggressive in a lot of different ways, not just with the basketball in your hands. Doing things as an alpha. You throw the first punch, you take the first step, you set that screen, you drive to the hole all of those things earn you that ability to have whistles go your way."
DePaul returns to action on Wednesday against Georgetown. This is the last home game of the season and it will begin at 7:30 p.m.