Disappointed but not discouraged, fans and players welcome CBI opportunity
On Monday evening, senior guard Max Strus summed up how many within the DePaul Blue Demon men's basketball program feel about the team's participation in the College Basketball Invitational tournament.
"It's exciting to be in a postseason tournament, [but] it's obviously not the one we wanted to be in," Strus said. "We're going to take advantage of our opportunity and try to go out and win the whole thing. I think it's a good opportunity for our school and our team to keep advancing to where this program wants to go."
Later on Monday evening, the men's basketball team gathered at McGrath-Phillips Arena  to support the Blue Demon women's basketball team, who happily celebrated their 17th consecutive qualification to the NCAA tournament with a selection show watch party.
Someday soon, the men hope it'll be their turn to qualify for the NCAA tournament. But for now, the Blue Demons will settle for the CBI a tournament often viewed as an afterthought amidst the excitement of March Madness and the NIT. DePaul is the only Big East program that failed to qualify for the NIT or NCAA tournament this season.
"I don't know if I know the qualifying answer to that, there are varying opinions of how people view it," Blue Demon head coach Dave Leitao said when asked about his perception on the reputation of the CBI. "It's like anything, I think people view the CBI or the National Invitation Tournament as a great opportunity. There are others that don't see it that way because they are just focused on one tournament only. I look at it as an experience factor as guys can be rewarded first and foremost and then have an opportunity to compete for a championship. I think if you are a basketball player or a fan or a coach, the opportunity to have your team compete is why you do this."
Lifelong DePaul basketball fan Logan Simios, who's been attending Blue Demon games since the late 60s, says he begrudgingly renewed his season tickets this year. Losing season after losing season left Simios asking if his season tickets — which have been in his family for more than half a century — were worth it.
"I was disappointed we didn't make the NIT, but I knew it was an outside chance." Simios said. "I do like this team and I am going to enjoy watching them play a few more games together, so to have the CBI there and available and to be able to attend those games I think is a pretty good thing for the program. But it's not where we need to be when it comes to the NCAA tournament, which should be the ultimate goal every year."
Simios welcomes the opportunity for DePaul to play in the postseason and said he will be renewing his season tickets for the coming year. But the two aren't related.  
"I will come back again next year." Simios said. "I was discouraged about coming into this year and I really felt like I wasn't going to do it. I'm only coming back next year because of this recruiting class that they have."
Simios says he would like to see a coaching change, even at an assistant level if Leitao sticks around to see his recruits to Lincoln Park. And as he carries an NIT-or-bust mindset into next year, he says the athletic department will need to make changes from the top down at some point.     
The inaugural CBI tournament tipped off in 2008 with Tulsa beating Bradley in the championship. It is run by the Gazelle Group, which sponsor four college basketball events over the course of the year including the Empire Classic, Legends Classic and Gotham Classic along with the CBI.
The tournament features 16 NCAA Division I basketball teams that failed to make the NCAA tournament or the NIT. Teams pay to host games. In previous seasons, the entry fee to host first round games was $50,000. CBI tournament officials wouldn't say how much DePaul paid this season to host its first round game, although others are reporting that West Virginia and Southern Mississippi paid $40,000 to host their first round games.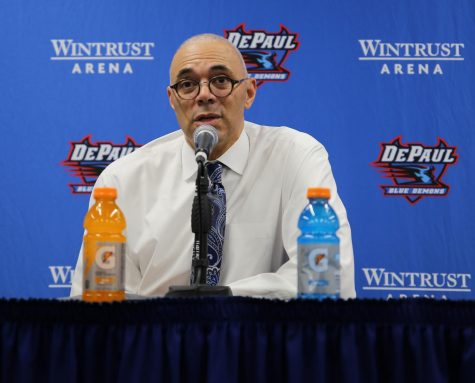 Before West Virginia and DePaul make appearances this season, 2015 was the last time a team from a power conference school [ACC, Big East, SEC, Big 12, Big 10, and Pac 10] played in the CBI. This season, 14 of the 16 teams are mid majors.
West Virginia has the best KenPom.com ranking in the CBI tournament field (No. 95) followed by Utah Valley (No. 96), Southern Mississippi (No. 101), and DePaul (No. 103).
The pay-to-play nature of the tournament coupled with the lack of prestige causes many teams to press the skip button when given the opportunity to play in the CBI. But for DePaul, a program that hadn't played in a postseason tournament since 2007, playing in the CBI might make a lot of sense.
"I think from an overall standpoint as we try to ascend in all the important dynamics of this program one of which is postseason," Leitao said. "For your older guys, especially seniors you want to go out with a positive experience. For the guys who are left, [you want them to] understand the feeling of practicing and playing at this time of year."
"It's really special for the program going forward, it's been a long time coming," DePaul senior Eli Cain said. "I've witnessed the last four years, I've been part of it trying to gain that respect within the league and throughout the whole country as a program. It's hard to switch it around but we've done a really good job this year of proving ourselves and showing what we can do and what DePaul can be. We changed the culture as a unit, as a team it wasn't anybody individually. I think that's a really big stepping stone going forward for this program."
Cain has played 124 career game in a Blue Demon uniform. After a disappointing 82-74 loss last Wednesday at the hands of St. John's in the first round of the Big East tournament, he wasn't ready for his DePaul career to be done. Neither were fellow seniors Strus and Femi Olujobi, or really anybody on the team.
"We had a lot off guys in the locker room who were eager to play," Cain said. "We wanted to play as players, it wasn't like he [coach Leitao] asked us do we want to play or tell us why we had to… Especially me as a senior, I didn't want my season done after the Big East tournament in New York. I told the guys, 'look, this is an opportunity for us to do something special,' and they came back at me like look I already know let's work in practice and let's do what we need to do to win this thing."
Postseason experience in any capacity is valuable for a team that expects to make a jump forward next season with the guys returning, the now-eligible redshirts, and a strong incoming recruiting class. CBI success has served as a precursor for NCAA tournament success for other teams in the country.
Six miles up the road, Loyola Chicago's 2015 CBI tournament championship precluded a run to the Final Four in the NCAA tournament three years later. Nevada has qualified for the NCAA tournament every year since winning the CBI in 2016 and spent most of this season as a top 10 program in the nation.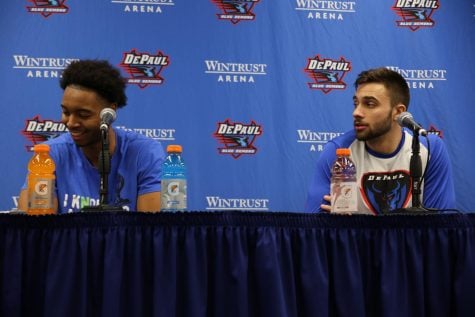 "I've been in the CBI as a head coach before and there are specifics that you draw from that [experience]," Leitao said. "There's a particular experience part of it that we've lacked for a long period of time with this time of year. That kind of growth emotionally is really critical to turning this thing around."
Even a fanbase made jaded by a 15-year NCAA tournament drought and 11-straight losing seasons prior to this year can see the logic behind playing in the CBI.
"I'm excited to see the seniors in Strus, Cain, and Olujobi continue to play along with the rest of
the team," DePaul alumni and season-ticket holder Dave Torrez said. "From what I've heard, the players wanted to continue playing. No one is pretending that the CBI is a ringing endorsement. Our goal should always be making it into NCAA tournament. But this can be a catalyst for changing DePaul's losing culture."
Disappointed that it isn't the NCAA tournament or NIT, but excited to finally play games that matter past the Big East tournament. That's the sentiment making the rounds amongst the program as they prepare for Central Michigan Wednesday night at McGrath-Phillips Arena.
They hope the CBI will be a turning point for the program like it was for Nevada and Loyola, but for now are just excited for at least one more opportunity to play basketball together.
View Comments(1)