DePaul outlasts USF in overtime to force decisive game three of CBI championship
After dropping the opening game of the Roman College Basketball Invitational (CBI) final, DePaul's season was on the line Wednesday night as they headed back to Lincoln Park.
It took overtime, but the Blue Demons extended their season one more game with a 100-96 victory over USF at McGrath-Phillips Arena to force a decisive game three on Friday night.
After being held to 17 point in game one on Monday night, DePaul senior guard Max Strus eclipsed that by halftime with 20 first-half points, while going 6-of-8 from the 3-point line. The senior finished with 32 points.
The Blue Demons were forced to play the majority of the night without senior guard Eli Cain, who forced to leave the game with 7:07 left in the first half after landing awkwardly on the after a foul by USF forward Michael Durr. Cain would not return and DePaul head coach Dave Leitao did not have an update on Cain's status following the game.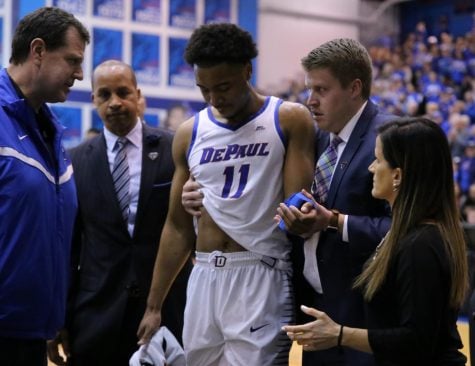 After watching Cain depart, Strus said the team rallied around the injury and were motivated to win for their injured teammate.
"Plain and simple we won that for Eli," Strus said. "We lost one of our brothers in the middle of the game. We all love him and we had to do whatever it took to get that win out and we all came together and got it done."
Already without redshirt sophomore point guard Devin Gage, DePaul suffered another blow at the end of regulation when sophomore forward Jaylen Butz also had to leave with right arm injury after running into a hard screen that resulted in the game-tying basket by USF forward Alexis Yetna with 29.7 seconds to play. After Strus was not able to get off a shot at the end of regulation after having the ball knocked away from him, the Blue Demons headed to overtime with just five healthy players who had played regular minutes this season.
DePaul redshirt freshman Flynn Cameron and junior guard Lyrik Shreiner rose to the occasion, however, scoring eight of DePaul's 18 points in overtime.
Sophomore forward Paul Reed also set another pair of career-highs with 28 points and 16 rebounds. As has been the case throughout the latter part of the season, a lot of this came purely by being in the right place at the right time.
"He's growing right in front of our eyes into becoming a potentially tremendous college basketball player," Leitao said. "I laugh at it and I'm going to tell you we called a play for him late and he didn't even get the ball so that was the only time today that we called his number. To get 28 and 16 and you're not getting fed the ball every other time down the court it says a whole lot about his level of talent and the best is yet to come because he's just physically and emotionally just scratching the surface of what he could ultimately become."
With much of the attention focused on Strus during the second half and overtime, Reed capitalized with 21 points and 10 rebounds after halftime.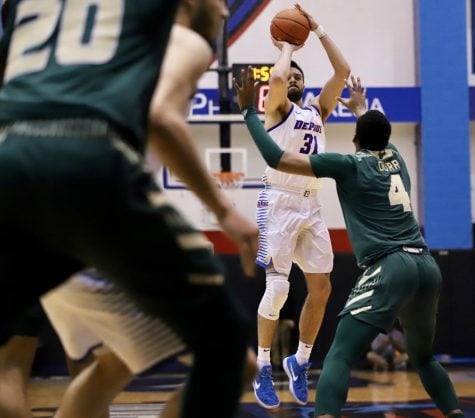 Early in the second half, it looked as though the Blue Demons might not need overtime After they built a 15-point lead within the opening two minutes of the second half that brought a loud crowd of 1,704 fans in attendance to its feet following a layup by Reed to give the Blue Demons a 52-37 lead.
USF would start cutting into that lead, however, and actually retook the lead with 3:05 left in the game, which marked its first lead since early in the first half. The Bulls were led by redshirt junior Laquincy Rideau, who scored 31 of his 35 points in the second half and overtime.
Despite the impressive performance by Rideau, DePaul did enough to make sure they would be playing one more night with a chance to capture a CBI tournament championship.
"It means everything," said Strus of the opportunity to have his last game in college be played with a tournament championship on the line. "I mean I'm excited for Friday I got to get to sleep I'm exhausted but I mean it means everything, it's everything for this program. It's a chance for us to get 20 wins which is a great accomplishment for us and for where this program is going in the future and a championship to propel onto the next level, so I'm excited for Friday and hopefully we can get it done."
The two teams will square off Friday night at 6 p.m at McGrath-Phillips Arena.
View Comments(1)