For Chicago queen, DePaul student, drag's glitz and glam are added bonus to intimate impact
The dimly-lit Berlin Nightclub in Chicago was mostly empty on a Monday night before its recurring drag competition, Squad Goals, began. A few people gathered in, but the small room did not fill up until about 11:30 p.m. when the performances began. The attendees gossiped around the bar with the bartender, seemingly knowing him from past visits. The more people who pile in, the more connections are made. A community not only showed up on a weekday — late but still there — to support their friends and fellow queens, but also to snap that perfect fit-pic for their Instagram.
Enter Omani Cross, a young drag queen who is self-described as "that stupid stoner girl who is just looking for the party." Born Omar Cruz, she moved to Chicago from the suburb Elgin to study game design at DePaul University. Initially, this was all she had planned until she met her drag mother, Logan Sazz, who took her under her wing — and wig.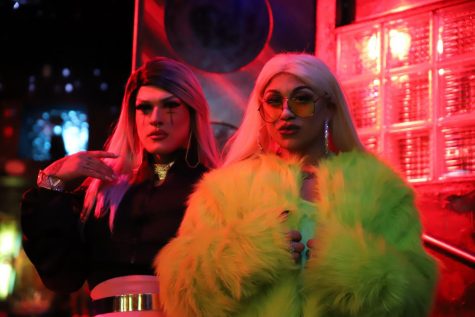 Growing up in Elgin, just 40 minutes outside of the city, she said she visited the city probably 40 or 50 times during her last year of high school. Now, she can experience more of the drag scene that she couldn't when she was younger since most of the biggest events happen in the Boystown nightlife scene.
For Cross, life isn't only drag. Not only does she get herself into drag as often as she can, but she is still a student at DePaul, while other queens might wait for graduation to let their drag careers take off or drop out of school altogether. Most queens want to dedicate the bulk of their time to drag because that's how queens of the past have made it. Working side gigs at places like local restaurants pays the rent, but drag is what will fund their future, some might say. Cross wanted more than this; she's been a hard worker since before she can remember, and she knew she has the drive to balance it all. Her job in retail pays the rent, and drag might pay for more in the future.
"I'm definitely not able to perform as often as I want to because I have to work and do my schoolwork, but for now, it's enough," Cross said. "My gigs are few and far between, that is not a lie. But that doesn't mean I'm not at my apartment, getting my look perfect and practicing my performances."
For Cross and many other members of the LGBTQ+ community, working toward a goal such as this one isn't easy, but it often proves successful with the amount of work you put into it. Drag has long assisted the LGBTQ+ community with inclusion. Cross knew she was different from a young age, and she said that after drag, she is able to present more of herself through her cultivated character.
"Before doing drag, I was kind of this shy and reserved kid, and it wasn't easy to make friends," she said. "I was still so self-conscious, and I didn't have much self-confidence, but after doing drag and seeing the different outlets of expressing creativity, you really do learn a lot about yourself, like how to present yourself and how to really show the world the positive in you versus only the negative."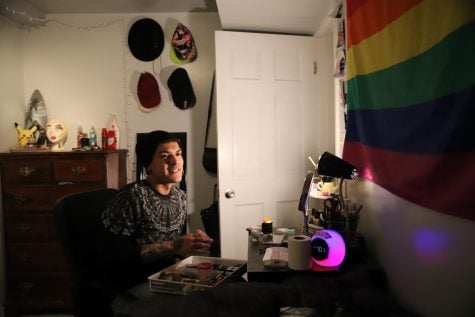 In the most cliche of terms, life became a little easier once she committed to drag. Through the development and execution of her fun-stoner-girl character, the anxieties of befriending those who she looked up to or generally wanted to talk to somewhat subsided.
"It's not just female impersonation or performing—it's being a part of the community that makes me feel special," Cross said. "I'm able to be my most authentic self through drag, and I wouldn't trade that for anything."
Cross' roommate and drag family member Ariana Baltazar spoke about the phenomenon of performing as yourself and your character simultaneously.
"I'm enamored with [drag in itself]," she said. "It's glamorous, it's funny, you're having a good time. I know [Cross] is totally being herself in that moment. That's the interesting thing about drag to me is that these girls are really themselves even though they literally are not at the same time. Sometimes it's easier to express how you really feel or look when you're claiming to be something else."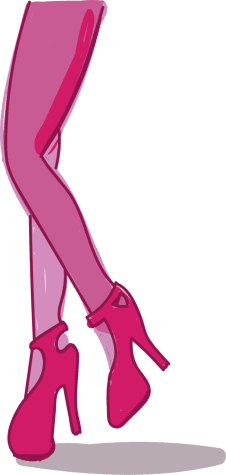 Back at Berlin, Cross performed "Gucci Flip-Flops" by Bhad Bhabie, putting her "stupid stoner girl" archetype into motion. Her controlled and relaxed, but sexy and funny movements brought a sense of composure and engaging energy. A few performances follow, and a lip-sync battle with the other competitors brings the curtain, and Cross took the house with ease. She won the competition, making it the first of her career. With this, she receives a cash prize and, more importantly, a spot in the next Squad Goals as a main performer, not a competitor.
"With drag, you can really make it what you want it to be," she said. "Finding a way to express yourself creativity does something for you that nothing else will. In drag, you can develop a character, and sell it, and sell your soul out on stage, and people will love it. There's no one who can tell you you're doing something wrong because, with drag, that's all up to you."
In regard to her drag career, Cross is hopeful that it will take off, but she knows it might not come for a while.
"Sometimes it seems like I spend more of my energy on drag than my classes, but I know what I have to do to be successful later," she said. "If drag can make me actual money in the future, that would be excellent, but right now, I'm taking it day-by-day.