Anonymous benefactors give $20 million to DePaul
A $20 million gift anonymously donated to DePaul allowed for the creation of The Grace School of Applied Diplomacy, a new school intended to encourage diplomatic approaches to a wide range of disciplines. The school will be housed in the College of Liberal Arts and Social Sciences.
Before The Grace School was announced, a program for applied diplomacy at DePaul was already in the works for 18 months, according to Carol Hughes, executive director of news and integrated content at DePaul. In spring, both the undergraduate and graduate programs were undergoing final approval and were expected to be available to students this fall.
But several months ago, she continued, DePaul "approached the anonymous benefactors with a request to help transform the program into a school."
"The benefactors are totally committed to the Vincentian mission and understand what the university is about," said Guillermo Vásquez de Velasco, dean of the College of Liberal Arts and Social Sciences. "They were attracted by the high impact that applied diplomacy will have in providing the world with citizen diplomats to build a better world. And, in true Vincentian spirit, they don't want any type of recognition."
In addition to emphasizing the Vincentian values of the university, The Grace School's name is intended to draw attention to its specific mission.
"The name of the school — Grace — reflects what this program is designed to convey, which is to inspire students to enter into a deep level of collaboration with a diverse array of individuals and communities in order to go against the grain regarding the way in which many human interactions are conducted, and to build bridges as a bulwark against fear, hatred, distrust and cynicism," said David Wellman, inaugural director of the school, in a press release.
The new Applied Diplomacy degree, which will be granted by The Grace School, will require coursework that stretches across multiple disciplines, which is an intentional aspect of the degree.
"Usually schools of diplomacy produce diplomats," Vásquez de Velasco said. "All professions under the sun hold the potential to house diplomats. It's a business person looking at international trade and a religious leader looking for interreligious collaboration, in addition to traditional diplomats."
He added that he hopes the school's training can stretch as far as students interested in seemingly unrelated fields, like sports, citing the Olympics as sometimes the "largest diplomatic event in the world."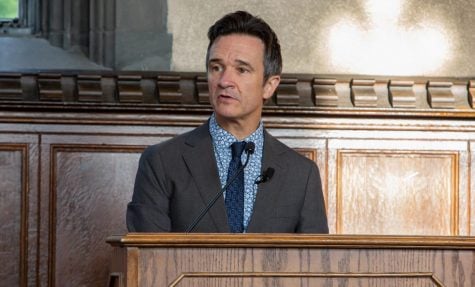 Other skills the school's teachings are intended to foster include professionalism, collaboration, ethics and empathy, he said.
"We live in a world where our differences are frequently weaponized to divide us," Vásquez de Velasco said. "What we hope is to go in the other direction, creating professionals and training them in the art of bridging between differences and maximizing potential for interdisciplinary collaboration."
Classes for the degree program will be held at both the Lincoln Park and Loop campuses, Hughes said. So far, the coursework crosses over more than 20 fields of study within the College of Liberal Arts and Sciences.
By the time The Grace School was publicly announced, there were already courses in place and students enrolled in the classes. Those courses began Sept. 11.
In addition to establishing the school and degrees, the gift will be used to "increase experiential learning opportunities, transform the demographic profile of college graduates who apply for jobs in diplomacy and connect faculty and students with professional and citizen diplomats," according to a press release.
Vásquez de Velasco said that despite the new degrees' crossover into other programs, those programs are not expected to change because of it.
"Every new undergraduate program we create is prepared to take the plug-in of a minor and each graduate program is prepared to take a certificate plug-in," he said. "We hope to go to the business school and ask for a minor in business, then the law school communications school to see if these schools can develop certificates and minors to plug in so that there is truly a multi-professional nature and university-wide impact."
This fall, DePaul is offering 120 classes to contribute to the BA in Applied Diplomacy, many of which are cross-listed with other degrees, Vásquez de Velasco added. He said the university foresees an enrollment increase of 10 percent in the degree — not because of students switching their majors or colleges, but because of the crossover that the new degree encourages.
"This program is a very 'DePaul' thing," Vásquez de Velasco said. "This is happening here because it takes a locational focus to understand the opportunity, taking leadership for the common good and realizing that citizens can be diplomats."
Correction: This story was updated to Sept. 15 to clarify that the Grace School of Applied Diplomacy will be housed in the College of Liberal Arts & Sciences, not just temporarily.
View Comments(1)