European trip helps build chemistry on and off the court for Blue Demons
Following the loss to South Florida in the CBI championship series in April, DePaul's attention and focus was immediately turned toward the 2019-2020 Blue Demons roster — which has the potential to be the most talented team that head coach Dave Leitao has had to work with since returning to DePaul in 2015. As a result, the expectations for the program to improve on their 19-17 record from last season is at an ultimate high.
Last season's runner-up finish in the CBI left fans wanting to see more from DePaul, but also cautious optimism heading into the following season due to the incoming recruiting class, which is the program's highest rated in over a decade and the growth from returning players like junior Paul Reed and Jaylen Butz.
In August, the team traveled to France and Italy to learn more about St. Vincent de Paul and visit important historical landmarks in Europe, but also got to play three games against the Netherlands' National "B" Team and the Paris PK All Stars. The Blue Demons won all three games by an average of 29 points per game.
With all of the new players being added into the mix this season, that is headlined by freshmen Romeo Weems and Markese Jacobs, coupled with all of the returning players — having the ability to play games in the summer gave Leitao and his coaching staff the ability to see what his team's strengths and weaknesses are.
"Taking the team over [to Europe] is a good specific comradery element that you enjoy with the guys," Leitao said. "You get to see them in a totally different light; a lot of times it is not basketball. For us, it is an academic element, they are learning things they have never seen or heard of before.
"For basketball, it's a chemistry thing. Guys bonding together and that was a very important piece."
In those three games, Leitao got a chance not only to play different lineups that he wouldn't normally play in meaningful games — but also an opportunity to give his new players the majority of playing time.
One of those newer players that got plenty of playing time in Europe was junior guard Charlie Moore, who transferred from University of Kansas to DePaul in May. Moore didn't wait long to make an early impression, as he scored 29 points and added three steals in the first game while coming off the bench. After his breakout performance in game one, Leitao gave Moore a start in game two and totaled 18 points, four rebounds and assists.
While Moore has the potential to add a scoring threat to the Blue Demons either as a starter or off the bench this season, there is still a question mark if he will be eligible to play in 2019-2020. So far, the NCAA hasn't announced if they will grant him a waiver and Leitao said it is an "ongoing process."
When there is a lot of new players coming into the program, there is also a need for veteran players who can be leaders to the young players. While there are only two returning seniors from last season, junior forward Jaylen Butz figures to have a larger leadership role since him, Reed and Devin Gage have been in the program the longest.
"It's exciting, it's very exciting," Butz said. "It's a challenge also, learning from Max [Strus], Eli [Cain] and Femi [Olujobi], I was with Max and Eli for two years so I got a lot closer with them and I picked up a lot more traits off them. But overall it is exciting being able to step into a new role and being able to step up as a leader for the team. Being able to share my experiences with the younger guys and guys who may need a little filling."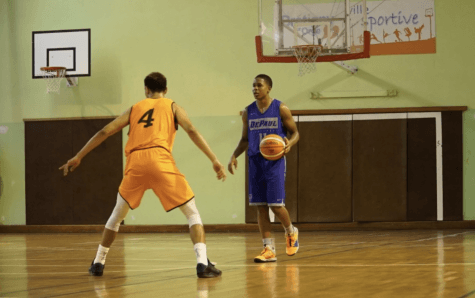 In years past under Leitao, young players haven't gotten as much playing time as the older or more experienced players would get. But since this new Blue Demons roster features a lot of young players, Weems and Jacobs promise to be vital pieces in either the starting lineup or coming off the bench.
"[Romeo] is humble, he's very humble," sophomore guard Flynn Cameron said. "He's had a lot of hype coming in and he's verbally talking about himself. He doesn't back down on the court and he's got a strong work ethic."
Now that Leitao has, arguably, his strongest roster in four years, the expectations from the outside public is to make a significant improvement in terms of record and their standing in the conference. For some the goal this season would be at least to make the NIT Tournament, but Leitao doesn't believe the expectations should change this season.
"I think it's a natural thing when you see on paper how the outside world views things should go, but the reality of what happens in between the lines stays the same," Leitao said. "Whether we thought we had an excellent team or not so good team, we got to be able to perform a certain way. I think there's from our standpoint expected obligations because there's talent and depth, but at the same time you've got a real challenge because we don't have a vetrean team that has relied on each other and knows the movements of each other as much of our opponents would have."
Regardless of Leitao hoping to downplay the expectations that his team have going into this season, fans will be expecting the team to take a step forward this season, considering the talent and depth that's on the roster.
View Comments(1)