Thrift shoppers' focus shift from economy to environment
Once used solely to save money, thrifting has since become focused on sustainability — and maintaining a vintage aesthetic. As vintage clothing rises as a trend, stores are able to "sell"the aesthetic for a higher price while still being associated with the "thrift store" name. Students increasingly opt for the vintage aesthetic many thrift shops offer while simultaneously saving money and encouraging environmental sustainability.
The World Resources Institute reports that one garbage truck full of clothes is thrown away every second. In 2014, the average consumer spent 60 percent more on clothes than in 2000. Even so, consumers kept each garment for half as long. Consumers now want and can increasingly afford clothes quicker and at greater volume, which has given rise to the fast fashion industry.
The fast fashion industry includes large retailers such as H&M, Zara and Forever 21. While it provides clothes quicker, hence the name, it ultimately contributes to the increasing amount of clothes wasted. In 2015, the fashion industry alone produced 92 million tons of waste, Greenpeace reported.
Thrifting helps to fix this problem by allowing consumers to reuse clothes to keep up with the demand for shorter fashion cycles.
Ava O'Malley, DePaul student, said she considers environmental factors in her shopping choices. She said she does not shop at fast fashion stores for sustainability purposes and instead relies on thrifting for her wardrobe.
"Whenever I go thrifting, I do feel like I'm doing something a little bit better for the planet because I'm giving the clothes more use," O'Malley said.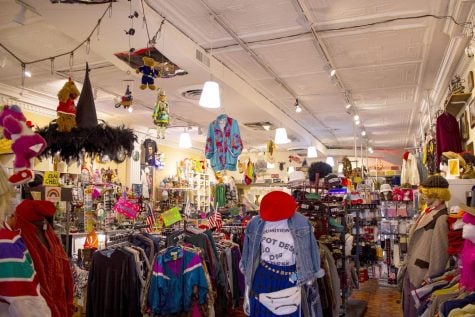 Aside from the sustainability offered by thrift stores, the aesthetic of thrifting, popularized by social media influencers like Emma Chamberlain, has contributed to its popularity. Influencers boast about thrifted finds through "how-to" Youtube videos and Instagram posts, and encourage their followers to do the same, which has allowed vintage stores to charge retail prices for thrifted items.
Vivian Kim, owner and manager of Belmont Army Vintage, curates the selection of her store. She purchases merchandise online and offline, sometimes traveling to California and Michigan to select items perfect for the store.
"Our customers are looking for something very unique or special, kind of a nostalgia," Kim said. "Back to retro fashion."
She said, in choosing new merchandise, she tends to focus on pieces showcasing the '70s and '80s because they tend to be the most popular with customers–and the easiest to find. Since she does purchase all of the merchandise, however, Kim agrees that Belmont Army Vintage is not as cheap as other traditional thrift stores.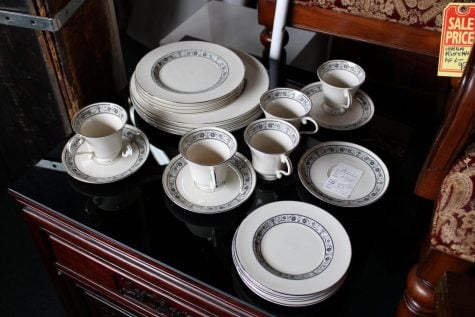 Belmont Army Vintage's lure is based on the aesthetic it presents. Kim said the majority of customers are high school and college students, while the rest use the store for theme party items. The customers are aware that the merchandise here will not save them money but they love it, nonetheless, because it allows them to keep up with the vintage trend.
Julia Conturso, a DePaul student, said the aesthetic is her main motivation behind shopping at Belmont Army Vintage, but the store is her third favorite thrift shop because of the cost.
"It has a bit of spunk to it," Conturso said. "There's a good assortment of clothing."
Thrifting's rising popularity has even extended past in-store thrifting to online resale sites. Used clothing sellers have utilized platforms such as Etsy and Ebay, like Nasty Gal, to expand their clientele. The shift from in-store to online thrift finds has contributed to the rising trend as Instagram influencers often boast about their 'one-of-a-kind' pieces.
Belmont Army Vintage, though not a thrift store in the traditional sense, carries the essence of one in the types of merchandise in the store. The prices are equivalent to retail, sometimes even more expensive, but the store lives in a sense of nostalgia. Not only are there sections for different decades throughout, but there are items, such as old vinyl records and accessories, that intrigue the "old soul."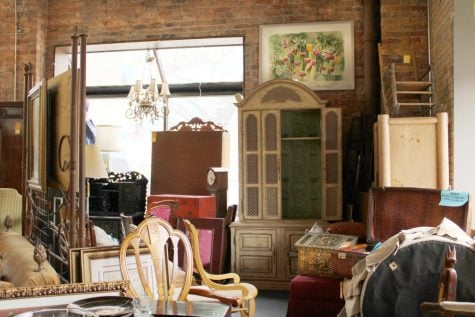 Other thrift stores in Chicago offer a similar sense of nostalgia in items acquired through donations for a marked down price. These stores allow students to follow up on the thrifting trend while also offering environmental and economical benefits.
O'Malley said another reason she thrifts is to find foundational clothing items that she doesn't feel are worth paying full price for. She said Salvation Army is great for this because they have more contemporary options than other stores.
Though already offering low prices, Salvation Army offers customers additional deals. Every Friday, they offer a discount based on the color of the tag. They advertise that, if applicable, the tag will earn you a 75 percent discount.
Village Discount offers a similar deal. Each day of the week offers a different deal, usually in partnership with a 50 percent discount. The deals are indicated by the different colors of the tags. Clothing fills the upstairs level of the store, while downstairs is dedicated to technology, home goods and toys.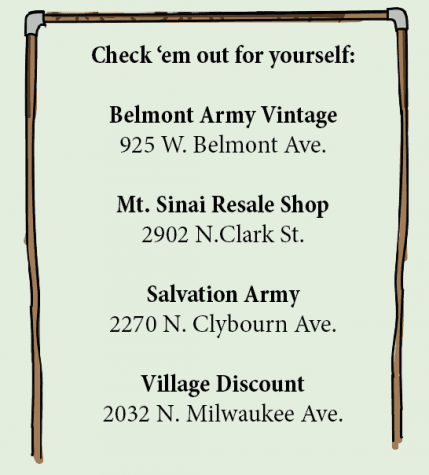 Located off the Paulina stop on the Brown Line, about a 20-minute trip from the Lincoln Park campus, the size of the store makes it a popular choice for those looking for a wide selection. The store does not have a dressing room, but the size and selection certainly makes up for it.
Thrift shops are not only good for clothes, some offer many home options including used furniture. One such store, Mt. Sinai Resale Shop, is a great option for students who live off-campus and are in need of furniture but cannot afford full sale.
The Lakeview East shop sells furniture, dishes, kitchen appliances, clothes and other miscellaneous items. Conturso said she particularly loves this store because of the resale items she has been able to purchase for her apartment. She said that she has gotten great records, a book from the Chicago Sun-Times and a small coffee table for her deck.
The options at Mt. Sinai and various other thrift stores throughout the city allow customers to be economically savvy while also opting into the vintage aesthetic that seems to be gaining in popularity amongst college students.