Senior tandem finally steps into lead role at DePaul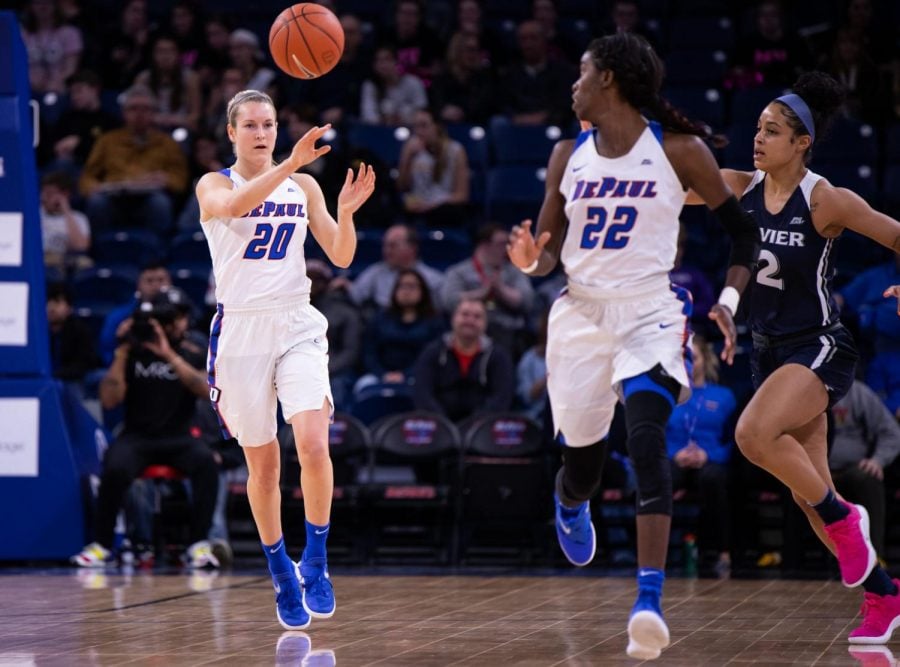 Kelly Campbell and Chante Stonewall knew that they would have this chance.
Both four-year players on the DePaul women's basketball team, the dynamic duo know each other in and out while on the court. The pair have started and played heavy minutes over the past few years. They are the highly-touted players on DePaul who always appear on the opposing team's scouting report. Now, they have full reign as seniors.
Campbell and Stonewall have earned their share of accolades in their careers, but they are carrying special recognitions into this year. Campbell, a guard, was named to the Lieberman Award watch list as one of the top point guards in the nation. Stonewall, a forward, was named to the Cheryl Miller Award watch list as one of the top small forwards in the nation.
Yet these are previews, and as head coach Doug Bruno said on Saturday at an open practice, "we play for reviews."
Reviews like how Stonewall and Campbell can know that they have been a part of two straight Big East conference tournament championships as well as three trips to the NCAA tournament. Yet Bruno's philosophy rings true in their heads, which is one of the reasons they have excelled in this program.
"Both Chante and Kelly are special seniors," Bruno said. "They've both worked very, very hard to put themselves in the position to have great senior years."
Their belief in the "one game at a time" philosophy, their positive mindset and ultimate success has carved out their spot in DePaul athletics history. Their senior year isn't the cherry on top, but simply a continuation of their excellent careers.
"It's an honor," Stonewall said. "We have been waiting on this moment to officially be named captain."
Stonewall and Campbell are the only seniors on the team. They are looking to improve upon their marks from last season. Stonewall was the second-leading scorer on the team last season with 14.3 points per game, also adding 6.6 rebounds per game.In Big East play, she shot 39 percent on three-pointers and 47 percent from the field overall.
Stonewall is the main forward on a team full of guards, and her size and unique vision make her an integral part of DePaul's offense.
Campbell was the key facilitator on the team. She had 75 more assists than anyone else on the team as well as being top five in assist to turnover ratio in the country. On top of leading the team in assists, she averaged a team-high 7.7 rebounds a game. "You're always attracted to an athlete's skillset," Bruno said. "They both had good basketball skillsets and they both had different kinds of athleticism. Kelly's is more visual and Chante's is more run and jump. But Chante also has great visual athleticism."
Two now-graduated players, Mart'e Grays and Ashton Millender, averaged  double-digit points alongside Stonewall. Campbell's role as a scorer can definitely grow this season, along with other players like sophomore guard Lexi Held. Stonewall  and Campbell  know that this season is a double-edged sword. Soon enough, neither of them will be donning  a DePaul jersey.
"[It's] definitely a game-by-game basis, being more aggressive for sure will need to happen," Campbell said. "I think just doing what I do best, doing the little things and making sure everything runs all smoothly."
The two are preparing to turn the corner and take their last lap as Blue Demons with high hopes. With a tight and competitive Big East, repeating as champions won't be easy. There are a lot of teams knocking at the door, but for now, DePaul, with Campbell and Stonewall leading the charge, are at the top.
"I think we are ready for the challenge of the season, any type of adversity we face, we will be able to overcome it based on our experience and we are ready to get things rolling," Stonewall said.