DePaul pulls away from Loyola in the fourth quarter to win 83-76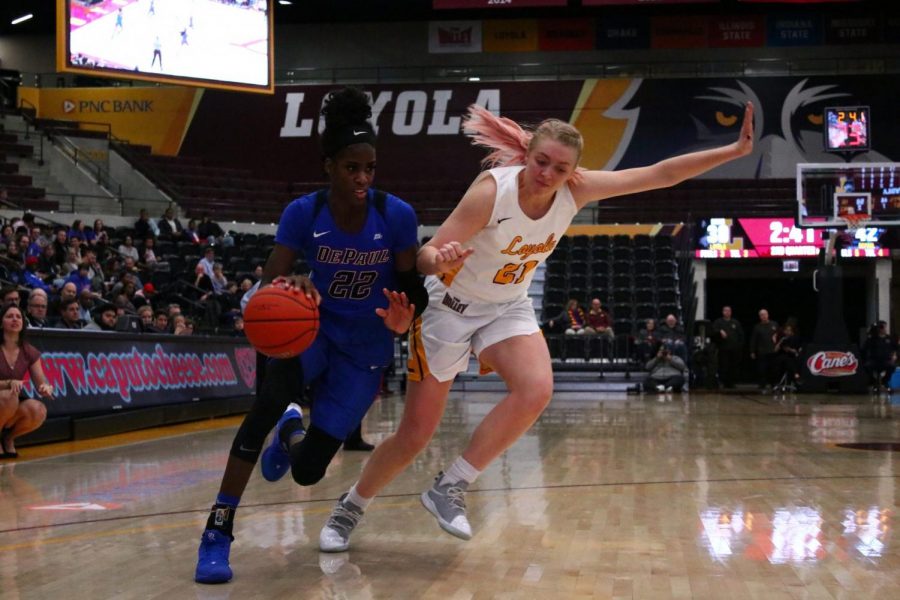 After losing only their second game this season to No. 2 UConn on Monday at Wintrust Arena, DePaul looked to bounce back Friday night against an unbeaten Loyola Ramblers squad. The Ramblers managed to make this a close game, unlike last season when DePaul won by 24, but the Blue Demons pulled away in the fourth quarter for an 83-76 victory. 
Unlike against UConn, where DePaul got off to a poor start against the Huskies, the Blue Demons managed to get off to a hot start — with junior forward Dee Bekelja knocking two straight 3-pointers in the first minute of the game. Bekelja, however, would have to come out of the game shortly after due to foul trouble. 
"I'm excited about our players because all they have done in November and December, " head coach Doug Bruno said after the game. "We put them through a really tough nonconference schedule. Just to be able to come through at Green Bay, at Northwestern, at Notre Dame, come home and play UConn — people don't understand this team we played tonight is a No. 50 RPI team in the country. And you don't do that just because you wave a magic wand, you do that by being 9-0 and beating people on your schedule. … This is a good Loyola team, a very good Loyola team."
Loyola would manage to keep the game close in the first five minutes of the first quarter, but the Blue Demons began building a bigger lead thanks to a 6-0 run in the middle of the quarter. Senior forward Chante Stonewall helped spark DePaul with 10 points, giving the Blue Demons a 30-21 lead heading into the second quarter. 
"Definitely, working my versatility, my teammates found me in a good spot," Stonewall said. "I didn't finish all my shots like I would have liked to, but I hit the ones that I created for myself and it turned out to be good."
The Ramblers, however, were able to make quick adjustments between quarters and began the second period on a 4-0 run to cut DePaul's lead to five points. The Blue Demons were able to stifle the Ramblers the next couple of minutes due to strong defense, which helped them build a 42-28 lead. 
But Loyola, who came into Friday's game averaging 76.7 points per game, managed to shoot themselves back into the game at the end of the first half. Junior forward Abby O'Connor and senior guard Tiara Wallace scored the final 14 points for the Ramblers in the second quarter, including hitting two straight 3-pointers at the end of the half to cut DePaul's lead to six, 44-38. 
After both coaches — Bruno and Kate Achter — got 15 minutes to speak to their team's, it was the Ramblers who came out with the intent of cutting the Blue Demons' lead even more. 
After DePaul got up 51-40 with eight minutes to play in the third quarter, the Ramblers started chipping away at the Blue Demons' lead. Loyola began by playing better defense in the quarter, limiting DePaul to only 31.3 percent shooting from the field and no makes from the 3-point line. 
Through good defense and a couple of mini-runs, Loyola had the game within in three points, 58-55, heading into the fourth quarter. The Ramblers also benefited from strong rebounding against the Blue Demons, grabbing 49 rebounds compared to DePaul's 26. 
Senior guard Kelly Campbell opened the fourth by knocking down a 3-pointer, giving the Blue Demons a 61-55 lead. But like in the third quarter, the Ramblers managed to stay in the game. This time, however, the Ramblers managed to grab their first lead of the game, 72-71, with three minutes to play. 
"They were definitely finding each other very well, they were breaking our pressure a little bit easier than what I thought they should have," Stonewall said. 
With a possible upset brewing at Gentile Arena, Bruno called a timeout after Loyola took the lead — and it worked perfectly. Coming out of the timeout, DePaul went on a 7-0 run and would manage to keep the lead for the rest of the game. 
Both sophomore's Lexi Held and Sonya Morris hit big shots in the final quarter, the two guard's combined for 16 of the team's 22 points in the fourth quarter. Stonewall finished with a game-high 25 points while also grabbing eight rebounds. Four more Blue Demon players, Bekelja, Held, Morris and Campbell, were also in double-figures for the night. 
"Lexi has made a lot of big shots during this run," Bruno said. "It's one of those things where we are trying to grow these players, and they are still sophomores."
DePaul now stands at 10-2 after 12 tough nonconference games, and will get nine days off before they begin Big East play on Dec. 29 against Marquette at McGrath-Phillips Arena.