Former DePaul student's happy ending after $20k GI Bill debacle
Her father served in the military with the promise of free tuition. Until DePaul hit them with a hefty bill.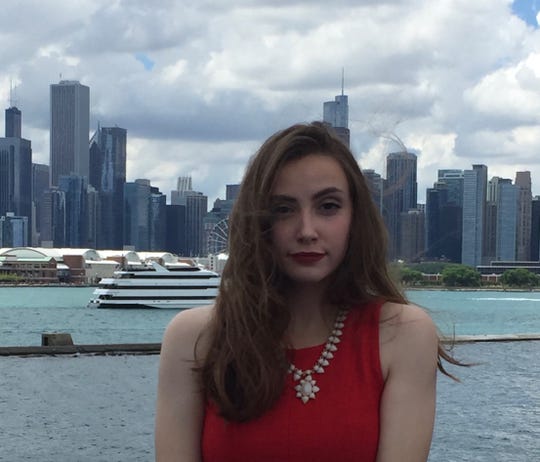 In 2008, the government passed the Post-9/11 GI Bill which offers educational benefits to service members who served 90 or more days on active duty since September 10, 2001. The tiered system benefits both those who served the country and their dependents, with much of their college tuition covered by the government.
Paige Dotson, a former DePaul student, knows the system all too well. Dotson's father, Russell, served 22 years with the U.S. Navy, doing both active duty and reserve. The Chicago Sun-Times reports that he spent much time overseas — six stints, each time lasting for over a year. He even served an extra four years just to qualify for the bill, knowing his two kids back at home would need it. He sacrificed his role in his kids' lives and his marriage for the bill and peace of mind for his kids after they graduate. Ideally, they could comfortably attend college without their debt looming in the back of their minds. The Navy told Dotson's father with confidence that each of his kids would receive two years of college free of charge, allowing them to be the first in their family with a college degree. Unfortunately, a mathematical error forced him and his daughter to battle for the funding he risked his life for.
Dotson, who is originally from Michigan, began attending DePaul in the fall of 2016 as a pre-med student. She lived on campus and developed friendships she still cherishes to this day. At the beginning of her spring term, her college life took a huge turn when the government failed to make the proper payments to the university. Dotson was then notified that she owed the university about $20,000 in tuition, plus what was already paid for by the government because her father did not actually qualify for the payment program.
The Defense Department, which calculated his service time to ensure he qualified, had used the date of his benefit-transfer application and not his re-enlistment date, leaving him 89 days short of service. To make matters worse, he would have only had to serve six weekend days of service because he was a reservist serving one weekend a month. He even had unused "authorized absence" days that could have covered the six days missing. But because the Navy officials would not change his retirement date, this couldn't happen.
"It's bullshit," Dotson said when she was informed of her debt. "I thought to myself: I'm not going to pay that."
She immediately went to the university's Veteran Affairs office for advice, but without much success. The office had not dealt with an issue like this before. Because the Navy specifically said that her father did not serve long enough to receive the funding, not much could be done by the office. Dotson says that DePaul and their services did help, but the issue needed to be first addressed and then fixed by the government, not the university.
Dotson began working three different part-time jobs on top of her education in order to keep herself afloat during this time. Eventually, she had to withdraw from classes at DePaul because the tuition rate was too high. After about a year off from school, she transferred to the University of Michigan where she could receive in-state tuition.
Without many options and back in her home state, Dotson wanted to get her story out there so other families dealing with her issue knew they weren't alone. She reached out to her former DePaul journalism professor Sandra Guy for advice. Guy, who worked for the Sun-Times for 20 years, reached out to journalist Stephanie Zimmermann, who typically reports on consumer issues which includes debt, making her a perfect fit to tackle the Dotson story.
"[Dotson] was an excellent student, astute, mature, asked probing questions," Guy said. "I would hope that any of my students would feel comfortable reaching out to me with problems like this."
Dotson made the point that without DePaul's journalism classes and Guy as an instructor, she doubts her story would have gotten the attention of Senator Dick Durbin and other political figures around the Midwest to send a letter to the Navy that called out their "bureaucratic failures" that caused the problem seen by so many military families.
Chicago still has an important  place in Dotson's heart. She frequently visits the city and campus to see the friends she made in her short time living here.
"I really love DePaul and miss it so much," Dotson said. "I would still be there if this didn't happen."
Dotson is on track to graduate from Michigan in the winter of 2021. She would have been graduating this year if this situation hadn't occurred , but she doesn't feel defeated. It had to happen, she said. Without Sandra Guy and the resources she contacted at DePaul, she might be $20,000 in debt and not in school right now.
View Comments (1)