Who was with Gov. Pat Quinn this week?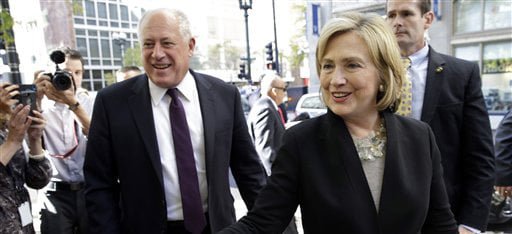 [slideshow_deploy id='4537′]
Three weeks before Election Day, several dynamics are becoming clearer, while others remain unknown. In Illinois, Gov. Pat Quinn (D) and businessman Bruce Rauner (R) remain in a dead heat in the race for governor. A New York Times/CBS poll released this week showed the governor with a three-point edge over challenger. Expect the race to remain tight up until the election.
Rauner will be competitive given his money and will also be touting the endorsements he received this week from the Chicago Tribune and Crain's Chicago Business. Quinn, on the other hand, has had a slew of celebrities and politicians stump for him over the past few weeks, ranging from the president and first lady, to former Secretary of State Hillary Clinton and actor Martin Sheen.
In the senate race, Sen. Dick Durbin (D) still holds a solid lead against challenger Jim Oberweis (R). That will likely not change.
Nationally, the climate is looking increasingly hostile for Democrats defending seats in states that Mitt Romney won in 2012. The Republicans need six seats to retake control of the Senate, and they already have three seats (Montana, South Dakota and West Virginia) in the bag. And with Democrats down in the polls in Alaska, Arkansas, Louisiana, Colorado and Iowa, it is looking more and more likely that there will be a GOP takeover of the senate.