DePaul senior, elected official Bushra Amiwala talks burnout, image and pushing her limits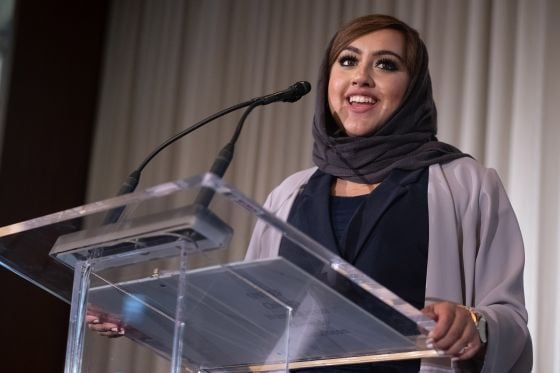 She was driving her usual route when it happened. Her phone continued to vibrate and vibrate without stopping. She had been getting very little sleep the first week of January. She couldn't look at her phone without some form of anxiety rising to the surface. The little red bubble on her phone reminded her of the 200-plus text messages she hadn't even looked at yet. 
"That was it, like simple texts from my friends of, 'Hey, how's it going? Want to hang out?'" said Bushra Amiwala, a DePaul senior and the youngest Muslim woman to be elected as a public official. "Even responding to that was just so (…) I didn't have the energy. I couldn't even respond to a message, and that was my breaking point."
The messages she ignored consisted of her friends and colleagues asking her for help. They wanted her to connect them with something or to look over their resume. She's more than happy to do both of those things, but the sheer amount of messages coming in combined with her hectic work schedule and lifestyle led her to her breaking point. 
In the car, Amiwala had what she described as a panic attack. She was drowning out her thoughts and the constant reminders of what she had to do with music playing loudly. She got home and told her parents that she had a massive headache because these were the only words she could use to describe her pain. 
"I didn't want to be told that I was doing too much," Amiwala said. "I wanted to push myself to see how much I could do."
At the time, Amiwala was juggling an intense schedule for someone in their early 20s. Her hours at her administrative job (which she asked to remain unnamed in this article) had doubled from 15 to 30 hours a week. She helped coach the debate team at Niles North High School. She worked with the program I Cook After School, where she and a team of volunteers go to underfunded public schools in Chicago and teach the students how to make healthy meals at a low cost. Her public speaking gigs and the three boards she currently serves on, including the Skokie Board of Education, did not cool down over winter break. Her days were all planned out, and her nights consisted of emails, looking over resumes and finding time to see her friends and family. None of it was working for her. 
This is when she burned out. Her drive fizzled, and she couldn't complete the tasks she promised to finish. The administrative work she was doing drained her. Desk work doesn't interest Amiwala — she thrives when she is out on the streets, canvassing in Chicago neighborhoods and addressing a large audience. Still, a full schedule like she had did not satisfy her — but rather drained her of all the momentum she had when she was flourishing. Only, she wasn't always on top of things as she portrays on her social media. Soon after, Amiwala was taken to the hospital for professional analysis.
"People always ask how I do it all, and I'm upset that I led people to believe that this is a healthy amount of work because it's not," Amiwala said. 
The pressure to do as much as she possibly can stems from her religion, Amiwala said. Women and people of color tend to have an innate desire to live up to their parents' expectations of them. This desire can stem from being the child of an immigrant or a self-made Muslim. When children of immigrants hear their parents' stories about making it in America, the pressure is heightened. Cultural divides exist in every ethnicity and religion, but the phenomenon of denying oneself therapy and self-care persists in communities of color. Janice Gassam is a first generation Cameroonian-American and the owner and principal consultant of BWG Business Consultants. 
"One of the most important and critical parts of self-care is setting boundaries," Gassam said. "Part of the reason I was feeling overwhelmed and overworked was because I would say yes to every single opportunity without consideration for my own time. Now, I'm exercising the word 'no' quite often, and I am becoming more comfortable setting my boundaries with others."
Women of color and people with diverse backgrounds tend to pile as much work onto their plates as possible to prove their worth to society. Gassam found solace in Shonda Rhimes' book "The Year of Yes." After reading the book, she realized her stress stems from her inability to say no to new opportunities. Amiwala found herself in the same position. 
"I've learned to set boundaries in place, and I've learned to say 'no,'" Amiwala said. "I've learned to put myself on top of every to-do list."
Some form of healing came from Islam itself. Amiwala wasn't doing her five daily prayers as much as she used to because it didn't always work with her schedule. She would first skip some, and then the amount she skipped continued to grow as she got more busy. After her burnout experience, she began praying regularly again, and it satisfied her spiritually, which led to healing her physical body.
Nabia Hersi is an 18-year-old black Muslim activist from Portland. She, like Amiwala, spread herself too thin in an effort to expand her network and increase opportunities for herself. She burned out in a similar way to Amiwala —her schedule got the best of her. 
"Growing up in an African household, we are often told to hide out emotions, and many black people I know don't say when things are becoming too much or too overwhelming."
Despite common stereotypes, Amiwala's family and friends were her best support system when she burned out. The doctors mostly talked to her parents, as to not stress her out even more. 
Amiwala received national attention in Spring 2019 when she became the first Muslim woman to be elected to public office as a member of the board of Skokie School District 73.5. On campus, Amiwala is seen as an unmovable, unstoppable force. She's everywhere — she's done TED Talks and she has a huge online presence.
On top of everything she's been working on, she shared with The DePaulia that she is debuting The Amiwala Foundation with a mission of "supporting, uplifting and inspiring young people." Amiwala hopes the foundation will become a widespread network where students and young professionals can come to her for not only career advice, but to use her own inner career connections as well. It's not what you know, it's who you know, Amiwala commented. 
"I wanted to put more time into what I want to do and my own interests," Amiwala said. "Those 30 to 40 hours a week, I could put into doing something better. I quit my job and immediately started working on The Amiwala Foundation."
She's taking this process slower than she would have in the past. The Amiwala Foundation, which will be fully staffed and hiring a paid intern in the coming months, hopes to relieve her of the biggest stresses she experienced during winter break. When her phone wouldn't stop vibrating, it was mostly people asking her to connect them to someone else. With a new plan set into place, Amiwala will have a whole network to ensure everyone gets connected to the right person. 
As for Amiwala's mental health now, she says she's taking everything day-by-day. She now uses a planner, which she hasn't done since high school. This way, she won't forget anything and have to scramble to get it done. Now, she has more time to develop into the organized, busy and powerful image she presents online. 
"Do not believe everything you see on social media. Social media is a facade. I use social media to best represent myself (…) everyone does. I don't have it all together. I'm flattered that people think I do, but — fake it until you make it."
View Comments (1)