DePaul workshop bridges design and empathy
A designer's use of empathy isn't always a consideration when playing a board game, but it's a growing priority in the industry and a tool to approach equity and diversity.
The connection between empathy and design was addressed at a workshop held in the Daley Center last Monday, February 17, hosted by Dr. Lesly-Ann Noel, professor of practice in design thinking and the associate director of design thinking for social impact at Tulane University in New Orleans.
The workshop examined how empathic design could foster collaboration across differences such as gender, culture, age group, ethnicity or race, and help encourage discussion about larger issues.
The event was a part of the DePaul School of Design's Spotlight on Black Designers series, in honor of Black History Month. It was co-hosted with IIT Institute of Design.
Design-thinking is a common practice outside of design studios, said Denise Nacu, associate professor and director of the School of Design. It's used in the creation of artifacts, processes, systems and platforms, and facilitating conversations and community building in academia and industries.
"For us, it's important to highlight different disciplines of design," Nacu said, "and how design is used by practitioners across the globe…in order to solve pressing societal problems."
For Noel, design can be used as a tool of agency. Prioritizing empathy throughout the process is not only a critical tool in addressing diversity, but also necessary to succeed in the industry.
"Empathy is central," she said. "You can't be a good designer in 2020 without being empathetic."
And if you're not designing in an empathetic way, she said, the products will never be good enough.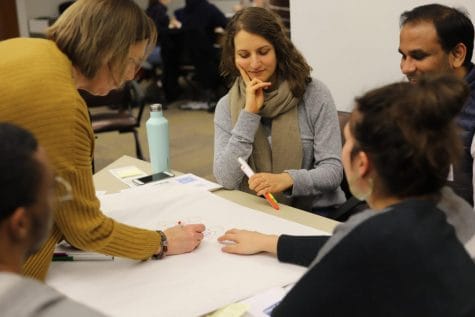 Noel began the workshop by introducing empathetic theories, digging into the structure of connection. She then asked attendees to consider their positionality, the socio-political context of their identity, and how that might play into their work. She asked to consider a list of 12 elements, touching on age, race, gender/sexuality, marital status and level of education.
Attendees then had conversations about these identities in small groups. The empathy-building strategies facilitated in these conversations were used to create a prototype of a game, applying ideas like bias or feminist theory into tangible structures.
The result, games targeting issues of diversity and equity.
Designers used their own favorite games to incorporate these ideas. Chutes and Ladders, for example, was used to address critical race theory – visualizing racism through the rungs of the ladders.
One of the biggest takeaways was connections formed within the small groups. They not only used empathy in the game, but in the collaboration and creation.
Many attendees expressed that oftentimes this connection is missing throughout the design process.
"People need to talk… The whole activity was centered around games and getting people to have more discussions. In our group we saw how important diversity is and how much we actually don't talk," said Terrence Johnson, community member interested in design.
As industries diversify, this understanding is advantageous.
"In the future, at the very least, there are going to be different groups of people when you're developing a game," said sophomore Desiree Valdez, a game programming major. "You have to connect with people if you want to establish a good game.
Approaching these issues head-on can be a little daunting. Noel uses design-thinking to encourage empathy through games and activities, rather than a lecture, and build connections throughout the process.
"Maybe you do have to be empathetic to understand these conditions – [whether] it's racism or xenophobia – you have to dig a little deeper to understand a person who's going through these things," she said. "We found this indirect way of bringing in these issues."