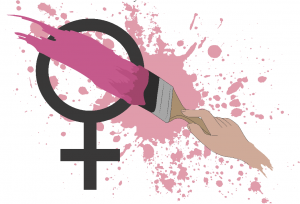 Women's issues take back seat during Breast Cancer Awareness Month
There's a sign outside River North's P.F. Chang's, as well as its many other locations, that reads "Let's fight breast cancer one selfie or sushi roll at a time" with a necessary accompanying hashtag, #PaintPFChangsPink.
To the Chinese restaurant's credit, they're making it very clear what they're doing — for each post with the designated hashtag, the company will donate $1 to the National Breast Cancer Foundation, as well as $1 for each sushi roll sold in October.
October is, of course, Breast Cancer Awareness Month. Unless you're colorblind and can't see pink hues you should know this, because it seems everything is pink right now. Everything.
In a recent unsolicited email, I received, "Select Spiritwear" reminded me, "In October, PINK will be everywhere! Select is here to join the fight to help find a cure for Breast Cancer."
The email mentioned no ties to any charities, nothing about what Breast Cancer Awareness Month means. But your organization should definitely be wearing pink. Should we be printing The DePaulia on pink newsprint? I'm so sorry for my rude oversight.
But what does breast cancer awareness even mean? It means that we should be aware of the disease — but as the second most common cancer (after lung cancer) for women, it's likely we all know someone who's been affected by the disease. So far in 2014, cancer.org estimates 40,000 women have died fromthe disease.
As flawed as the ALS #icebucketchallenge (hashtag necessary) might have been, it certainly brought awareness to a disease few were talking about before this summer. The horrible disease has 5,300 new diagnoses per year, according to alsa.org, a fraction in comparison to breast cancer's 232,570 new cases of invasive breast cancer in 2014.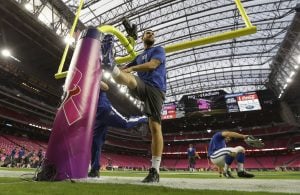 There's no doubt breast cancer is a horrible disease. I've seen it unfairly take women away who were far too young. But we're aware of it, we've moved past awareness — we need to do something. The NFL can wear its pink cleats, Republican gubernatorial candidate Bruce Rauner can wear his pink ribbon during a debate, the Hancock Building and the Willis Tower can illuminate their spires in pink, but how is it helping women?
It's not. Breast Cancer Awareness Month conveniently serves as the one month per year everyone can pretend to care about women's issues. Maybe if the NFL dedicates a few games to Breast Cancer Awareness and donates to the American Cancer Society, we can forget about the other 11 months of the year when the organization forgets women are real people.
Women have more issues than breast cancer. We have cervical cancer. We have eating disorders. We are the main targets of sexual assault.
What if companies covered their merchandise in teal during the month of April and brought awareness to the one in five women who are victims of sexual violence?
Co-opting an issue in the way breast cancer has been isn't necessarily the answer to care about various women's issues. But it's important to look beyond buying a few pink items and raising a few dollars for one specific type of cancer.
If we tone down the intensity put on Breast Cancer Awareness Month and spread it among more than one issue that plagues women, maybe some change, somewhere, can be made.