Fall into fashion: Revamp your wardrobe for cooler weather
As the seasons change in Chicago, our wardrobes must follow suit. No longer will students step out from their apartments in low-cut sneakers, plaid shorts and fitted T-shirts. It's time to break out the sweaters, jeans, scarves and heavy coats, because winter will soon be nipping at our noses.  These fall trends cover a lot of different spectrums here at DePaul. Find out what's good, bad and just downright horrendous.
WOMEN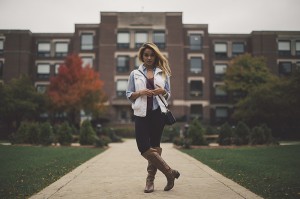 The Good
Walking around campus, two things stick out when observing what young ladies wear.
1: This is a great place to earn an education.
2: They all look so comfortable.
The notion of comfort and fashion are foreign to guys. Many guys often see women high heels and too much jewelry. The good lies in being able to keep things simple while maintaining some quality fashion sense,
This wave of comfort has come from high fashion surprisingly, with influences such as Givenchy, Balmain and Maison Martin Margiela using the highest quality of fabric to create rather simple designs.
Gray, cream, navy, black: all very acceptable. Even the forest green, heather gray, and soft lavender make the cut. Pair those comfy, oversized sweaters with some leggings, and a nice pair of leather boots. You're golden.
Places like Macy's, Urban Outfitters and H&M all offer a wide variety of sweaters, long-sleeved shirts and all the accessories that go along with them.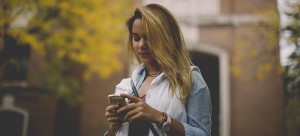 The Bad
Is wearing a hoody three sizes too big acceptable? Some experts may think so, but does it look good? No.
Stressing comfort is all the rage right now. But when it comes to fashion you have to draw a line.
"One size too big is the cut off," former Zara employee and Columbia College Chicago alumna Fabiola Rojas said. "I'm a small girl, and enjoy some oversized things. But there's a fine line between sloppy and fashionable."
If you're a size medium and consistently wear extra large hoodies just to stay comfortable, you're not getting the job done. Big sweaters and flannels all have their limits.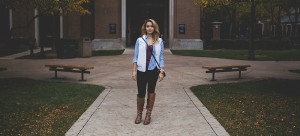 The Ugly
What's up with these Lizzie McGuire chokers? Take that plastic, tight necklace and throw it in the street.
Many fashion experts think it's not a good look.
Something that's also befuddling in the fashion world: Dresses with polo collars and buttons, which are finished off with low-cut sneakers. Horrible.
---
MEN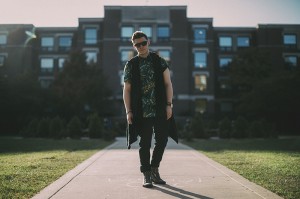 The Good
When it comes to fall weather and men's clothing, there's a strong consensus among male students that sweaters never fail.
"At Urban Outfitters, there are plenty of options for sweaters, both casual and formal," Sean Stewart, manager of Evanston store, said. "No one wants to be that guy who's carrying a jacket around in the bar or restaurant. Now that all these sweater options are available, we should see less and less of that."
The evolution of the stylish sweater has left us with plenty of options. Most of which are acceptable. The cardigan is a favorite, and any guy can rock it. The standard cardigan can be worn to many different places and with many different things.
Unlike the cardigan that has been around for an eternity, the crew neck has seen some resurgence over the last five years. Now we see them with different prints and details, to go along with more traditional looks, such as the Henley buttons or sharp V-neck.
Men have plenty of sweater options, so you have no excuses not to wear one. Brands such as Stussy, LRG and DRIVUS are all affordable, clean options.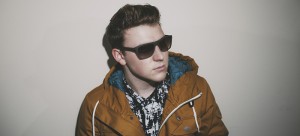 The Bad
Leather is done, guys. There's a time and place for leather, and that time is over.
It's become much more a subtlety and falls into the category of aforementioned chest pocket that so many tops are now featuring. Even leather sleeves look fresh with the right shoes and pants. When avoiding leather overload, ditch the dress-type vest that has become a fixture in young men's closets. They don't work alongside a T-shirt and jeans, according to research from Complex magazine.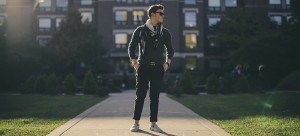 The Ugly
Narrowing down one ugly trend is a tough task. But Kanye West's mask design has recently become a new trend this season, as many boutique brands have incorporated them into hooded sweatshirts. And although it may seem functional in Chicago, it's not worth the purchase. If you want to stay warm, just stop by Carhartt, The North Face and Patagonia.
Make sure your pants fit. The drop crotch style is everywhere, and we've embraced it. The comfort is nice, and the fit can be very comfortable. Key word here is fit. Make sure they actually do.  Joggers of all sorts are not meant to be skintight. We see celebrities wearing them practically like leggings, but frankly it's a terrible look. Keep your standard sizes in order when buying a nice pair of joggers. Keep your sizes looser, and you'll find a better jogger-wearing experience.
And please, make sure there's no leather involved.