Video games are still my safe haven one year later
I wanted to write a lede about how it's been a year since the pandemic began, and how all of our lives have drastically changed since last March. But we all know that. What hasn't changed — and has gotten more attention — is the time we spend gaming.
The gaming industry hasn't been slowed down at all due to the pandemic — in fact, it's actually sped up production like never before, giving people a source of entertainment while quarantining in their homes. Hardware sales hit a record of $5.3 billion and video game purchases totaled $56.9 billion in 2020 alone. Even DePaul's Esports team is continuing to hold matches against other universities in the Big East.
I had to dig up some old games from my original Xbox, Gameboy Advance SP and Nintendo DS to occupy myself and block out all the noise happening outside my window. Personally, I can't wait for Pokémon's remastered versions of Diamond & Pearl to be released, as I've spent hundreds of hours across both titles on my DS, and the subsequent release of Platinum back in 2008. But these nostalgic consoles and games, handheld or not, have become a focal point for interaction amongst players of all ages to communicate with each other when we can't do it face-to-face.
"For me, video games has been giving me a way to socialize with my friends for a while even before Covid," said Christopher Jones, Jr., a recent DePaul graduate. "It has made it easier to interact with my friends who went to different schools for college, but yes, it has become even more convenient now due to Covid."
Nintendo was the first to capitalize on the opportunity, releasing Animal Crossing: New Horizons back on March 20 last year. According to Ars Technica, as of December, the release has accounted for 47 percent of all Animal Crossing sales since the franchise debuted back in 2001. It broke the world record for most digital copies sold in one month with 5 million, and now holds the honorary distinction of being the 15th best-selling video game in history.
And it's not difficult to see why. Other notable games that have been released during the pandemic include Doom Eternal, Resident Evil 3, Cyberpunk 2077, Final Fantasy VII Remake and my personal favorite, the remastered versions of Tony Hawk's Pro Skater 1&2. You just can't beat the 50-song-plus soundtrack, either.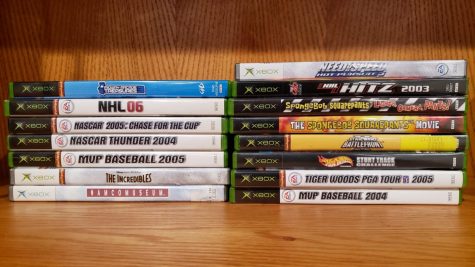 "I recently dug out Minecraft because of the new updates," said Glen Verfurth, a senior at DePaul.
Speaking of Minecraft, those new updates were released back on June 23, titled the Nether update. The Nether is a hell-like dimension linked to the Overworld, the main starting point for all players in the game, and includes tons of new additions that revolve around a deadly, volcanic eruption with monsters constantly trying to kill your character.
Minecraft has been the prime example of a game that has retained and grown its player base since Mojang, the Swedish video game developer who created the game, initially released it in 2009. By the end of 2020, the game had seen a $415 million increase in revenue and broke $200 million in sales in 2020 alone.
"I think game developers are doing an amazing job of taking advantage of this situation and adapting by continuing to push out new content and new updates," Jones said.
And we can't forget about the next-generation installment of new consoles, too. Since both the PlayStation 5 and Xbox Series X were released in mid-November, sales reached 4.4 million units and 2.4 million for the PS5 and XBSX just in 2020, respectively. Demand for both consoles has been extremely high, and it doesn't seem to be going away anytime soon.
"I got my hands on a Xbox Series X and I love it — it is not that big of a jump," Verfurth said. "But there is enough changes to the games I play a lot for me to get sucked back in to gaming."
For an industry that never could have predicted what a pandemic of this scale could look like in the 21st century, not much needed to be changed when it comes to consuming these games. Even older console generations have this convenience as well, as it requires very little to wipe off the dust and plug in and play. It's a gift that none of us deserve to hold so close.
"It has given me another level of appreciation for video games," Jones said.
So, what's next? For me, it's about keeping that same nostalgic feeling for what video games are made for: having fun. After I get fully vaccinated, I plan to expand on the library for my original Xbox, which has seen more screen time in the past 10 months than it has in the last 10 years. Titles selling for less than $10 a piece? Yes, please.
There's really nothing like it.