Black Student Union holds panel with "Judas and The Black Messiah" actor
DePaul's Black Student Union (BSU) and Division of Student Affairs hosted a panel discussion March 10 with actor Darell Britt-Gibson from "Judas and The Black Messiah " before a screening of the movie.
Britt-Gibson played Bobby Rush, a member of the Black Panther Party, who worked directly with Chairman Fred Hampton. Joining Britt-Gibson was activist Marshall Hatch Jr. and Jacqueline Lazu, the associate dean of the College of Liberal Arts and Sciences. 
BSU President Keith Norwad moderated the discussion. He opened up the discussion by asking the audience to reflect, "What [are you] doing to make this world my city, my state, and my world a better place."
The discussion focused on the film's impact and purpose amid this period of social change.
"Judas and The Black Messiah" is the story of the chairmen of the Illinois Black Panther Party, Fred Hampton and William O'Neal. The film follows Hampton's beliefs and work fighting for Black liberation before his murder while O'Neal was an undercover spy for the government trying to take down Hampton. 
Hatch Jr. said that the movie was important to tell because it serves as insight to the fight for Black liberation and not as secondary information from "our oppressors."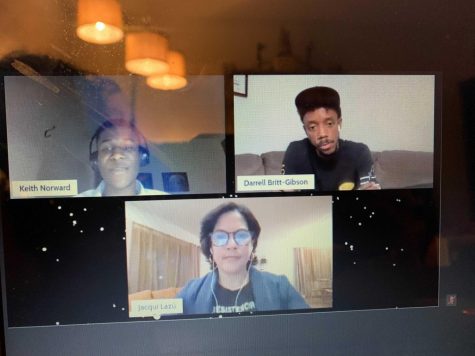 Britt-Gibson said that he researched Bobby Rush before filming, but still continues to do so. 
"[The research process] was tireless," he said. "Everyday, I would wake up and listen to [Rush's] speeches to absorb his power."
Lazu discussed the role of unity in the movie. In the film, Hampton reaches out to several other groups fighting for change such as the Young Lords and the Young Patriots. Hampton had worked with Young Lords leader Cha Cha Jimenez and the Young Patriots to form the Rainbow Coalition in Chicago.
Britt-Gibson also discussed working directly with Fred Hampton Jr.and Mama Akua, Hampton's son and girlfriend, respectively. 
"I spent every moment trying to soak up their knowledge and power," Britt-Gibson said. "Knowing what Mama Akua has seen, endured, and survived gives me chills just thinking about it. Hampton Jr. is also carrying on his father's legacy."
At the end of the discussion, Norwad asked the audience to reflect on the historical value of Chicago. A Q&A session from the audience followed. 
Hatch Jr. emphasized in the Q&A session that the fight for racial justice is not over, and quoted Hampton, "you can murder a freedom fighter, but you cannot murder freedom."
A screening directly followed the end of the panel. 
Britt-Gibson plans to act in several upcoming projects later this year, while also making a screenwriting debut.