Aneesah Morrow claims two awards, men's tennis cleans up at Billy Awards
The blue carpet was rolled out on Friday as DePaul athletes gathered together to celebrate the highlights and accomplishments from the past year at the 2022 Billy Awards.
After a couple years of the pandemic and not being able to interact with one another, the athletes were all smiles and cheers as they greeted each other while dressed up in the McGrath-Phillips Arena. The gymnasium was dark as the main lighting came from The Billys sign on the stage that athletes walked across to pick up their awards like a graduation ceremony.
"This is great because since Covid, this is the first time that we can actually see each other not dressed in athletics clothes because we're in that all day," men's tennis junior Vito Tonejc said. "This feels great to say hi to everyone and talk for a bit. Great vibes."
Women's soccer senior Mollie Eriksson opened up the ceremony with a speech before letting athletic director DeWayne Peevy take over, who began by thanking all the athletes for their hard work over their seasons.
The first awards of the night were the Sport Performance Awards, which went to Skylor Hilger from softball and Ben Litwin from track and field.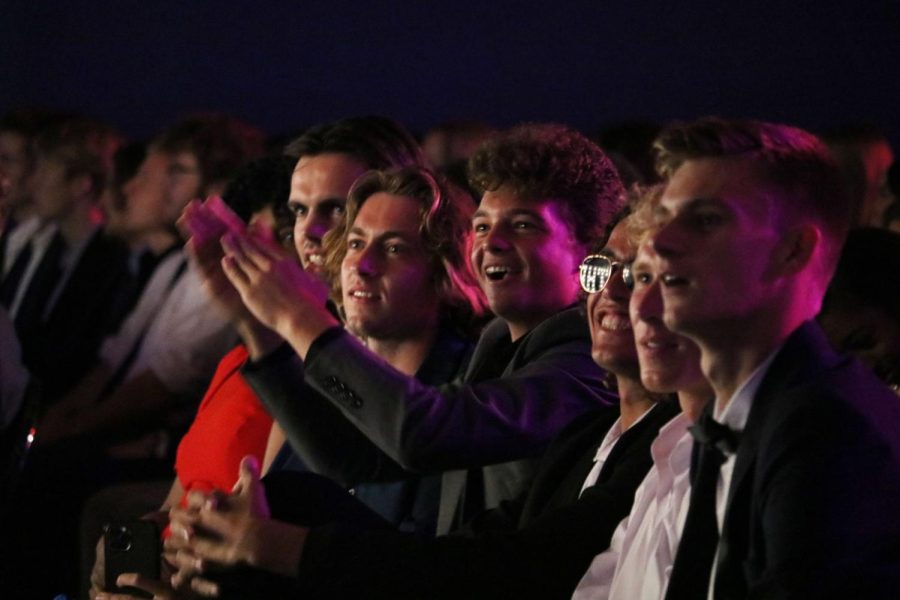 A sixth-year senior, Hilger was a leader for the softball team this season, and finished with 39 hits, 11 RBIs and 10 stolen bases.
Litwin, a senior, has dominated in outdoor competition this season. He placed second in hammer throw at the Illini Classic on April 9 with a distance of 57.51 and at the Gibson Invitation on April 23-24 with a distance of 54.61. At the Wisconsin Classic on May 6, Litwin placed third with a personal-best distance of 60.47.
Freshman Aneesah Morrow shined on the basketball court in her debut season, which led to her being named Female Newcomer of the Year and Female Athlete of the Year.
Morrow finished the season with 689 points and 442 rebounds. She scored 31 points in her debut, a 114-71 win over Texas Southern on Nov. 9. In the Blue Demons' last game of the regular season, Morrow had 41 points in a 90-84 win over Creighton on Feb. 27.
"I know throughout my freshman year I've been getting a lot of awards," Morrow said. "But just being recognized by my university felt amazing."
Men's tennis dominated all season and again at the Billy Awards to cap off their year. Along with individual awards, the team as a whole was named DePaul athletics' Most Outstanding Team.
After a strong debut season, freshman Marino Jakic was named Male Newcomer of the Year. When men's tennis won their second straight Big East Title, it was Jakic who helped push the Blue Demons to the victory with a singles win, earning him the title of Big East Most Outstanding Player.
Jakic, along with doubles partner Tonejc, were also strong in doubles competition, and Jakic's efforts all season led to him being named the Big East Freshman of the Year.
"It was an amazing feeling," Jakic said on winning the Newcomer of the Year. "I didn't expect I was going to win, so it was an amazing accomplishment and it's going to make me a better player. I'm going to work harder to win the next award next year."
Tonejc also took home an award after being named the men's Athlete of the Year for a second year in a row. Tonejc was a strong player all season, earning him the title of Big East Player of the Year for a second-straight year.
"I won [Athlete of the Year] last year, but I wasn't here because I had to play back home, so it felt great to be in person," Tonejc said. "It's obviously a team sport in college and this is fun, but I think winning the championship and getting another ring on my finger feels better, but this is still very good."