REVIEW: DePaul's dining hall is bland, tasteless and merely edible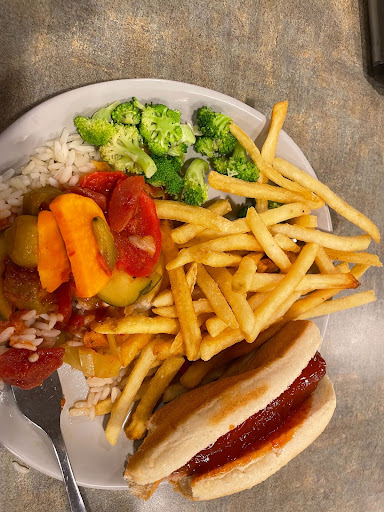 This past Saturday, I took a voyage to the Blue Demon Dining Hall in the Lincoln Park Student Center during their brunch hours. After taking three years off from DePaul's dining options, I was curious if my revisit would be as disgustingly grotesque as I recalled, or if the daily consumption is what brought about my negative experience years ago.
Let's start with the food. On my first trip, I kept the focus on the lunch portion of the brunch with a hot dog, fries, broccoli and steamed rice with roasted veggies. I found the meat portion of the hot dog to be quite satisfying as it tasted like every other hot dog, but the bread was a bit harder and more full than what I would have liked. Following up with the steamed rice topped with roasted veggies, I was satisfied. While the rice was quite bland, as rice usually is to me, the roasted veggies had a spicy sauce of sorts, bringing a hint of joy to my otherwise tasteless experience. On the theme of tastelessness, the broccoli literally tasted like an abyss of nothingness, and was kind of hard to chew.
When I navigated my way to the fries, a staple of freshman Corey's food selection, I was met with a pleasant crunch. I personally enjoy my fries with a crispy outside while still maintaining a fluffy middle. The Chartwells employees accomplished this and I applaud them greatly on this achievement. My only complaint about the fries is when I went to get them there was nobody attending the area, making me wait a while. Now I was very patient, but I could clearly see a Chartwells employee sitting on their phone a few feet away, which filled me with mild frustration.
Eventually I got thirsty. My tastebuds were screaming for a taste of the Tropicana pink lemonade, but when I went to pour the drink, it came out as clear water. I tried it again, thinking maybe I did it wrong, but the pink lemonade was simply not filled. I was devastated. Regardless, I had to settle for a crisp Sierra Mist.
On my second trip, I focused on the breakfast and dessert portion of the brunch hours. I got a white cake with chocolate frosting, a chocolate chip cookie, scrambled eggs and a singular breakfast sausage.
To say my mouth salivated after consuming the scrambled eggs is an understatement. The well hydrated eggs went down with absolute ease, I would say they were better than some of Chicago's local breakfast diners. If I had room, I would've gone up for more. The breakfast sausage accompanied this well, it wasn't truly remarkable like the eggs, but it sufficed.
The chocolate chip cookie was very bad. Words simply cannot describe the fear my tastebuds felt as the cookie collided with them. It simply tasted inauthentic, I wholeheartedly believe something out of an Easy-Bake oven would taste better. The cake was good, but I personally wouldn't grab it again. It was unremarkable, but when it comes to the Blue Demon Dining Hall, that appears to be a green flag.
Covid-19 wasn't a thing back when I was a dining hall regular, so I was curious if any changes had been implemented. Now, the tables have a sanitized marking that students have to flip as they leave their table to indicate to the staff to clean the table for the next person. However, I found nearly half, if not more, of the open tables were unsanitized.
Sanitation at the dining hall was a huge issue back in the 2018-19 school year. There was even an Instagram page dedicated to highlighting some of the best dining hall moments. Their content features a beetle in the lettuce, a toenail in the cake and more.
After the $10.85 meal, I would simply tell future Blue Demons that they're better off going to local restaurants and fast food options over having a meal plan.