Black Friday is no big deal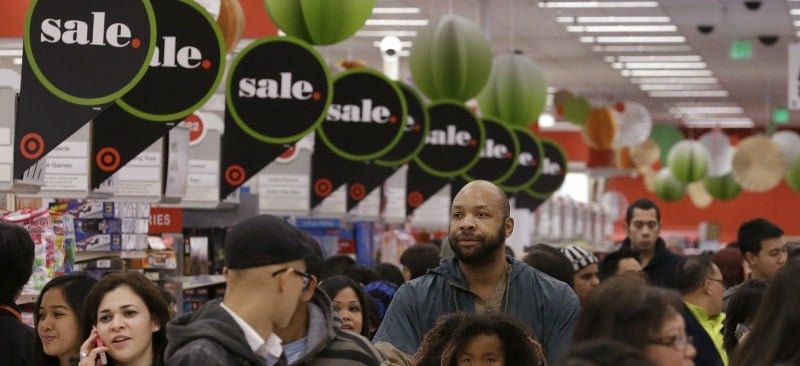 Thanksgiving is all about wine, football, and a giant turkey with all the glorious trimmings. It's a time to be grateful as you sit across from family you love or at least tolerate until the last bit of pumpkin pie is scrapped off your plate.
However, the holiday has seemingly become more about getting the best deal on a 64" flat screen than actually spending time with family and loved ones. But what consumers may not know is the greatest deals aren't even offered on Thanksgiving at all.
According to data from Adobe Systems Inc. acquired by the Wall Street Journal, the biggest discounts were offered on Monday, Nov. 25 and on Thanksgiving Day. The weeks leading up to Christmas also have bigger and better deals for shoppers than those on Black Friday.
Chloe Brostrom, a junior, said she avoids Black Friday shopping altogether because she views the actions of shoppers as "animalistic," stating she would much rather sleep-in than face the "claustrophobic" atmosphere of the stores.
"I think it takes away from what we're being thankful for," said Brostrom.
A lot of people spend their Thanksgiving night thinking about what time they have to get up and go shopping or they don't even have dinner and just go wait in a parking lot. They should make it Black Saturday or something."
According to a recent survey from Banksrate.com, Brostrom is not alone in ditching the Black Friday festivities. The survey said only 28 percent of Americans plan on shopping in-store on Black Friday, while 40 percent plan on buying their Black Friday purchases online. Also, only one in four Americans plan to participate in "Cyber Monday," which lands on the Monday after Thanksgiving, said the survey.
A recent article from the International Business Times also said Americans are steering clear of Thanksgiving and Black Friday sales altogether because of the bigger discounts offered right after Halloween.
"Consumers are well-aware that deep discounts will be offered throughout the holiday shopping season," Jeanine Skowronski, a Bankrate analyst said in the article. "They don't necessarily need to brave the Black Friday crowds to score them."
Being a smart consumer this holiday season can lead to even bigger discounts by evaluating when your favorite stores are actually offering the best deals. But if you have to shop on Black Friday, consider shopping at one of the national retailers who plan on giving their employees the night off on Thanksgiving instead of extending Black Friday shopping.
Some stores are opening as early as 5 p.m. on Thanksgiving day, but these 28 stores including Costco, Barnes & Noble, and Bed, Bath & Beyond, are committed to staying closed for the holiday.
"Our employees work especially hard during the holiday season and we simply believe that they deserve the opportunity to spend Thanksgiving with their families," said a spokesperson from Costco.
If you are planning on shopping on around for deals this holiday season, consider investing in these stores who value their employees as people as opposed to just worker-bees. These larger retailers should be commended for allowing their employees to spend the day with their families and loved ones, instead of having to trudge into work and face the hoards of angry shoppers, eager to snatch up the best Black Friday deals.
Thanksgiving is a day to reflect on the things to be truly thankful for. Spend time with family, enjoy a fistful of dark turkey meat, and then volunteer at a local food back such as the Greater Chicago Food Depository. Whatever you choose to do, just put down the coupons, and stay away from the Wal-Mart parking lot.