Alumni encourage using university resources to be prepared for post-grad life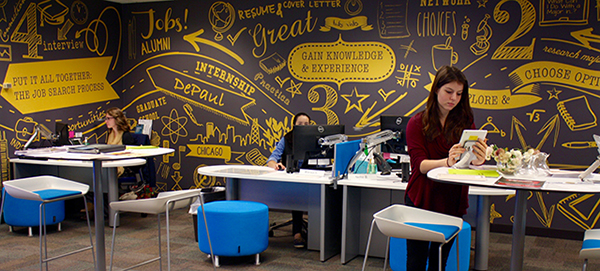 Evan Peters, DePaul alumnus who graduated in the spring of 2022 with a degree in film and television, said he wasn't prepared enough for post-grad life. 
"I wish I had a better plan," Peters said, referring to his job search, "I wish I had taken advantage of the resources DePaul has and the connections they have."
Peters currently works at Sales-i, a sales software company in downtown Chicago. He began his job search in October 2021, when he was given his first job offer at Coyote Logistics, also located in Chicago. 
After quickly accepting the offer, Peters soon found that the job was not for him. 
"I absolutely hated my life," Peters said. 
Soon after the start of his training at Coyote, Peters began applying for new jobs. Any sales job with "quick apply" on LinkedIn, Peters applied to. That eventually led him to an interview at Sales-i, which is a much better fit for him he says.
"It worked out for me because I'm lucky," Peters said, "I said I didn't need the resources [at DePaul], but then you get out here and you're like, I don't have access to that anymore and that would be very helpful."
As many students begin their last quarters at DePaul, the upcoming search for employment looms closer and closer. Students wishing to gain employment upon graduation face several hard-hitting questions about the job search: When do I start applying? How can I make myself a good candidate? Is there anyone to help me?
To answer some of these questions, DePaul students can visit the Career Center in SAC Room 192. 
"We help students build confidence, explore possibilities, and develop a powerful personal brand," said Brenda Williams, the Career Center's managing director.
The Center provides, "a variety of services, resources, and programming including career advising, a career library, industry networking events, career fairs, career courses, resume & LinkedIn reviews, funding for unpaid internships, a job and internship platform (Handshake) and alumni-student networking," Williams said.  
Angelina McAdory, a DePaul senior majoring in women's and gender studies, visited the Career Center for resume help, but she was disappointed to be helped by what McAdory saw as not a working professional. 
"I didn't like the help because it seems like just another piece of information that would change depending on the person," McAdory said, "It felt very opinionated." 
McAdory sought resume help and advice pertaining to her specific liberal arts major, but she was given general, un-nuanced advice.
"A professional or someone with more experience that maybe has a more curated method and strategy because they've sent different kinds of people into the workspace with their particular advice," McAdory said was what brought her to the Career Center. 
Despite her less-than-impressed view of the advice she was given, McAdory has not given up on the Career Center as a resource. 
"I'm optimistic about the office," McAdory said, "I will most likely be visiting that office again to get a feel for what field they see a lot of recent graduates going in, especially ones with a liberal arts background." 
McAdory said she plans to start applying to jobs in the spring. 
As students begin to think about post-college, many question when the right time to start applying is. Students often get one different answer after another.
"It all depends on the industry path students choose," Williams said. "What I recommend is that students start as early as possible exploring career options and the relevant timelines and tactics for acquiring a job in that field."
"For full-time jobs, if you're graduating in June, I think it's a good idea to start getting your feelers out in the winter, maybe networking to some companies, But [definitely] by March to really start getting applications out there," said Michael Elias, College of Communications internship program director.
Lawrence Kreymer, who graduated from DePaul in the spring of 2022 with a degree in journalism, feels he did not start his search soon enough. 
"I could have been more proactive and less lazy with it," Kreymer said. "I definitely could have started looking way sooner than I did."
Kreymer has yet to find employment in the field of journalism and currently works at his dad's restaurant in Chicago. 
"I thought with my resume and all the things I accomplished at DePaul, there was no way I was going to go this long without getting an offer or getting a job, but that's the reality of it," Kreymer said.
Despite Kreymer's strong resume, which includes his position as the editor-in-chief of The DePaulia, he did not have any internships during his time at DePaul. Along with being proactive in beginning the job search, Elias sees internships as another crucial component in finding employment. 
"It's consistently reported that applicants who have internship experience on their resume when they apply to full-time jobs, ideally two internships under their belt, have a great chance of progressing through the interview stage," Elias said. 
Along with bolstering resumes, internships can provide a student with crucial experience to better understand where they want to go after college. Elias feels internships are great in helping students get an understanding of what they like and what they don't like. 
"I think there's value in figuring out even what you don't like," Elias said.