The best hot chocolates in Chicago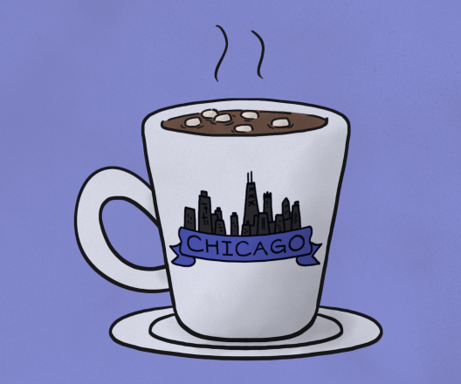 Many different beverages thrive during the colder months — some warm, some spiced, and even some iced. However, for non-coffee drinkers and hot chocolate lovers, there isn't enough buzz in Chicago about where to get top quality hot chocolate. 
Whether you're craving a rich creamy chocolate drink or want to try something new, I've compiled a list of some of the best hot chocolate places to visit.
Cocoa + Co. Coffee and Chocolate Café
1651 N Wells St.
A Food Network recommended location with some of the best drinking chocolate (not hot chocolate). Hot chocolate is typically made from powder, whereas drinking chocolate is melted chocolate that can be savored. Enjoy a featured specialty flavor or one of the fan favorites, La Parisienne or Mayan Magic. The menu prices range from $3 to $7.
Mindy's Bakery
1623 N Milwaukee Ave
Take the blue line to Wicker Park for some of Chicago's best pastries and a warm cup of hot chocolate or grab a bag of hot chocolate mix to go! Mindy's Bakery accepts cash only, and prices range from $3 to $13.
Ghirardelli Ice Cream & Chocolate Shop
400 N Michigan Ave Suite 100
Ghirardelli's chocolate is something we've all tried at some point, and their hot chocolate might be even better. There are several types of hot chocolate on their menu, including classic cocoa, drinking chocolate, sea salt caramel and seasonal flavors. Menu prices range between $5 and $15.
Xoco
449 North Clark St
Looking for something a little different? If you want authentic Mexican hot chocolate, XOCO is the place to go. Their chocolate drinks are made from fresh-ground cacao beans from Mexico, and some are even served with alcohol. Try their classic bean-to-cup chocolate drinks the next time you're in River North. Hot chocolate drink prices range between $3 and $5.
Xurro
3927 N Lincoln Ave
Xurro is best known for their churros and different churro desserts, but they should also be known for their delicious hot chocolate variations. If you're still looking for that Mexican flavor in your hot chocolate, pay Xurro a visit. Where you can order a Spice Mexican Chocolate or an Abuelita Hot Chocolate. Prices for hot chocolate range between $3 and $4.