Slaying at the STU: SGA hosts second annual Queer Prom
Neon lights cast down on students' faces as they acted out heartbreak with friends and lovers as "Mamma Mia" by ABBA echoed throughout the first floor of the Lincoln Park Student Center. 
DePaul's Student Government Association (SGA) hosted the second annual Queer Prom event on Friday night. Evan Mueller, junior and SGA Senator for LGBTQ+ students, said that Queer Prom will now be an annual event from this point on. 
Attendance at Queer Prom this year doubled from 2022. And with that, the room was full, packing the small dance floor. 
Students wore attire ranging from ballgowns to sweatpants. With the lack of a dress code, attendees seemed to lack any care in the world about what they were wearing once they got on the dance floor.
"Honestly, it's fun dancing with fellow people in the LGBT community," Mueller said. "And seeing them all enjoying themselves is really nice, because it's not something I feel like I got in my high school experience. [It was] very heteronormative. And here, everyone's just free to be themselves. I think that's beautiful."
Junior Samantha Stevens, wearing a pink prom dress and a tiara, hopes for more events like it in the future.
"I'm glad to know that there are people like me here," Stevens said. "This event is fun. So if they do more like it, I will come to it. I love everyone here and I want to get dressed up again."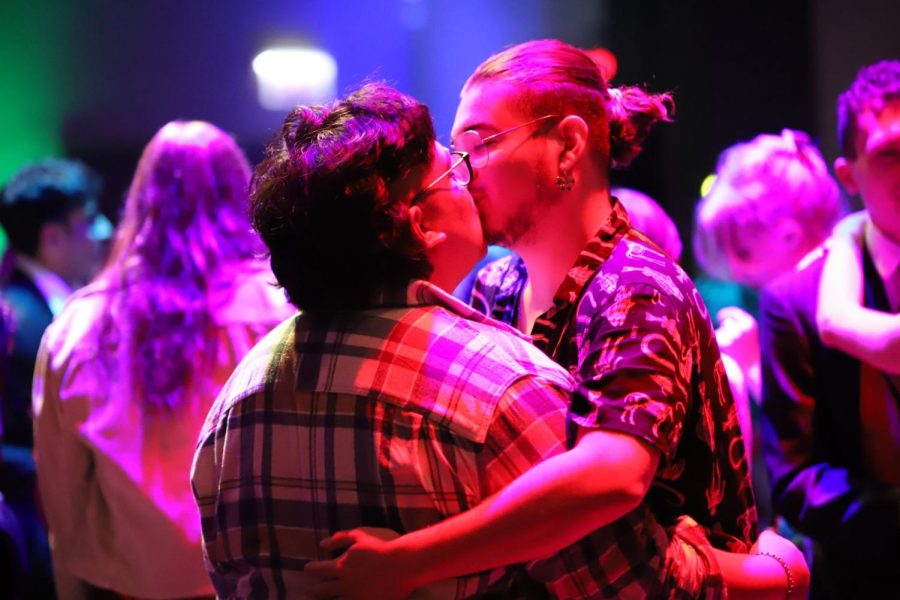 Last year, Queer Prom took place in February. Mueller said the date change was as a result of availability but because "it was important for us to plan it sooner than later so that the LGBTQ+ community at DePaul is connected sooner." 
"I prefer this way as it offers a good starting point for my initiatives this quarter as there's such a specific focus on the LGBTQ+ community at DePaul now," Mueller said.
As attendees' body glitter dazzled under the neon green and pink lights, some students went to the back of the room to get a free meal, take pictures at the photobooths, play ping pong or cornhole or read the information posters. Mueller, who made the posters, included information on drag queens like RuPaul and well-known queer people who helped bring equality to the LGBTQ+ community.
"It's good to pay homage to the past [people who] certainly made this possible," Mueller said.
Riley Reed, non-profit community engagement professional and DePaul alumna, created the event last year when she was a senior and the SGA Senator for LGBTQ+ students. Reed said she is proud that the event is becoming an annual event and looks forward to seeing how it grows over time. 
"I would love for the space to continue to diversify and show how beautiful the queer community is at DePaul," Reed said. "[Queer Prom] impacted me a lot. It was a safe space for me when I didn't get [a prom] in high school and it was probably one of my biggest accomplishments that I started the tradition."
Reed said she hopes that this event can help bring more queer students together, not only just for one night but to build relationships that will last a long time.
Along with her high hopes for the event, Reed said her advice for future SGA LGBTQ+ senators is to "be mindful of holding space."
"I think the narrative often seen in neighborhoods like Northalsted aka Boystown is that those spaces are for white gay men," Reed said. "That's not the only queer narrative and that ignores the intersections of identities in the community. And having strong allies on your side is important for planning it."
For students who are looking for more queer events on campus or ways to get involved in the queer community, the LGBTQ+ Resource Center and DeHUB has events listed and updated every week. The resource center is also open from 9 a.m. to 5 p.m. in the O'Connell Building in Room 305. 
"I want more attention to be shown to other LGBTQ+ events at DePaul, such as the Drag Show that'll likely occur this spring," Mueller said. "As Queer Prom illuminated, DePaul has a vibrant and lively LGBTQ+ community, and I plan to propagate the light Queer Prom has shined on our community toward our needs and culture."
Mueller said queer students who are having a hard time finding community would like initiatives put in place, they can reach out to the LGBTQ+ Resource Center or to contact him at [email protected].
"There's a space for you here at DePaul," Mueller said. "A space that cares, supports and wants to dance with you all night. You're welcome here."
View Comments (1)