Students stuck in limbo as university halts health insurance rollout
DePaul graduate students Syed Saquib and Hannah Samuels are both working toward their psychology degrees. However, their graduate program requires them to teach part-time for the university as part of their training, while taking a full course load.
Samuels said the university pays students in her program a stipend, but it barely covers her living expenses, including necessities like health insurance.
"We work part-time for the university and we are full-time students who are prohibited from taking jobs and being employed somewhere else," she said. "Our stipend is incredibly low, a lot lower than all of the schools in the Chicago area."
According to Samuels, she can only afford health insurance through the federal marketplace.
"Most of us have to take Ambetter, because it's only a couple of dollars a month, however, Ambetter is really not good health insurance," she said.
Saquib said Ambetter changed his primary care physician without telling him.
After all the frustrations, Saquib and Samuels anticipated not having to wait much longer for university assistance. Their hope was quickly squashed.
Last week, DePaul announced that they would not implement their proposed student health insurance plan in fall 2023. There has not been an update when it would be administered.
DePaul has not had a university insurance plan in almost a decade. The university withdrew its plan in 2014 after the Affordable Care Act was passed, according to past reporting. 
About 9% of DePaul students are uninsured, according to a survey conducted by the Student Health Insurance Advisory Committee in 2022, making the uninsured rate at DePaul higher than the national average for students. 
Eugene Zdziarski, vice president of student affairs, said it was delayed because the university wanted to better understand the impact on students. 
"[The university wants to] communicate with students well in advance so that they understand the requirement and the impact it might have on them. Implementing a student health insurance requirement for Fall 2023 simply does not provide prospective students, or current students and their families, sufficient time," Zdziarski wrote in an email statement to The DePaulia.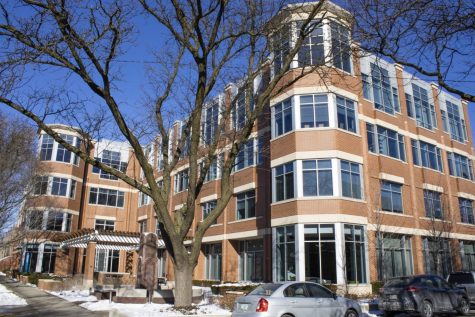 Like most other institutions that offer students a university-sponsored health plan, DePaul would have to implement an insurance requirement alongside the newly introduced plan. This requirement would call for every student to either enroll in the plan or opt out by providing the university proof of existing coverage. 
The university told The DePaulia about the proposed plan in July 2022. Following a research task force created in January 2022 to explore the need for a plan, the Student Health Insurance Advisory Committee was created this academic year and included faculty, staff and students. 
Joanna Buscemi, an assistant professor of psychology, has worked with graduate students, gathering information about insurance needs and demand at DePaul.
"Our graduate students, particularly members of our Graduate Student Association (GSA) have been working to push for a university-sponsored health insurance option for the past 5 years or so," Buscemi said. "They have collected their own data to show the need for health insurance and have tried to advocate for this at multiple levels of administration." 
Several students spoke out against the university's decision to delay the plan without further reasoning. Though he opted not to conduct a phone interview, Kevin Holechko, president of the Student Government Association and senior, said in an emailed statement to The DePaulia that he was initially confused but now believes it was for the right reasons. 
"The key reason the plan is not ready is the cost that would have been put on the students who would need the insurance the most would be astronomical," Holechko said. "The plan itself would be completely unaffordable and it would not help address the problem."
The main problem Holechko references is the possible financial impact the cost would have on low income and marginalized students. 
Colleges and universities like University of Illinois Chicago charge $697 for their plan per semester. At Urbana-Champaign, it's $712 per semester.
In 2018, 7.9 % of college students were uninsured. The survey, conducted by Lookout Mountain Group, showed Hispanic and Black college students are among the most affected, with 14.8% of Hispanic students and 11.5% of Black students being uninsured. 
Administrators are worried the requirement that students show proof of insurance, whether that is from the marketplace, Medicaid or their parents, could be a barrier.
Buscemi confirmed that administrators like President Robert L. Manuel expressed concern about how it will impact vulnerable communities at DePaul. 
She thinks this is an "unfair argument."
"It is not insurmountable with the right administrative infrastructure to help support these students financially," she said. "Many in our department believe this argument unfairly pits students of low-income against each other in ways that do very little to promote social justice overall and in fact causes harm to all students who have limited or no access to healthcare."
The university is looking to shift its focus towards assisting students navigate the marketplace and find accommodations for international students, according to Buscemi. 
"We've heard that the priority is shifting to helping students navigate the ACA Marketplace for health care which is what they've already been doing in the absence of a university-wide plan and is insufficient as many Marketplace options are inadequate and/or expensive for students," she said. "Which is extremely important but does not address the entire problem for all of our un- or under-insured students."
Holechko assured students that if the university seemed like they did not care, it is the opposite. 
"If I'm being honest, if this wasn't a priority of theirs they most definitely could have launched the plan in the fall and premiered a health insurance plan that cost those who enrolled in it a number that is rivaling what they would have paid out of pocket," he said. 
At other universities where a student plan is offered, the costs are included in students' insurance, giving those who receive coverage the ability to pay for it through financial aid or student loans. 
As the plan sits in limbo, graduate students like Saquib and Samuels will dive head first into the marketplace without any guidance. They will continue to balance how to afford living costs while working and attending school full-time without university assistance.
"Some of our students are faced with very difficult decisions like these and it impacts their overall functioning as people and students," Buscemi said. "Providing a health insurance option through the University is consistent with 'Take Care, DePaul' and our Vincentian mission as an institution."