'We've got to find a way': DePaul's losing skid continues with heartbreaking loss to Butler
The Blue Demons had a chance to win on the last shot and put the eight-game losing streak to rest, but a blocked final shot resulted in a heartbreaking 59-58 home loss to Butler on Wednesday night..
"It's definitely a tough game," head coach Tony Stubblefield said. "I thought we played solid the last 12 minutes of the first half and I thought we came out strong in the second half to give ourselves a 12 point lead. Then, I thought we got very loose and we took a lot of questionable shots and thought we had some careless turnovers that allowed them to get back in the game.
DePaul dug themselves into a hole early after Butler went on a 7-0 run, holding the Blue Demons scoreless for 2:43. Butler senior guard Ali Ali had an early impact, connecting with a mid-range followed by a corner three, just minutes into the game.
Stubblefield's defense stepped up later in the half, holding him just to seven first-half points and a game total of 15.
The team made adjustments in the final 11 minutes of the half, which included bringing in junior guard Caleb Murphy off the bench. Once he entered, the team's offense started to run more smoothly, going on a 7-0 run to match Butler's from just a few minutes prior.
Murphy finished the game with two points, two rebounds and four assists, while also having a plus-minus of 11 during his 16 minutes of court action.
"I thought he did a good job at attacking [the rim]," Stubblefield said.
The Blue Demons started to get in-sync as a team halfway through the half, highlighted by a 14-2 run that lasted for 5:22 minutes. 
Graduate guard Umoja Gibson's offensive presence was made known early on, as he finished the half scoring 15 points, with nine coming from beyond the arc. He ended the night scoring a game-high 25 points, while adding two assists, four rebounds and two steals. 
Outside of Gibson, the Blue Demons didn't see much contribution offensively as Johnson scored only five points and not a single player hit double-digits in the scoring column.
"It's very frustrating," Gibson said of the team's lack of offense. "25 points…I don't care if I shot five or six, as long as we get a dub at the end of the day, that's all that matters. We've got to find a way to win these regular season games and find our chemistry before we get to New York."
DePaul's intensity on defense was stout throughout the remainder of the first half, holding Butler without a field goal for nearly six minutes and only allowing the Bulldogs to shoot 1-for-14 from the field to conclude the half.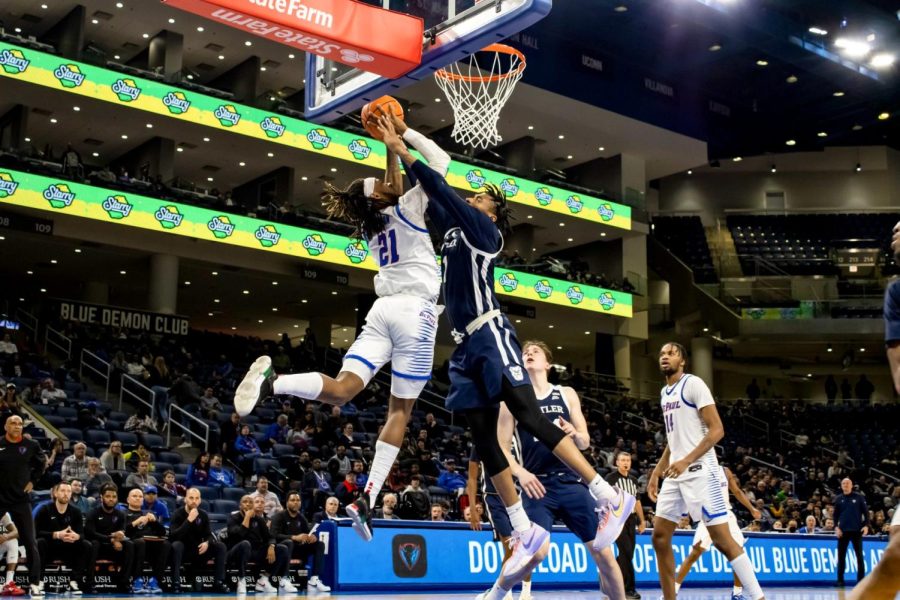 The Blue Demons allowed only 59 points to Butler on Wednesday night, which was the team's lowest amount of points given up this season. Senior center Nick Ongenda has provided added depth and length to the interior defense since his return to the lineup..
"I definitely thought we came out and played amazing defense," Ongenda said. "We had them at like 60% initially, and then we brought them down at 30% from the field. I feel like we're all connected and our defense is just going to keep getting better from here."
DePaul opened up the half and picked up right where it left off, taking a 12-point lead after both Gibson and senior guard Philmon Gebrewhit connected on back-to-back three-pointers.
Butler wasn't going down without a fight and bounced back offensively, starting off the second half going five-for-five from the field, which resulted in a 9-0 Bulldogs run. 
Senior forward Jalen Thomas led the way for the Bulldogs during the run, scoring six-points and throwing down a dunk to ignite the Butler bench. Thomas tested senior center Nick Ongenda all game and finished the night with six points, seven rebounds and a block before fouling out.
The final 90 seconds of the game was crucial for both sides. With 1:22 left on the clock, Johnson lost the ball after being stripped by Ali, which led Ali to score a basket to put the Bulldogs up by three. Moments later, Gibson was fouled while driving up court and was given two free throws and made both to make it a one-point game.
With less than 15 seconds remaining, as Butler drove in for an attempt to score, Ongenda had a ferocious block to ignite the Wintrust Arena crowd, giving DePaul the ball trailing by one. DePaul had a chance for the final shot to win. 
Stubblefield elected not to call a timeout, knowing he had one remaining if needed to come up with a play design. 
Instead, he trusted the experienced Johnson, who called for an iso and held the ball for the final seconds then drove to the lane for the potential game-winning score. Johnson was blocked by Butler sophomore guard Jayden Taylor as time expired. Wintrust Arena erupted in disbelief as the heartbreak sunk-in, knowing DePaul lost another close game in heartbreaking fashion.
"We had called a timeout the time before, and we turned the ball over," Stubblefield said. "Calling a timeout was something I'd thought about, but we didn't want to give them an opportunity to set their defense."
Johnson's final shot was heavily contested by Butler and Stubblefield had few choice of words postgame about Johnson's decision to take it himself.
"Just got to get to the rim and finish," said Stubblefield on Johnson's potential game-winning shot. "If you can get in the paint, you got to be able to draw the foul or you got to be able to get in there and finish." 
After losing nine-straight games and running out the same veteran-led lineup, it's possible Stubblefield might consider shaking things up and giving more minutes to players like freshman guard Zion Cruz and Murphy.
"Right now, we gotta take a look at everything," Stubblefield said.
Stubblefield said losing games in close fashion doesn't make it any better and the team needs to find a way to come out on the other end of close games.
"I'm not into moral wins," Stubblefield said. "There's not much I can take away from this. We must get the job done, so I'm not going to sit here and say I'm happy about how we played. We either win or we lose."
DePaul (9-19, 3-14) will travel to Milwaukee, Wisconsin for a 6:30 p.m. game on Saturday against No. 13 Marquette (22-6, 14-3) at Fiserv Forum. The game will be broadcast on FS1.